Alaska Senate passes bill establishing an official state Arctic policy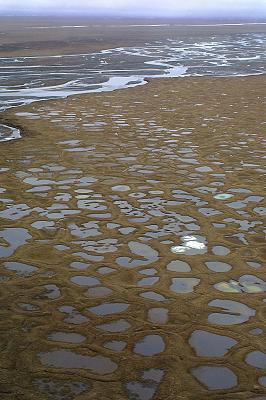 The Alaska Senate on Tuesday passed a bill establishing an official state Arctic policy that, in large part, calls for more natural-resource extraction to bolster economic growth.
It is fitting that Alaska is the first state to create an official Arctic policy, Sen. Lesil McGuire, one of the main proponents of the legislation, said in a speech on the Senate floor Tuesday.
"We are the state that makes the United States an Arctic nation," McGuire said in her speech, which was followed by a 19-1 vote approving the legislation. The bill, HB 1, passed last month in the state House; a relatively minor change made in the Senate State Affairs Committee must be reconciled before the bill wins final passage.
The bill bases a state Arctic policy on recommendations made by the 26-member Alaska Arctic Policy Commission. The commission is made up of 10 legislators and 16 community and business representatives and is co-chaired by McGuire and state Rep. Bob Herron, the main sponsor of HB 1.
Potential clashes
The commission spent two years conducting meetings and drafting its policy recommendations. Those fit into broad categories that include protection of "economically vibrant" communities, collaboration across all levels of government, enhancing the region's safety and security and recognition of indigenous cultures.
To accomplish those goals, the bill advises the state to carry out the Alaska Arctic Policy Commission's 32-point implementation plan issued along with its policy report. That plan recommends extraction of more fossil fuels, including coal; buildup of Arctic infrastructure, including port facilities; buildup of emergency-response systems and promotion of scientific research "that aligns with state priorities," among other actions.
McGuire, in her Senate floor speech Tuesday, alluded to a potential clash between pro-development state goals and conservation-focused goals of the federal government.
"With all of the international focus on the Arctic, we can't let the perceptions of others, particularly the federal government, drive new development possibilities," McGuire said
She cited the Obama administration for seeking to preclude oil development in the Arctic National Wildlife Refuge and for removing parts of the Chukchi and Beaufort Seas, including the biologically important Hanna Shoal area, from future lease plans.
The only vote against the bill on Tuesday was from Sen. Anna MacKinnon of Eagle River. In the House, the only votes against the bill were from Rep. Lynn Gattis of Wasilla and Rep. Tammie Wilson of Fairbanks.
Related stories from around the North:
Canada:  The Third Wheel – Observers in the Arctic Council, Blog by Heather Exner-Pirot
Finland: Majority of parliamentary candidates rate climate change above competitiveness, Yle News
Iceland: Iceland conference draws on hopes, concerns for changing Arctic, Alaska Dispatch
Norway:   Permanent Arctic Council Secretariat opens in Tromso, Blog by Mia Bennett
Russia:  The Arctic Council's Immunity to Crimean Flu, Blog by Heather Exner-Pirot
Sweden: Russia still open for cooperation in the Arctic, Radio Sweden
United Kingdom:  The British Invasion – The Arctic Circle and observer states, Blog by Heather Exner-Pirot
United States: Alaska passes Arctic policy bill, Alaska Dispatch