Elite Arctic yacht race planned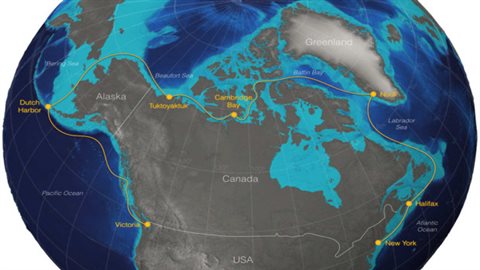 Not for the faint of heart, and definitely not for the light of wallet, an elite and extreme yacht race is being planned for 2017.
Competitors will purchase or rent specially designed and built 14m yachts for the race, to be built in Sydney, (near Victoria) British Columbia.  The specially designed racers, with double hulls, and made from volcanic fibre (basalt) with several watertight compartments will cost between $800,000 to a million each. The entry fee is $50,000, and the team costs are estimated at $2.5 million each.
The extreme adventure is called Sailing the Arctic Race (STAR).
The use of a single-design yacht is to equalize the field and put the focus on a crew's navigation and sailing skills.
The race is being organized by Belgian Canadian Eric Molnar who is reported in CBC news saying " It's crazy, and it's big. We shouldn't be able to do it, but because of climate change, we can"
According to the Canadian Coast Guard,  "Vessels transiting through the Northwest Passage should be prepared for rapid changes in weather and ice conditions," the statement noted. "Mariners may encounter extreme variability from year to year, and are responsible for navigational decisions and safety of their ships."
Molnar says that Environment Canada says September has been the month with the least ice coverage, which is when the yachts will be travelling the northwest passage.
The race will be about 14,000 kilometres or just over 7,500 nautical miles from the start in New York to the finish in Victoria on Vancouver Island. Along the way there will be several legs with stops and checkpoints in Halifax Nova Scotia, Nuuk Greenland, C Cambridge Bay, Nunavut; Tuktoyaktuk, N.W.T. and Dutch Harbor, Alaska.  At each stop, the racers will rest, while also engaging with the local community.
A mobile boat yard will meet the race fleet at each stopover, making repairs quick and easy even in some of the most remote communities in the world.  A large 'rescue" ship will follow the racers in the event of a problem.
The start date is set for July 2017 and the race is expected to reach Victoria in October.
Overall the race is expected to cost $30 million with most coming from sponsors.
The CBC says Molnar has confirmed three teams, though only Spain is currently listed on the website. Molnar says he's had interest from others in Germany, China, Brazil, Barbados, Canada and the U.S. in the other five spots available, for eight in total.
Related stories from around the North:
Canada: Boat rules eased for Yukoners docking in Alaska, CBC News
Norway: Finnmarksløpet 2015 dog sledge race underway in Europe, Barents Observer
United States: Alaska-Search continues for escaped Iditarod dog, Alaska Dispatch