Blog: Obama defends Arctic drilling weeks after Kerry promotes clean energy at Arctic Council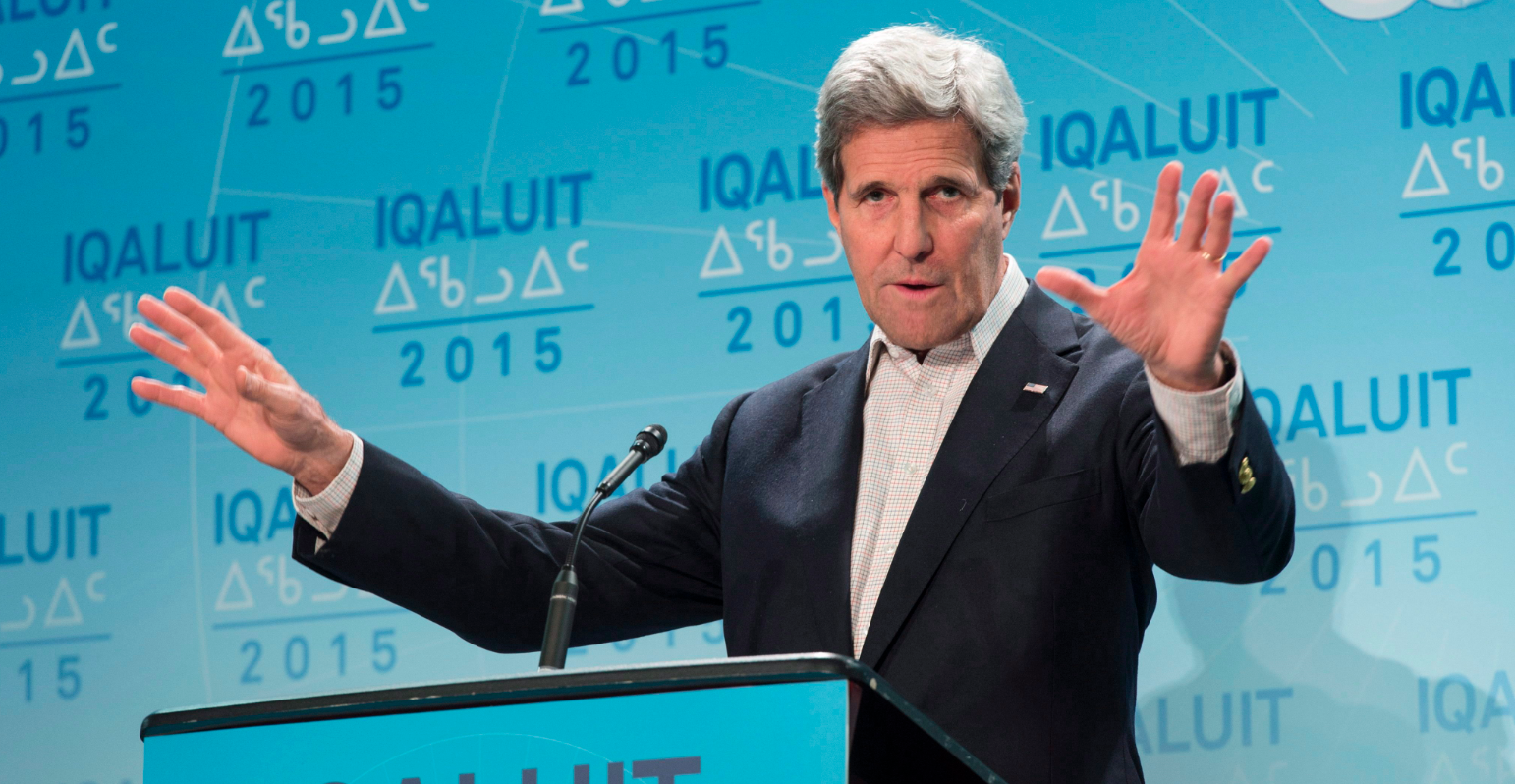 At the Arctic Council ministerial in Iqaluit, Canada on April 25, U.S. Secretary of State John Kerry waxed poetic about the prospects for clean energy in the Arctic. He remarked:
My friends, clean energy is the solution to climate change. If we got the whole world to embrace clean energy choices rapidly, we can meet our two-degree target. But the window's closing. The extraordinary thing is all of the technologies we need – whether it's wind or solar or hydro or whatever, they're all there. It's the economics that don't drive people to make the choice, so we've got a lot of countries putting on coal-fired burning right now, and the coal-fired burning they're putting on will totally erase the gains that a lot of other countries are making at the same time. So we have to have a serious conversation about this, which is why President Obama has been pushing our national program so hard, and why we are so focused on this. Clean energy is the solution to climate change. It also happens to be the world's biggest market. It will make many people rich. Enormous numbers of jobs will be created. Environmental responsibility can be lived up to. People's health will be better. And security will be greater for a lot of countries that today are blackmailed by one source of fuel of one kind or another. So many benefits. How many public choices do you get to make where there are so many plusses on the good side versus the negatives on the downside? Very few. So it is essential, especially in the Arctic, to providing affordable, reliable energy that is needed here. We got to find the ways to do it. During our chairmanship, we're going to examine every chance for greater circumpolar collaboration to develop renewable energy and promote energy efficiency in Arctic communities.
Despite Kerry's statement that the U.S. would promote renewable energy in the Arctic, the first major choice that the U.S. has made as Arctic Council chair has been to conditionally approve Shell's exploratory drilling plans in the Chukchi Sea off Alaska this summer. This is a clear about-face from the climate-change focused agenda Kerry said the U.S. would pursue as chair of the Arctic Council.
Importing oil
During a press conference at Camp David yesterday, President Barack Obama defended the Bureau of Ocean Energy Management's decision. After Michael Viqueira, the White House correspondent for Al-Jazeera, asked whether it is "really worth the risk to drill in such a delicate ecosystem," Obama responded:
"With respect to the situation in the Arctic, I think it's fair to say that I know a little something about the risks of offshore drilling given what happened in the Gulf very early in my presidency.  And so nobody is more mindful of the risks involved and the dangers.  That's why, despite the fact that Shell had put in an application for exploration in this region several years ago, we delayed it for a very lengthy period of time until they could provide us with the kinds of assurances that we have not seen before, taking account of the extraordinary challenges if, in fact, there was a leak that far north and in that kind of an environment, which would be much more difficult to deal with than in the Gulf.  Based on those very high standards, Shell had to go back to the drawing board, revamp its approach, and the experts at this point have concluded that they have met those standards. But keep in mind that my approach when it comes to fracking, drilling, U.S. energy production of oil or natural gas has remained consistent throughout:  I believe that we are going to have to transition off of fossil fuels as a planet in order to prevent climate change.  I am working internationally to reduce our carbon emissions and to replace over time fossil fuels with clean energies. Obviously, we start at home with all the work that we've done to, for example, double the use of clean energy.  But I think that it is important also to recognize that that is going to be a transition process.  In the meantime, we are going to continue to be using fossil fuels.  And when it can be done safely and appropriately, U.S. production of oil and natural gas is important. I would rather us — with all the safeguards and standards that we have — be producing our oil and gas, rather than importing it, which is bad for our people, but is also potentially purchased from places that have much lower environmental standards than we do.
The idea that importing oil is "bad for our people" is populist pandering. If it's really so bad, why has the U.S. continued to increase oil imports from Canada, the nation's biggest oil supplier (not the Middle East, contrary to popular opinion)? Furthermore, in an article for Foreign Affairs, energy expert Daniel Yergin suggests that building a global network of trade and investment would be better for global energy security than a "mercantilist, state-to-state approach."
Dishonesty?
For Obama to justify his decision by discussing the benefits of oil drilling for Alaskans and the Alaskan economy would be one thing. But for him to state that he's going ahead with drilling in the Arctic because "importing oil is bad for our people" is sheer dishonesty. In other words, the president appears willing to put the Chukchi Sea at risk because of concerns about dependency on foreign oil. If Obama were really so concerned about imports, however, why is he advocating enormous free-trade agreements like the Trans-Pacific Partnership or the Transatlantic Trade and Investment Partnership? One other strategy to spur the reduction of oil imports, if they are in fact "bad for our people," might be to enact measures to decrease domestic oil consumption. Importing oil or reducing consumption, however, might negatively affect the Alaskan economy, as it would make the state's resources less desirable to develop. Thus, many people in Alaska are happy with BOEM's decision. If Shell hits the black stuff in any of the six exploratory wells it is planning to drill this summer, this could bode well for future royalties paid to the Alaskan state treasury. Senator Lisa Murkowski (R-Alaska) tweeted: Rather than being a leader, however, the U.S. is simply following in the footsteps of Russia and Norway – two countries that have already begun or are making progress towards Arctic offshore drilling. The decision in favor of Shell's plans also puts Alaska on the pathway of dependency on oil extraction for many more years to come instead of turning it into a leader in more cutting-edge industries like clean energy. So whether or not you think drilling offshore Alaska is a good strategy for the nation or the state, BOEM's decision does not make the U.S. look like a leader. Instead, the Obama administration seems to be following a time-tested strategy of rinse and repeat. Drill for oil, clean up the spill (ExxonValdez in 1989, Deepwater Horizon in 2010), start drilling again. BOEM's decision also makes the U.S. appear hypocritical as Arctic Council chair given all its talk about the environment and combating climate change in Iqaluit. Contrast this with the Russian Minister for Natural Resources, who wrote on his Facebook page on Tuesday, "There is no alternative to the fields on the shelf." He may not say what environmentalists want to hear, but at least he can't be accused of going back on his word.
This post first appeared on Cryopolitics, an Arctic News and Analysis blog.

Related stories from around the North:
Canada:  Feature Interview: The Arctic Council – What was accomplished and where we go from here, Eye on the Arctic Denmark:  Nordics to step up security cooperation on perceived Russian threat, Yle News Finland:  Survey – More than half of reservists in Finland pro-Nato, Yle News Norway:  Peace and stability crucial for Arctic economy, Barents Observer Russia: Majorities in Arctic nations favor cooperation with Russia, Barents Observer Sweden:   Arctic Council – From looking out to looking in, Blog by Mia Bennett, Cryopolitics United States:  As U.S. assumes chairmanship, what's next for Arctic Council, Blog by Mia Bennett