Scientists find genetic divide between Alaska city moose and country moose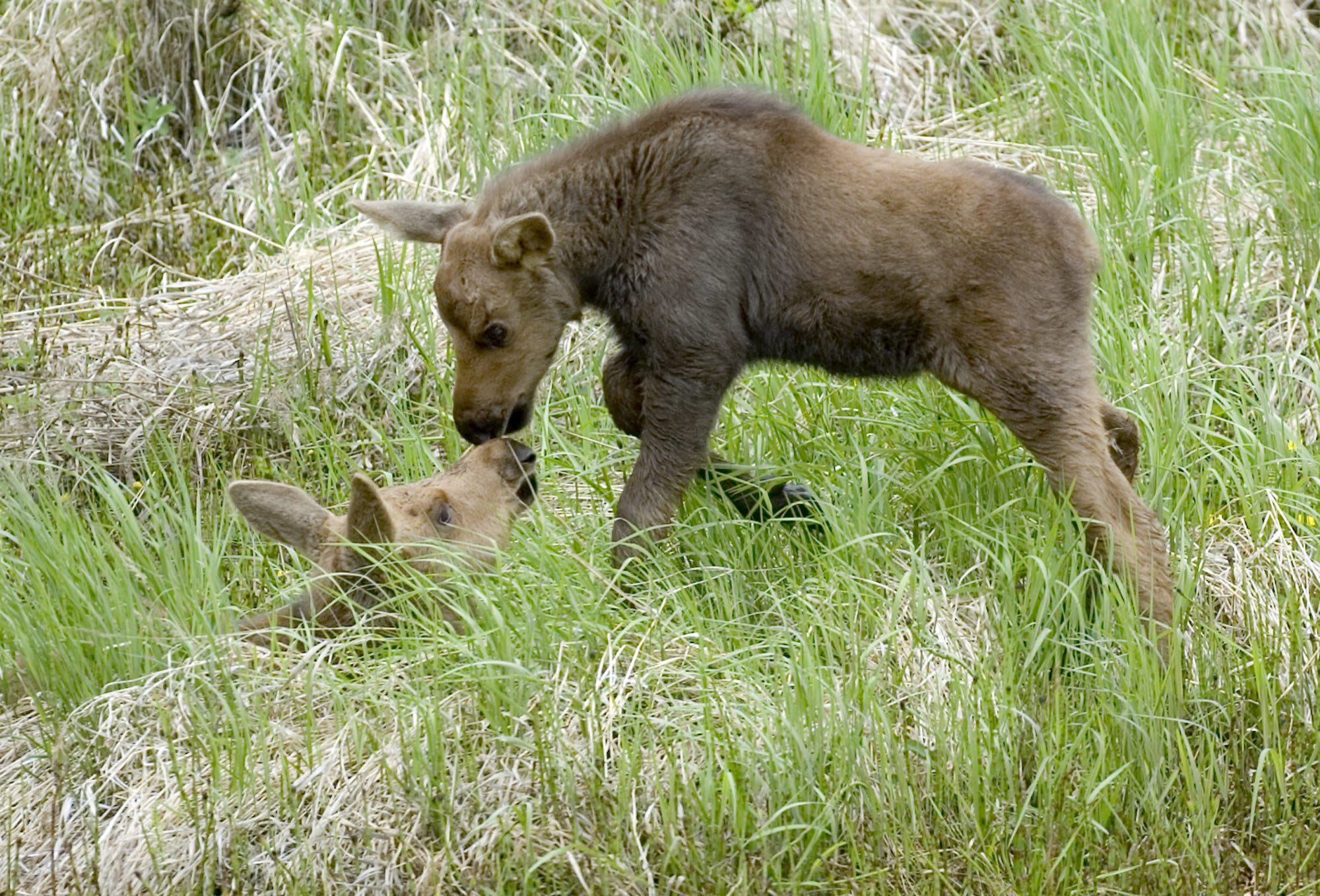 City moose and country moose are different — at least in their DNA.
A new study finds that Anchorage moose have greater genetic diversity than do moose on the Kenai Peninsula, and that the two populations have very different genetic structures. The findings, published in the journal Alces, indicate there is little gene flow between Anchorage and Kenai Peninsula moose, indicating very little interbreeding between the groups.
The study is by scientists from the U.S. Geological Survey, the Alaska Department of Fish and Game and the University of Alaska Fairbanks.
Genetic samples gathered
The researchers analyzed the bits of ear tissue — "ear plugs" — that are removed when animals are tagged, and blood from moose that were fitted with radio-tracking devices. They also analyzed some hunter-killed moose. In all, they gathered genetic samples over several years from 163 live moose and 32 hunter-killed moose from Anchorage and two sections of the western Kenai Peninsula, Game Management Units 15A and 15C.
Analysis of the alleles, the varying forms of genes that account for traits that are passed to offspring, revealed that the Kenai Peninsula moose in the study had significantly less "richness" in their alleles, even though the Anchorage population is smaller.
The analysis also revealed there are 10 alleles unique to the Anchorage population, compared to three that are unique to the Kenai Peninsula moose. "So that speaks to isolation," said study co-author Sandra Talbot, a USGS wildlife research geneticist.
Lack of genetic diversity
It is possible for Anchorage and Kenai Peninsula moose to travel to each other's territory, but the landscape makes that not an especially easy thing to do, the scientists say. The connection between Anchorage and the Peninsula is a narrow isthmus bisected by the Seward Highway.
But even if the moose wander between ranges, the genetics analysis shows they are not likely to breed, said Talbot and Robert Wilson, a USGS research geneticist and first author of the study.
Lack of genetic diversity can be a problem for wildlife populations that are isolated, fragmented and in decline. But in this case, the study authors said, the level of genetic diversity among Kenai Peninsula moose does not raise alarms.
At least from this study, "we can't necessarily say that Kenai Peninsula moose are less healthy than Anchorage moose," Talbot said.
The narrower genetic range is common for wildlife populations on islands and in peninsulas, she said. Kodiak's famous brown bears, for example, have relatively low genetic diversity, she said.
Population changes
However, there have been concerns in recent years about Kenai Peninsula moose-population declines, especially in Game Management Unit 15A. The decline is generally linked to ebbs and flows of wildfire and scarcity of the moose-friendly vegetation that grows after fires sweep through, according to the Alaska Department of Fish and Game. As more human development encroaches into the Peninsula's wildlife habitat, more fires are tamped down to protect property, meaning there is less proliferation of the second-growth browse that moose love, according to the department.
A 2013 census put the Game Management Unit 15A moose population at 1,600, only about half the state's target level, according to the department. The genetics study estimated a slightly higher population for that unit, 2,000, and used an estimate of 3,000 for Game Management Unit 15C, which is south of 15A.
Census
The new genetics study estimated the Anchorage moose population at 1,000.
Pinning down exactly how many moose live in Anchorage is "very, very difficult," said Sean Farley, an Alaska Department of Fish and Game research biologist and co-author of the genetics study. "We don't know how many are in the bowl at any one time," he said.
The periodic census reports depend on flyovers and mathematical extrapolations of what is seen on the ground, Farley said. Anchorage's on-the-ground development and in-the-skies traffic may complicate the flyover counts, he said. Counting moose from the air also requires adequate snow cover so that animals can be seen, he said. "We haven't had that for a while," he said. And moose can move great distances, he said.
Moose behavior
The genetics study, though it reveals a sharp divide between the populations, does not examine behavior of urban moose.
To Farley, that's a subject worthy of more study. He would like to do a moose-tracking project, similar to a project he led that used "critter cams" on Anchorage's urban bears. The bear project tracked those animals' movements through town, and a similar moose project could record their forays through natural vegetation similar to that eaten by rural moose — and perhaps into human-cultivated gardens filled with tasty tulips, succulent vegetables and other goodies to which some moose gravitate, even while avoiding traffic. "Moose can learn stuff. They can adapt to the environment," Farley said.
Kenai animals
Does that mean life is better for city moose than for those on the Kenai Peninsula? Perhaps there's a parallel in one of Aesop's fables.
"I hesitate to say it's better or worse," Farley said. It is "very, very different."
On the Peninsula, moose are preyed upon by bears and wolves, he said. In Anchorage, there's much less risk of moose meeting such a demise, "but the risk of getting hit by a car is very high," he said.
There is one behavioral difference he has noticed, he said.
"On the Kenai, it is not uncommon to see a bull, maybe with a satellite bull, and maybe a couple of cows that they're rounded up," he said. But in Anchorage, "it's not at all common to see a bunch of females grouped up," except possibly at higher elevation in the Hillside area, Farley said.
This is probably not for lack of trying on the part of male Anchorage moose, he said.
Related stories from around the North:
Canada:  Canadian senator proposes nation-wide "seal products day", Radio Canada International
Finland:  Rare white elk judged fair game in Finland, protected in Sweden, Yle News
Greenland: What the EU seal ban has meant for Inuit communities in the Arctic, Eye on the Arctic
Sweden: Sami villages under-report elk hunt kills in Sweden, Radio Sweden
United States: Urban moose calves a risk to mountain bikers and good Samaritans, Alaska Dispatch News