Rare white elk judged fair game in Finland, protected in Sweden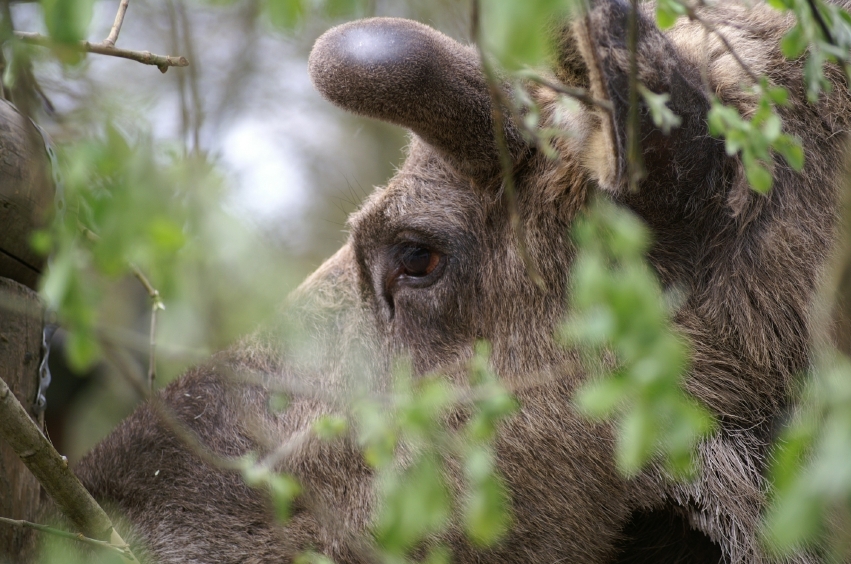 Two white Eurasian elk have been observed wandering the forests of the southwest city of Mynämäki, Finland this year.
The latest sighting of the luminous elk took place in early December. In Finland, hunting associations have decided that the white elk are fair game and can be hunted as any other elk. This is in contrast to neighbouring Sweden, where white elks appearing in nature are protected by law.
Two white Eurasian elk have been sighted in southwest Finland in the last six months. Both individuals are completely normal representatives of their species, but display striking white colouration.
The Eurasian elk (Alces alces), found in Europe, and the North American moose (Alces americanus), are now considered distinct species, as they have substantially different body and antler dimensions.
Local elk hunting party leader Ville Kalluinen has kept his eye out for the white elk through the summer and early autumn.
"I saw the elk once a week in the summer; it is a very handsome white male. It could be the same individual we saw a year ago on our game camera. It frequents the same area, but it was still a calf then," he says.
Kalluinen says two white elk have been sighted in the Mynämäki area over the summer, but no sign of either has been reported during this year's hunting season. He suspects the elk may travel up to 30 kilometres inland to Yläne for winter grazing.
To shoot or not to shoot?
The white elk sightings generated a lot of discussion in Mynämäki. Local game management association head Petri Siutla said that an initial decision was made to protect the unique animals.
"At first we wished to see how their stock would develop and how their antlers came in. But we didn't know if it was a natural phenomenon or not, so we decided to consider them fair game during hunting season," he says.
Siutla said the hunting season continues until the New Year, so it could be that the white elk could still meet its fate this winter. A white elk was downed in both 2012 and 2013 in Mynämäki, but this year the rare specimens have eluded the crosshairs.
Local elk hunting party leader Ville Kalluinen agrees with Siutla.
"It seems as if the colour is passed on quite effectively to the calves, so I don't see a problem if some groups choose to hunt them," he says.
A majestic sight
Kalluinen says seeing a white elk in the wild is an exhilarating and memorable experience.
"It's the same feeling when you come across a really handsome fully-grown male. It is a breathtaking sight. They are spectacular to see. I respect all game and wildlife, I'm not thinking of hunting and shooting all the time. It is great to follow their growth and development," he says.
In terms of traffic concerns, Kalluinen says the elk's white colouring is an advantageous feature.
"It certainly stands out. It is a large animal and the colour makes it shine like a beacon in the depths of the forest."
Expert: no reason for protection
There are several sighting of white elk in Finland each year. Norwegian hunters made headlines a few years ago after killing a protected white elk there. Jyrki Pusenius, a researcher for the Finnish Game and Fisheries Institute, says he has fielded several calls from Mynämäki enquiring about the status of the white elk.
"White elks are not albino versions of their species, as the individuals have normal colouring that is just unevenly distributed," he says.
Were they albino, they would have no pigment at all. White elk have brown spots and normal coloured eyes, whereas albino individuals are uniformly white or pale yellow with red eyes.
"All natural animal populations exhibit colour variations. The white elk found in Finland are likely the result of a chance mutation. Different colours can become widespread or die out as the process of natural selection determines their abundance," says Pusenius.
He says the colour change is not likely to spread, as poor snow conditions in southern Finland mean the lighter colour puts the elk at greater risk. Pusenius finds no particular reason to protect the white elk in Finland, but he also says there is justification to do away with them either.
Related stories from around the North: 
Canada:  Fighting to protect bird habitat in North America's boreal forest (SLIDESHOW), Eye on the Arctic
Finland:  New measures to protect the Saimaa seal in Finland, Yle News
Iceland: Endangered whale meat shipped from Iceland via Halifax, The Canadian Press
Norway:  Rapid growth in Svalbard walrus population, Barents Observer
Sweden: Sweden's mountain hares changing fur color too early, Radio Sweden
United States: Scientists seek cause of patchy baldness in some Beaufort Sea polar bears, Alaska Dispatch