Sweden's Greens torn on Vattenfall's coal mines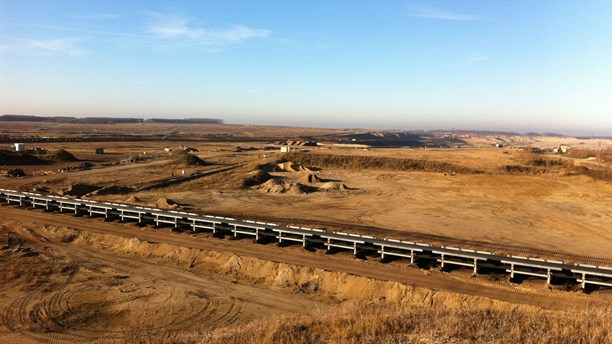 Green Party members from all over the country gather in Örebro for the party's first ever congress as a member of the government.
One of the biggest topics of debate is what should be done about state-owned energy company, Vattenfall's coal mines in Germany.
The Green Party has traditionally been adamant about shutting down all coal mines in Germany operated by state-owned energy company, Vattenfall. Gustav Fridolin was known for bringing a piece of coal with him to political debates to use as a rhetoric prop.
Political compromise
Selling the coal mines, rather than shutting them down, is not a solution according to many within the Green Party. Toxic emissions would continue, just under different management. That is why the party has traditionally wanted to keep possession of the coal mines, and oversee the process of completely shutting them down.
However, now that they are in Power with the Social Democrats, the Greens have been forced to fold and compromise on a number of issues, and shutting down the Vattenfall-owned coal mines in Germany may be yet another one of those issues.
There is a clear split in how different members and districts see this issue. Some are calling for cooler heads, realizing that any party in a government position must compromise, while others maintain that the mines must be shut down, no matter what.
"I'm for shutting down rather than selling. We should do the right thing. We know that we cannot use all the coal in the ground," Jesper Johansson, spokesperson for the Greens in Värmland, tells newspaper Dagens Nyheter.
Measures to meet climate goals
However, Karin Olofsson, Green politician from Stockholm, sees things differently.
"It is important to keep campaign promises, but we are now in the government. Compromises must happen. I don't think for a second that we've bargained with the fact that Vattenfall must take responsibility for the environment and climate," Green politician from Stockholm, Karin Olofsson, tells Swedish Radio News.
Earlier this year, Vattenfall's chairman told a parliamentary constitution committee that he wanted to sell-off its brown (lignite) coal operations in Germany to meet climate change goals.
"Vattenfall's climate targets to cut emissions by 65 million tonnes is not likely to be reached without disposals," said Lars G Nordström.
He admitted that selling-off the three large power plants and five open-cut mines in Germany would help meet Vattenfall's emissions targets by 2020 but would do nothing to reduce pollution.
Related stories from around the North:
Canada: Canadian province of Quebec announces plan for northern development, Eye on the Arctic
Finland:  Does Nordea's divesting of coal shares signal shift in Nordic market?, Yle News
Norway: Production uncertain beyond Q2 at iron-ore mine in Arctic Norway, Barents Observer
Russia:  Arctic mega-polluter in Russia pays record high dividends, Barents Observer
Sweden:  Vattenfall wants to sell-off brown coal operations, Barents Observer
United States:  Alaska – Judge temporarily halts EPA process on Pebble Mine, Alaska Dispatch