Arctic Alaska meeting planned for Kerry, Lavrov and other officials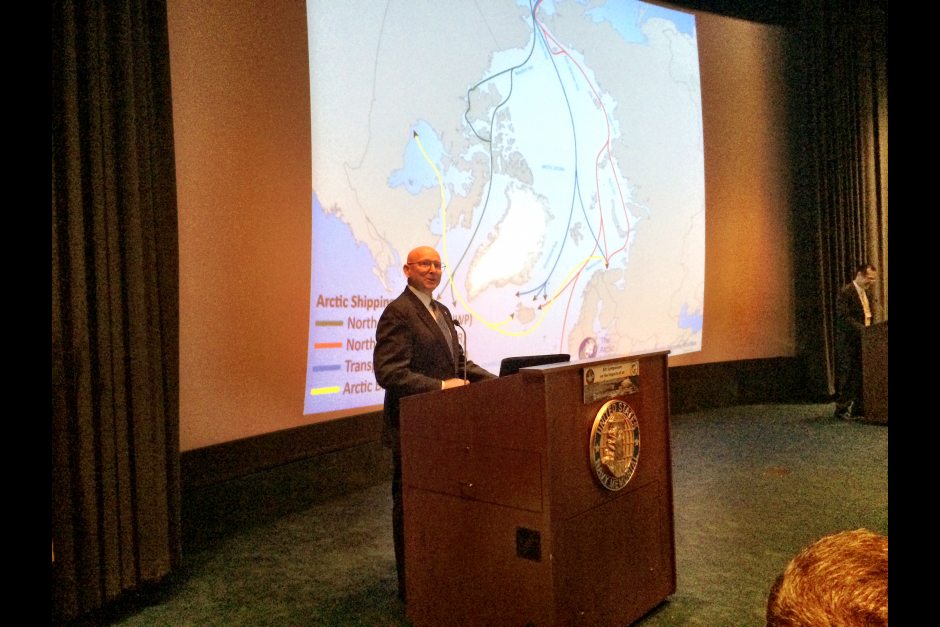 WASHINGTON — U.S. State Department officials are planning a "ministerial event" on Arctic policy later this summer in Alaska that could attract U.S. Secretary of State John Kerry and his Russian counterpart, Foreign Minister Sergey Lavrov, along with foreign ministers of other Arctic nations, retired Adm. Robert Papp Jr. told reporters at a symposium Tuesday in Washington, D.C.
While he declined to provide details, Papp, the special representative for the U.S. Arctic at the State Department, said the event "will draw the attention of the world to Alaska and the Arctic."
Arctic ties with Russia remain
Despite the freeze in relations between the United States and Russia over Ukraine, Kerry and Lavrov have been involved in the negotiations with Iran over its nuclear program. Papp said that "whatever we have in terms of possible ministerials in the future," the U.S. wants to see Lavrov at such an event. Citing the Iran talks, Papp noted that despite the troubled relationship and Western sanctions against Russia, the United States and Russia have not cut off contact.
While most military contact between U.S. military leaders and Russia has been cut, ties remain in one area — the Arctic, Papp said.
"We could spend the entire rest of the morning talking about Russia and the geostrategic challenges we're facing there, but suffice it to say, we have a good ongoing relationship with Russia as it relates to our Arctic activity," Papp said.
"There was a point earlier this year where I was the senior-most official since the invocation of the sanctions to travel to Moscow to meet with counterparts," Papp said, confirming there are otherwise "no military-to-military meetings going on."
President Barack Obama issued a series of executive orders in March 2014 establishing economic sanctions on Russia over its activities in the Ukraine, adding more and tighter sanctions later.
Safe and secure Arctic a priority
When Canada chaired the Arctic Council, Russia was not allowed to participate in Coast Guard forums, Admiral Paul Zukunft, commandant of the U.S. Coast Guard, said at the symposium Tuesday. But recently, Zukunft "was able to bring a Russian delegation to our Coast Guard headquarters," he said.
"It's the one area where I can talk to my other counterparts from Russia," Zukunft said. "When I talk to the other service chiefs in the Pentagon, their dialogue with their Russian counterparts has been severed," Zukunft said.
"And rightly so under the sanctions. And that is United States policy," Papp added later. "However, it's also United States policy that we will maintain a safe and secure Arctic. The president and Secretary Kerry committed to that."
Coast Guard exercises planned
The Arctic Council — currently led by the U.S., under Kerry, until 2017 — is made up of eight Arctic countries: Canada, Denmark, Finland, Iceland, Norway, Sweden, the U.S. and Russia. All efforts of the council require a consensus of all members to move forward.
"So it's been vitally important and one of our highest priorities to maintain cordial and professional and productive relations with Russia as we go forward," Papp told reporters at the symposium.
This fall, the Coast Guard plans to conduct a "table-top" search-and-rescue exercise with all of the Arctic coast guard nations — including Russia. That should lead to an "actual exercise" next year, Zukunft said.
The goal is "to replicate what is probably the predictable surprise" headed for Arctic waters, he said: "a mass rescue."
Zukunft pointed to the more than 200,000 cruise ship passengers a year that head into Arctic waters, on boats that often move with more speed and less care than some other Arctic vessels, he said.
The Arctic Council also has a task force focused on scientific cooperation that's co-chaired by the U.S. and Russia, said Martin Jeffries of the Navy's research office.
Mixed messages on Russian threat?
Elsewhere in Washington, D.C., on Tuesday, the nominee to become the next vice chairman of the Joint Chiefs of Staff said that Russia, China, Iran and North Korea are the countries most able to threaten the United States. In a Senate hearing Tuesday, Air Force Gen. Paul Selva said Russia is the nation's leading threat because of its nuclear capabilities.
He also urged open communication. "In any military operation anywhere in the world — that goes for Russia and China specifically and for any other country that might wish us ill — we need to open those dialogues to make sure that we don't miscalculate," Selva said, according to the Defense Department.
It's not a problem for the Arctic, Papp said, speaking about 10 blocks away at the Naval Heritage Center.
"We have always been able to conduct cooperative relations in the Arctic, even during the height of the Cold War with the Soviet Union, and I'm confident we can continue to do that now," Papp said.
"What we continue to struggle with is the rhetoric that comes out of Russia," he said.
Perspective is key, Papp added, noting that if not for Russia's military activities elsewhere, its activities in the Arctic might be viewed "as legitimate buildups" aimed at search-and-rescue and security, "doing activities — that frankly I've advocated for the United States to be doing along our coastline — in Russia," Papp said.
"So we're watching it very closely. We are concerned but I don't think we should overreact either."
Related stories from around the North:
Asia:  Asia ahead on preparing for polar climate change, says U.S. Arctic rep, Eye on the Arctic
Canada: The Arctic Council – What was accomplished and where we go from here, Eye on the Arctic
China: China's silk road plans could challenge Northern Sea Route, Blog by Mia Bennett
Finland: US seeks Finnish support for Arctic goals, Yle News
Norway:  China eyes Arctic Norway infrastructure projects, Barents Observer
Russia:  The Arctic Council's Immunity to Crimean Flu, Blog by Heather Exner-Pirot
Sweden:   Arctic Council – From looking out to looking in, Blog by Mia Bennett, Cryopolitics
United States:  Obama defends Arctic drilling weeks after Kerry promotes clean energy at Arctic Council, Blog by Mia Bennett