North American pines invading Swedish forests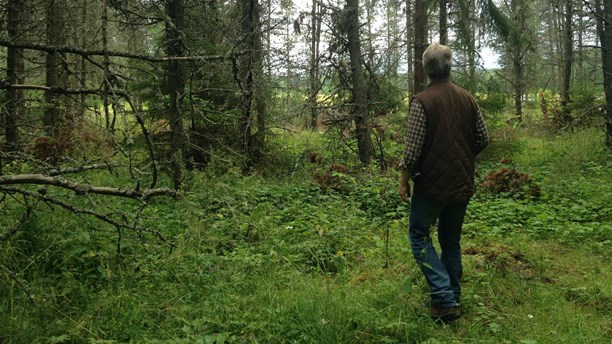 In the 1970's Swedish forest companies started importing pine trees from North America, and today – a billion tree plants later – experts claim the exotic plants are slowly changing the Swedish landscape.
More than half of Sweden's land area is covered by forests and the forest industry here is a cornerstone of the country's economy. We export products like timber, pulpwood and paper for hundreds of millions of krona each year and the industry accounts for roughly 10 percent of Sweden's total exports.
A faster growing tree
The forest industry here grew rapidly the past century, but as companies started cutting down more and more trees towards the middle of the 20th century, some foresters began worrying that we were cutting down trees faster than they were growing, and that that would lead to a nationwide shortage of wood.
To prevent this from happening, they started searching for a faster growing tree and eventually found the North American Lodgepole pine, says Ola Engelmark, a forest ecology consultant and associate professor of forest ecology at the Swedish University of Agricultural Sciences, SLU.
"They basically said that 'we think we may need more wood in 35 years or so and this is growing faster' and decided to grow it here," says Engelmark.
Effect on ecosystem
The Lodgepole pine, or Pinus Contorta in Latin, was introduced in Sweden on a large scale in the 1970's, mainly by the forestry group SCA, and today it covers more than 600,000 hectares, that's an area about the size of Sweden's largest lake, Vänern.
The Lodgepole pine has about 30 percent more needles than the native Swedish pine trees, which allows it to grow faster, but it also has a more dense canopy, which could affect the ecosystem says Ola Engelmark, who showed me around a small private plantation a few hundred metres from a busy road close to the city of Flen southwest of Stockholm.
"If this is allowed to grow and if we import more exotic species to Sweden, then we will change the native ecosystems to a foreign ecosystem and then our native species won't do well in these changed ecosystems. The Lodgepole pines change the living environment for insects, lichen and herbs. On top of that we also have to follow the Rio Convention which says that we have to strive to conserve our biodiversity. So, we can't just introduce a species only because it grows quicker," says Engelmark.
Imported, or exotic, species have a tendency to spread quickly and invade native ecosystems, and the Lodgepole pine is no exception.
'Potential to grow almost anywhere'
The first few years, the North American pine tree could only be found at large-scale plantations in the northern parts of Sweden – as they were never introduced to the southern part of the country because the native spruce trees were already producing enough wood – but today the species is spreading.
However, in a country where the pine tree is the second most common tree, the native Scots pine is in no way threatened by its North American relative any time soon, still Ola Engelmark believes that the Lodgepole pine could become an increasingly common sight in Swedish forests in a near future.
"In the 1970's many people said that this species wouldn't regenerate here in Sweden, but they were wrong. It has the potential to grow almost everywhere. I'm not saying it will, but it has the ecological capacity to do that. We can also see that it is invading certain parts of Sweden and I think we can foresee a kind of 'contortafication' as the Lodgepole pines here grow older and start producing more cones. This will cause even more natural regeneration," says Engelmark.
Related stories from around the North:
Canada: Canadian province of Quebec announces plan for northern development, Eye on the Arctic
Finland: Finland forest sell-off has risks, Yle News
Russia:  Counting elusive Finnish forest reindeer in Russian Karelia, Yle News
Sweden:  Sweden's Social Democrats make forest investment pledge, Radio Sweden