Life on the U.S. icebreaker Healy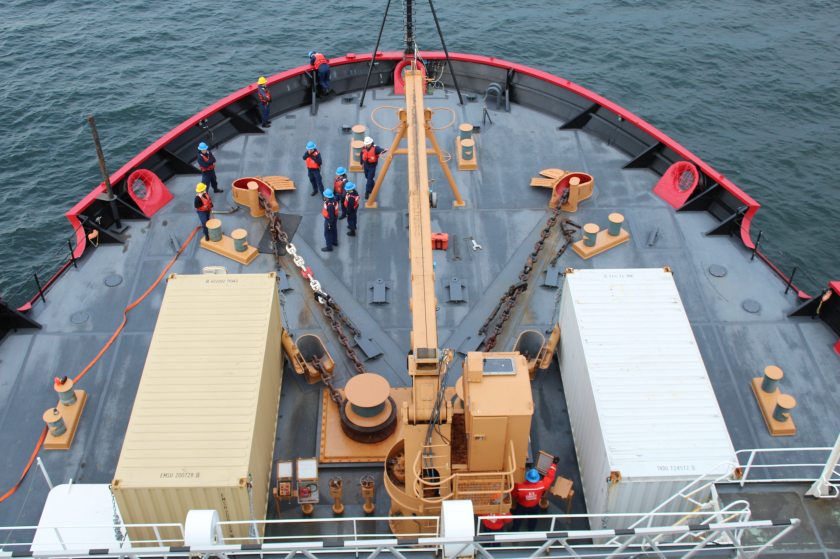 It's been two days since the only U.S. ship deployed above the Arctic Circle each summer has left the ice, and no one aboard is wearing red.
The U.S. Coast Guard Cutter Healy has just left the Chukchi Sea, dropped off a team of scientists in Nome and is sailing through the Aleutians to its next stop in Seward.
Cruising at about 15 knots, the trip will take about five days. No one aboard is supposed to wear red out of respect for a tradition that only allows the color to be worn when the vessel is sailing above the Arctic Circle. (Sailors, scientists and journalists who have done so are initiated into this privileged group, the Order of the Blue Nose, with a secret ceremony.)
So for now, the color is banned.
Crewmembers are back in blue uniforms and it's clear they have finished their first mission: They are wearing T-shirts instead of winter jackets — and the salad bar is starting to wilt.
Platform for Arctic research
The Healy is a uniquely significant resource for the nation; it is the only vessel that provides a platform for Arctic research — research that helps guide U.S. policies in the rapidly changing region. Research performed from the ship can help shape decisions about national security, climate change and maritime traffic.
The Healy undertakes its missions in the summer because the ice is its weakest and the sun is out for 24 hours, and right now, it's in between missions. This leg is a trek, but it is crucial to the weary sailors who enable the science. It's a way for them to decompress, pick up the new research team — and also restock on fresh greens.
"Cans of three-bean salad get pretty depressing," said Gregory Stanclik, the ship's executive officer. "Once you start running out of leafy salad, it gets really tough."
"Seward is our best option for produce," said the ship's top chef and kitchen manager Food Service Chief Petty Officer Cliff Grader.
Departure for the North Pole
The city's proximity to Anchorage makes it the Healy's most convenient harbor to pick up fresh vegetables, fruit and dairy products  even though it's five days away from their research area in the Arctic. These goods are cherished on long missions – such as the next one, which departs from Dutch Harbor for the North Pole next week. It will take 62 days and as many as 150 people will be on board.
So the crew is picking up $48,000 worth of mostly perishable goods, said Grader. This is on top of the $220,000 worth of dry and frozen goods they loaded before leaving their Seattle homeport on June 24. They also picked up a $14,000 order in Kodiak before the first mission and will pick up another $11,000 order in Dutch next week, which will be the last stop until October.
Grader and his staff prepare four wholesome meals a day — breakfast, lunch, dinner and a midnight meal, usually from leftovers, for the crew on late-night watch. Each recipe is made specifically for the Healy crew. During this week to Seward, the crew is served everything from bacon-wrapped filet mignon and crab legs to ham and cheese sandwiches.
"Our biggest job is enhancing the morale on the ship," he said. "We do a lot of that through the food we provide."
The crew is also taking this time to do laundry, play games, check emails and enjoy the reemergence of sunsets.
A week earlier, they were surrounded by ice, hundreds of miles north of Barrow with dozens of scientists from the Department of Homeland Security, the U.S. Navy and various universities. Scientists were seizing the eternal daylight and testing a gamut of devices that work in the Lower 48 but are new to the Arctic, and the crew was accommodating their needs.
"Imagine about 20 things going on from all parts of the ship all the time," said Scot Tripp, a lead scientist for the Coast Guard's Research and Development Center who manages scientists aboard the Healy.
Projects ranged from deploying weather buoys to testing technology that can evaluate underwater oil plumes, the durability of new thermal gear, camera optics in the freezing conditions and the landing capabilities of a drone.
"We're taking stuff and saying, 'OK, what do we need to make this work up here?'" Tripp said. "It's part of our overall Coast Guard strategic objective, to get innovative, new technologies up here, to help [the Coast Guard] do their job."
During these missions, the Healy houses about 90 crewmembers and about 50 "civilians," — mostly scientists, their teams and journalists. At maximum capacity, six people share one bathroom. Most are bunking in rooms with three beds and one small, circular sea window. But on the way to Seward, the scientists from the first mission gone, and a lot of the civilian rooms are empty.
Despite the extra space, the ship still feels like an elaborate obstacle course, or a life-size circuit board. Hallways are long and narrow, and steps are so steep and thin, they could almost be ladders. Doors open like vaults and the walls are covered with buttons, wires, switchboards, warning signs, pipes, fuse boxes, alarms, telephone receivers and blinking lights. The ship is roughly nine stories and, at 420 feet, longer than a football field. Orientation is hard to establish and crews often ask civilians, who are developing their "sea legs," if they are lost.
Safety procedures
There are dozens of idiosyncrasies, including the ban on red clothing south of the Arctic Circle, that reflect the distinct camaraderie that comes with sailing the Arctic Ocean on the Healy. It's a bond borne of isolation in such conditions — and from having to live and work on this boat around the clock together.
For all its comforts — fresh meals, coffee, the comradeship, heated rooms and even hot water — there are also reminders that it is a ship built for the Arctic's extreme conditions. It weighs 16,000 long tons and can crush through ice as thick as four-and-a-half feet. It can carry 1.2 million gallons of diesel and burn through 22,000 of them in a day.
Anyone who boards is required to practice trying on a dry suit, in case they fall into icy water. It's like a swollen, on-size-fits-all wetsuit, with a hazmat-style protective layer and brawny rubber boots. The gear protects wearers from hypothermia, but only for a few hours. The boat has about 200 of them, enough for at least 125 percent of the passengers onboard.
Passengers must also carry a pager and check in online through an internal system twice a day, so the captain knows no one has fallen off. The long days can be tiresome and can chip away at people's moods — especially when there aren't any fresh vegetables.
This week of cruising, followed by a week of downtime in Seward before Dutch may be crucial for morale. The missions have all the elements for reality TV, except alcohol, which is prohibited aboard the ship. But drama is secondary because the crew's lives depend on getting along.
"You see each other at their worst, like in a marriage. We're like a family," said Master Chief Boatswain's Mate Matt Lasley. "There's nobody to save us out there except us."
Related stories from around the North:
Asia:  Full steam ahead for Asian icebreakers in the Arctic this summer, Blog by Mia Bennett
Canada:  Ship trouble in the Arctic on the rise: report, Alaska Public Radio Network
China: China's silk road plans could challenge Northern Sea Route, Blog by Mia Bennett
Finland: New Finland icebreaker can operate sideways with asymmetrical hull, Yle News
Russia:  New vessels for Russia's Coast Guard, Barents Observer
Sweden: Swedish icebreakers gear up for Arctic role, Radio Sweden
United States: U.S. officials consider leasing icebreakers as budget reality sinks in, Alaska Dispatch News