What Russia's Arctic claim means for Canada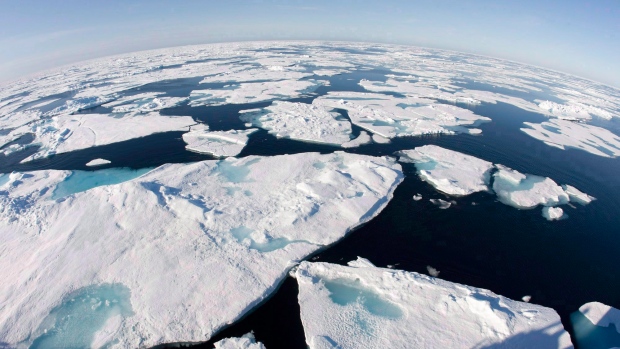 Russia has made a new bid for a vast swath of arctic territory to the United Nations and it appears the claim will overlap with Canada's.
The area is thought to hold as much as a quarter of the world new oil and gas.
Canadian leader made Arctic a priority
Canada and Russia clashed over Arctic jurisdiction in 2007 when Moscow staked a symbolic claim to the North Pole by planting a flag on the ocean floor. Prime Minister Stephen Harper in 2013 ordered officials to rewrite Canada's claim to include the North Pole, and he has made it a priority to make yearly visits to the Arctic.
The Law of the Sea allows coastal nations to extend their jurisdiction beyond 200 nautical miles if they can prove the boundary is a natural extension. So countries with arctic coastline have been mapping the sea bed to make their claims.
Canada preparing its claim
Canada has an icebreaker currently collecting data in order to prepare its claim.
"The Russian claim–and this is a further development from an initial submission they made back in 2001—the claim seems to go even further than what the 2001 claim did and it's clear that it's overlapping in an area that Canada is right now, as we speak, actively examining for its claim," says Rob Huebert of the University of Calgary.
"So there's going to be some form of an overlap at one point or another."
RCI Feature Interview
For more from the conversation between Radio Canada International's Lynn Desjardins and Arctic expert Rob Huebert, click HERE 
Countries will likely negotiate claims
Matters are complicated because Canada has taken a hard line on Russia because of the situation in Ukraine and diplomatic relations are frosty. The claims on arctic territory will take five to seven years to work through the United Nations.
Countries that have overlapping claims can use instruments within the Law of the Sea to settle their claims or they can negotiate directly with each other. Says Huebert: "hopefully at that point in time, relationships…will be better and we will ultimately sit down and decide how this new border with Russia will be shaped."
Related stories from around the North: 
Canada:  Canada to collect more data for continental shelf claim, Eye on the Arctic
Denmark:  Russia ready to talk North Pole with Denmark, Barents Observer
Iceland:  Revisualizing the Cryosphere, Blog by Mia Bennett
Russia:  Russia submits claim for North Pole, Barents Observer
Sweden:  Swedish ships mapped at bottom of sea, Radio Sweden
United States:  U.S. to collect Arctic data for modern navigational charts, Alaska Dispatch New