No 'national imperative' for icebreakers: U.S. official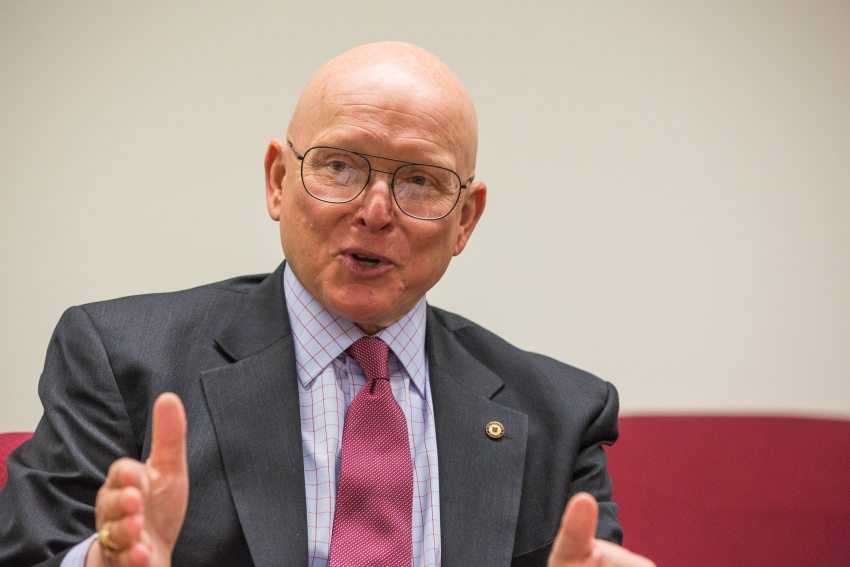 Efforts to procure another polar icebreaker for the U.S. Coast Guard have foundered because there isn't a national imperative to do so, a prominent Arctic official told a panel discussing the topic on Tuesday.
Retired Coast Guard Adm. Robert Papp Jr., who serves as U.S. Special Representative for the Arctic, a U.S. State Department post, said when he joined the Coast Guard in 1970, the U.S. had eight heavy icebreaking ships. Now, the nation has one, the Polar Star, which is stationed in Seattle and ventures to the Antarctic every summer for research.
"Do we need eight icebreakers? I think not. But I know we need more than one, which is what we've got right now," Papp told the panel. "The problem is, what's the national imperative now? And that's what I've been struggling with."
Worries over Arctic limitations
The Coast Guard says it could take about $1 billion and a decade to secure another heavy icebreaker, mostly because a long checklist of federal agencies would have a stake in it, and would provide input and ensure their needs are satisfied. But elected officials representing Alaska are worried about search-and-rescue limitations in the Arctic as ice melts and maritime traffic grows.
Papp's remarks came after a panel session at a conference on Arctic ports and shipping, sponsored by The Arctic Circle. Alaska Dispatch News Publisher Alice Rogoff is a co-founder of the organization and an organizer of the conference.
Panelists, including former NASA administrator Sean O'Keefe — now a senior advisor for the Center for Strategic International Studies and professor of strategic management and leadership at Syracuse University — had encouraged federal agencies to partner with private companies or other countries to begin growing the nation's icebreaking fleet.
O'Keefe explained during the panel that securing a new icebreaker meets all the objectives for the Obama administration's national security initiatives and Arctic policy, but federal agencies are bottlenecked by traditional procurement.
Alternative arrangements
After Papp made his comment, O'Keefe said he agreed.
"It's just that right now we have one answer, and that one answer is traditional procurement, and this has been the methodology," O'Keefe said, which he said has led them nowhere.
At least some among Alaska's congressional delegation agree.
Last month, Rep. Don Young co-sponsored legislation that would allow the government to make alternative arrangements to fund an icebreaker, such as public-private partnerships.
Speaking after the panel, Chief Scott Smith of the Office of Navigation Systems for the Coast Guard was reluctant to comment on the feasibility of partnerships such as O'Keefe had described.
"I would say that it's something that's being explored. I would not say that it's likely or unlikely," Smith said. "There are mission challenges if it's a non-Coast Guard vessel."
Related stories from around the North:
Asia:  Full steam ahead for Asian icebreakers in the Arctic this summer, Blog by Mia Bennett
Canada:  Ship trouble in the Arctic on the rise: report, Alaska Public Radio Network
China: China's silk road plans could challenge Northern Sea Route, Blog by Mia Bennett
Finland: New Finland icebreaker can operate sideways with asymmetrical hull, Yle News
Russia:  New vessels for Russia's Coast Guard, Barents Observer
Sweden: Swedish icebreakers gear up for Arctic role, Radio Sweden
United States:  U.S. officials consider leasing icebreakers as budget reality sinks in, Alaska Dispatch News