Chinese sailor to take on Northern Sea Route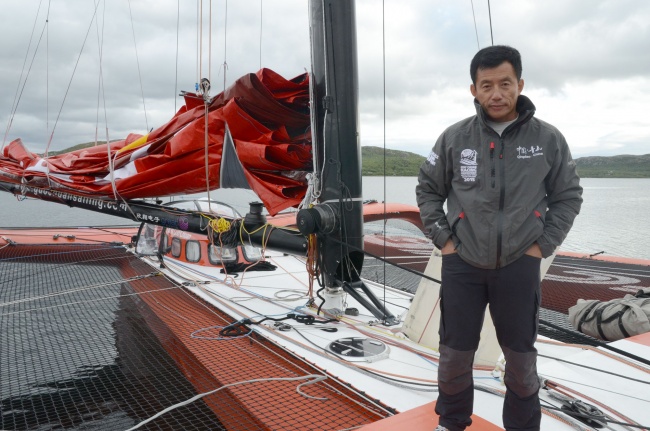 Chinese sailor Guo Chuan intends to make it from Murmansk to the Bering Strait in 14 days without engine power and pit stops.
"The conditions look good, we do not expect any major encounters with ice",  Guo Chuan says to BarentsObserver.
His trimaran, the "Qingdao China", is docked in Jarfjord outside Kirkenes, Norway, as the last preparations for the Arctic voyage are handled. With support from local company Arctic Dive Resort, the expedition stays in Norwegian-Russian border area before it on Saturday heads towards Murmansk. Guo Chuan intends to make it non-stop through the Northern Sea Route quicker than any other before.
"We want to make it from Murmansk to the Bering Strait in 14 days", the experienced Chinese sailor says. That trip will be conducted without stops and with only wind power. If successful, it will be a historic mission.
Ice risks
However, risks are many. The 30 meter long vessel is not made for icy waters. A trimaran with a 32 meter long mast and a total weight of only one tonne, it could be badly hurt by drifting ice.
Such a collision could turn critical for the ship and its crew. The waters of the Northern Sea Route are among the most remote in the world and emergency and preparedness facilities are, in the worst case, several thousands kilometers away.
The "Qingdao China" is built in France and became world-famous when Captain Joyon took it around the globe in a record-setting solo non-stop circumnavigation voyage in 2008.  Since then, the ship has been made better prepared for sailing in rough northern waters. The front parts of the hulls have been enforced and new technology has been installed.
Captain Guo Chuan is No.1 sailor in China. He became a star in the country after he completed his solo non-stop circumnavigation in a 40ft yacht and created a new world record.
Arctic shipping
The expedition comes as China expresses increasing interest in the Northern Sea Route.
As previously reported, a representative of Chinese shipping company Cosco maintains that his company is "assessing the possibilities for more regular shipping between Europe and Asia along the NSR".
"We are optimistic with regard to the future of Arctic shipping", he said.
Related stories from around the North:
Canada: Interactive atlas shows Inuit trails, Blog by Mia Bennett
Denmark: The Continental Shelf – Geological, legal or geopolitical?, Blog by Mia Bennett
Greenland:  Mapping and distorting the Arctic, Blog by Mia Bennett
Iceland:  Revisualizing the Cryosphere, Blog by Mia Bennett
Russia:  Russia plans to increase Northern Sea Route capacity, Barents Observer
Sweden:  Swedish ships mapped at bottom of sea, Radio Sweden
United States:  U.S. to collect Arctic data for modern navigational charts, Alaska Dispatch News