Alaska trip shows Obama's commitment to Arctic: Kerry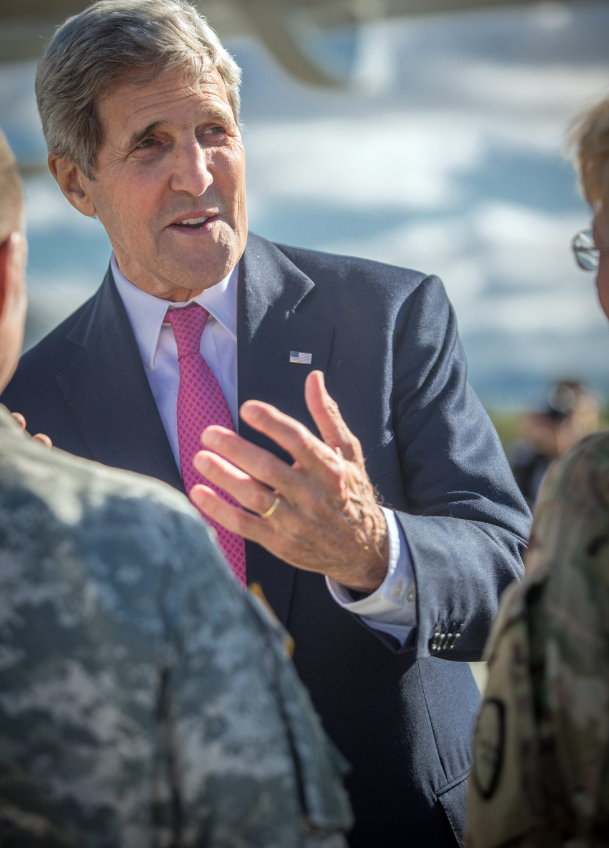 Federal officials have made a lot of unfulfilled promises in the past about paying attention to the issues and needs of the far north, so Alaskans have a right to be skeptical about new promises, Secretary of State John Kerry said Sunday.
"I know that Alaskans have long felt that Washington and the rest of the country don't necessarily understand the special issues that arise in living in Alaska," Kerry told reporters at a news conference in Anchorage.
But the decision by President Barack Obama to spend three days in Alaska and the arrival of cabinet secretaries, foreign ministers from seven nations and other high-level policymakers to attend Monday's State Department-sponsored GLACIER conference should demonstrate that this time, the commitment is deep, he said.
Climate focus
Much of the commitment is about combating climate change, which is most pronounced in the Arctic, Kerry told the small group of reporters. "The president believes that this is one of the most serious issues we face," he said.
Alaskans know about climate change firsthand, he said. He cited sea-ice melt, permafrost thaw, coastal erosion and increased wildfire activity as some of the evidence.
Alaska "is more than a canary in a coal mine," he said. "It's really the place where we're seeing, now, the real impacts."
Increasingly, he said, residents of more populated areas in southern latitudes are "putting two and two together" and understanding that transformation of their forests and animal populations, along with increased occurrences of extreme weather events, are part of the same climate change that is occurring even more dramatically in the far north.
He said climate-change deniers are an increasingly small minority and are on the wrong side of history.
"I think the people who are slow to come to this table will be written up by historians as being some of the folks most irresponsible in understanding and reacting to scientific analysis," he said.
Looking ahead to Paris conference
The Obama administration is preparing and advocating "forcefully" for binding agreements to result from the United Nations Conference on Climate Change, to be held later this year in Paris, Kerry said. That includes some bilateral efforts, such as a recent agreement won from China for targeted reductions of carbon emissions.
Still, the Obama administration has approved oil drilling in the Chukchi Sea, a controversial project being pursued by Royal Dutch Shell. Kerry acknowledged that the president has been criticized for that policy but said some resource development in the changing Arctic is acceptable as long as strict controls are applied.
That also applies to Arctic shipping, which is on the rise as summer and fall sea ice diminishes, he said.
UNCLOS
But to fully participate in international Arctic affairs, he said, the United States needs to be a full participant in the UN Convention on the Law of the Sea — the treaty under which all Arctic territorial claims will be settled.
The U.S. is one of only a few nations in the world that has not ratified the treaty, thanks to opposition in the U.S. Senate that is preventing the necessary two-thirds approval of that body.
Kerry characterized opposition to the treaty as more emotional than logical.
"It became a symbol more than it was a substantive debate, a symbol for UN invasion of — I don't know what — American space and, you know, capacity to make our own decisions," he said. "There are people who oppose all treaties, understand that, who reside in the United States Senate."
Nonetheless, Kerry has high hopes that enough senators will be won over to ratify the treaty.
Without being part of the convention, "we lose in leadership. We lose in terms of our standing to argue certain rights and obligations under it," he said. "We are diminished, most importantly, by not being at the table when the process by which it is implemented is talked about and worked on and decided."
Related stories from around the North:
Asia:  Asia ahead on preparing for polar climate change, says U.S. Arctic rep, Eye on the Arctic
Canada: The Arctic Council – What was accomplished and where we go from here, Eye on the Arctic
China: China's silk road plans could challenge Northern Sea Route, Blog by Mia Bennett
Denmark:  The return of the Arctic Five, Blog by Heather Exner-Pirot
Finland: US seeks Finnish support for Arctic goals, Yle News
Norway:  China eyes Arctic Norway infrastructure projects, Barents Observer
Russia:  The Arctic Council's Immunity to Crimean Flu, Blog by Heather Exner-Pirot
Sweden:   Arctic Council – From looking out to looking in, Blog by Mia Bennett, Cryopolitics
United States:  Obama visit brings new attention to Arctic, Alaska Dispatch News