Norway, Russia continue Coast Guard cooperation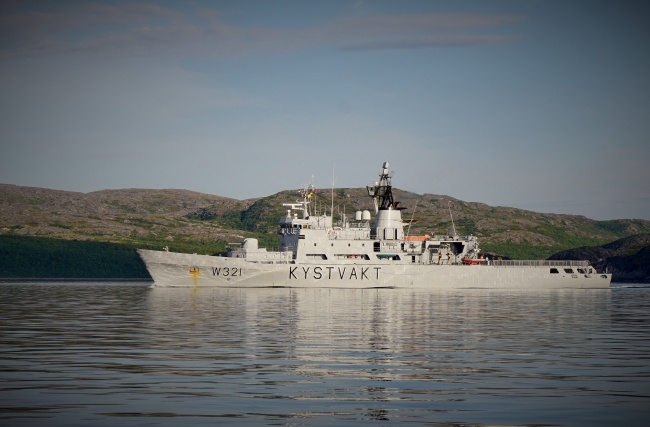 Regular military relations between Norway and Russia have been halted for more than a year, but the two countries' Coast Guard Services continue cooperate on protection of borders and resources in the Barents Sea.
Last week Norway's Coast Guard vessel "KV Andenes" visited Arkhangelsk with a delegation led by Head of the Norwegian Joint Headquarters Lieutenant General Morten Haga Lunde.
The two parties discussed the program for bilateral cooperation between Norway's Joint Operative Headquarters and FSB's Border Guard Service for the coming year, press spokesperson of FSB's Directorate for the Western Arctic Region Liliya Moroz said to Pravda Severa.
Arkhangelsk meeting
The meeting in Arkhangelsk is important for the military cooperation between the two countries, Head of the Joint Headquarters' Department of Communication Lieutanant Colonel Ivar Moen says to BarentsObserver.
"Norway and Russia have common interests through the large natural resources in the north and the best possible management of them. It is important that cooperation on search and rescue is functioning well, in case a need should occur, " Moen says." Cooperation within these fields is important for the protection of human lives and values, and it contributes to stability and predictability on the military side."
This is the first time a Norwegian Coast Guard vessel visits Arkhangelsk within the framework of the bilateral cooperation, Pravda Severa writes. Norwegian naval vessels have several times visted Murmansk and Severomorsk.
Suspension explanded until 2015
Military bilateral cooperation between Norway and Russia has been suspended since March 2014, following Russia's annexation of the Crimea and use of armed force in Ukraine. In December 2014 the suspension was expanded until the end of 2015.
Collaboration will continue in Coast Guard, Border Guard and search-and-rescue activities as well as the workings of the Incidents at Sea Agreement. Contact between the Norwegian Joint Headquarters and the Northern Fleet will continue as well. This is to ensure the safety of all parties in northern marine areas and to maintain stability and predictability in our immediate region, the Ministry of Defense reported.
Related stories from around the North:
Asia:  Full steam ahead for Asian icebreakers in the Arctic this summer, Blog by Mia Bennett
Canada:  Ship trouble in the Arctic on the rise: report, Alaska Public Radio Network
China: China's silk road plans could challenge Northern Sea Route, Blog by Mia Bennett
Finland: New Finland icebreaker can operate sideways with asymmetrical hull, Yle News
Russia:  New vessels for Russia's Coast Guard, Barents Observer
United States:  U.S. Coast Guard and scientists on Arctic mission, Alaska Dispatch News