Why Shell stopped drilling in Arctic Alaska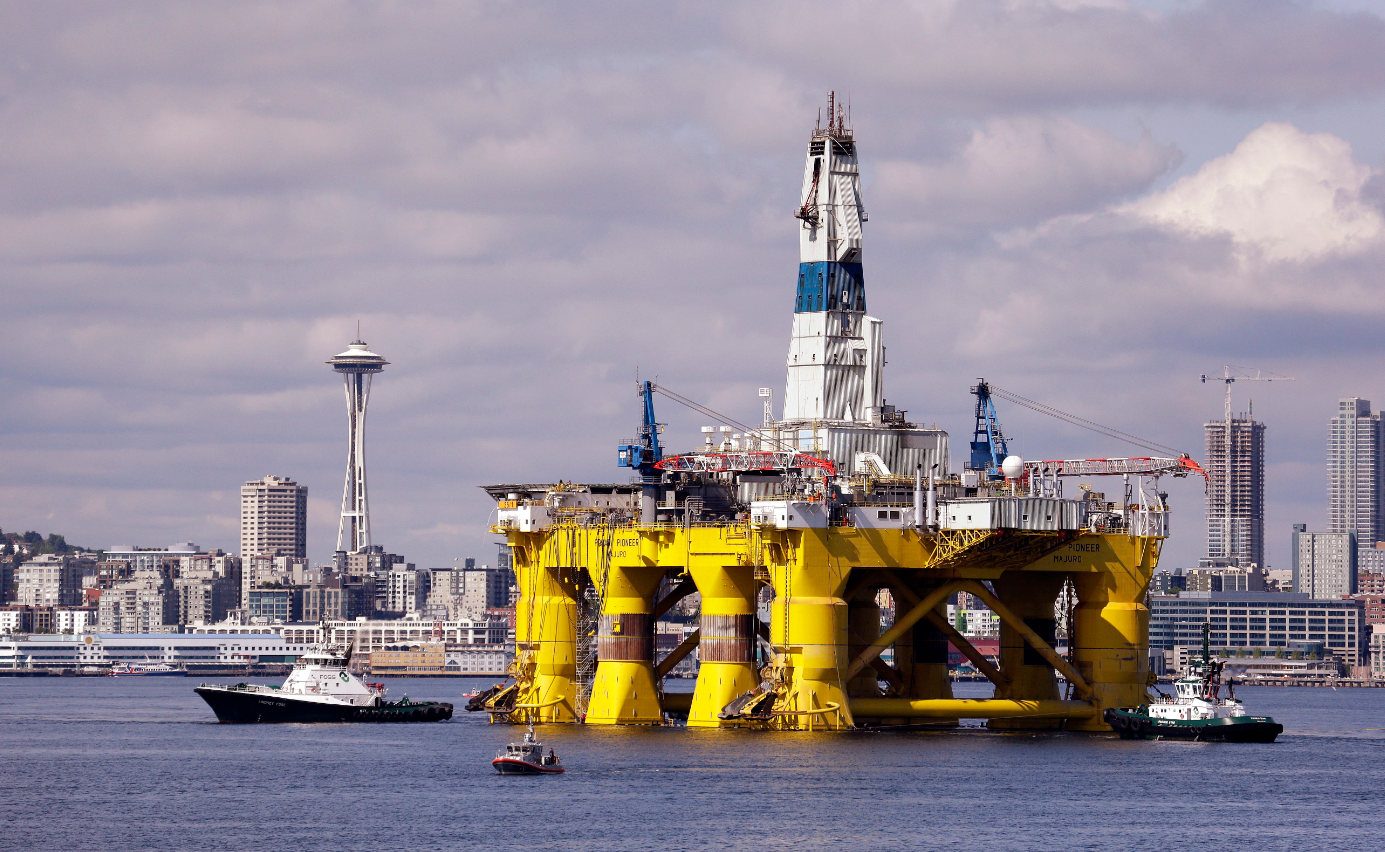 Royal Dutch Shell will abandon its Arctic oil exploration efforts in Alaska's Chukchi Sea after spending billions of dollars on test drilling, finding reserves were "insufficient" to continue, the company announced Monday in London.
The company cited the high costs of drilling, disappointing test drilling results and an "unpredictable" regulatory environment leading up to the decision, which followed $7 billion in company spending in recent years.
"Shell continues to see important exploration potential in the basin, and the area is likely to ultimately be of strategic importance to Alaska and the U.S. However, this is a clearly disappointing exploration outcome for this part of the basin," Marvin Odum, director of Shell Upstream Americas, said in a statement.
Oil prices
While the price of oil has fallen dramatically — from several years of more than $90 a barrel to below $50 per barrel currently — that's not a significant driver in the decision, Shell spokesman Curtis Smith said Monday.
"At any given time we have a suite of investment options in our portfolio and not all of them can be funded," he said. The company based the long-term feasibility of the project on expectations of prices 10 to 15 years from now, "not the price environment we are experiencing today," Smith said.
The company will seal its Burger J well west of Barrow and has no plans to drill at its Burger V well, Smith said.
The two rigs — the Polar Pioneer and the Noble Discoverer — will head south, along with dozens of support vessels.
"I'm not surprised," Cindy Giglio, a senior analyst with IHS Energy, said of the announcement, citing low commodity prices, potential state tax hikes and Shell's ongoing merger with U.K. energy company BG.
Prices have dropped "$75 or so since they committed" to the project, Giglio said.
And given Alaska's financial troubles, the environment may not be as friendly as Shell would like, particularly given the merger taking up much of the company's focus, Giglio said.
Implications for Alaska
But from a state standpoint, there's not much Alaska has to offer in term of a financial break — the state has no authority to tax offshore oil in federal waters, and no rights to royalties from the drilling there.
Alaska Gov. Bill Walker said Monday  he contacted the White House to set up meetings to discuss the impact of the decision, as well as drilling in the Arctic National Wildlife Refuge.
"While the company's recent announcement is disappointing, it is a reminder that underscores the need for Alaska to drive its own destiny through development of known gas resources, as well as rich oil reserves in a small area of ANWR," Walker said.
The chances for success weren't great from the start, Giglio said. "To drill one well and expect one well to be fantastic," the odds aren't good. "That's not how exploration works," she said.
Alaska — and the Arctic particularly — is already an expensive place to drill, and "the Arctic's a lot harder to justify, financially," Giglio said.
End of Arctic drilling?
Shell's most recent annual capital expenditure budget, revised for the second quarter, is $30 billion, down 10 to 15 percent from recent years, when the budget hovered around $37 billion. So spending billions on one test well takes up a large portion of that budget, Giglio said.
"In general, all the companies are going to be cutting exploration spending in the current price environment. And so it makes total sense that they're not going to push" forward with the Arctic project, Giglio said.
But it's not necessarily the end of Arctic drilling, she said. "The company's not saying it's selling anything. So in another 10 years they could be interested in doing it again," Giglio said.
The drilling efforts held some last-chance hopes for filling the quarter-full trans-Alaska pipeline. Surveys by the federal government estimated the Chukchi and Beaufort seas could hold more than 26 billion barrels of oil. Shell hoped to continue exploration for another year and be shipping oil south by 2020.
This summer, Shell drilled 6,800 feet into the basin, located in about 150 feet of water 80 miles offshore, with great expectations for discovering massive, untapped oil reserves. The company noted that the basin, which is about half the size of the Gulf of Mexico, "remains substantially under-explored."
The decision means that "only further exploration will determine the true potential of this basin," Smith said.
Further exploration is over "for the foreseeable future," the company said, noting an "unpredictable federal regulatory environment in offshore Alaska.'
Alaska frustrated
President Barack Obama has defended his administration's approval of test drilling in the Arctic, despite strong criticism from environmental groups. But leading Democratic presidential candidate Hillary Clinton has expressed opposition to the decision, and questions remain about future permitting and short lease periods, relative to the time it takes to get from testing to drilling in the difficult climate and given a limited summer drilling season.
The current federal permitting system "brings high levels of operational uncertainty to offshore Alaska planning. Under normal circumstances, a frontier exploration program of this complexity would have taken significantly less time," Smith said.
Alaska Sen. Lisa Murkowski echoed that statement, saying Monday that she is "extremely frustrated" with the decision, and she has been "deeply frustrated by the years-long path that led to it."
"What we have here is a case in which a company's commercial efforts could not overcome a burdensome and often contradictory regulatory environment," Murkowski said, citing limits on drilling that slowed the seven-year process and potential new regulations  in the works — all with no guarantees for extended leases.
A "predictable and sensible regulatory system" is needed to spur future investments, Murkowski said. That includes allowing further development, opening new areas in the nearshore Beaufort Sea, extending lease sales and allowing offshore revenue sharing with the state, among other options. She said the U.S. also needs to invest in icebreakers, ports and other national security priorities for the Arctic.
Sen. Dan Sullivan agreed. "Make no mistake: Countries like Russia and China will continue to develop the Arctic's natural resources, but will do so with little regard for the environment," Sullivan said in a statement Monday.
He blamed the Obama administration for regulatory delay and said Alaskans "must start weighing each and every regulatory and policy decision as if our economic future depends on it – because it does."
Decision 'stunning'
But not everyone on Capitol Hill is on board with drilling — or with the Obama administration's mild support in recent months.
Just last week a dozen senators wrote Obama to protest support of drilling in the Arctic, arguing it is inconsistent with the president's climate change policies.
And environmental groups cheered Shell's decision, which followed high-profile protests and arguments that drilling in the Arctic could have disastrous ecological consequences in the event of a spill, particularly for polar bears, walruses and ice seals.
Sierra Club executive director Michael Brune called the announcement "joyous news" and said he hoped it would lead Obama to cancel 2016-17 lease sales and remove Arctic drilling from the 2017-2022 Outer Continental Shelf five-year lease plan.
Margaret Williams of the World Wildlife Fund called news of Shell's withdrawal stunning.
"That's incredible. That's huge," she said from Anchorage. "All along, the conservation community has been pointing to the challenging and unpredictable environmental conditions. We always thought the risk was tremendously great."
"Shell's announcement is a very good news for the marine environment, sensitive coastal lands and the Arctic communities that would be devastated by a major oil spill," said Lois Epstein, a licensed engineer and Arctic program director for The Wilderness Society.
"Hopefully, this means that we are done with oil companies gambling with the Arctic Ocean," Epstein said.
"With this pipe dream ended, we can now stop arguing about Shell and focus on moving forward," said Susan Murray, deputy vice president of Oceana. "Shell's announcement today allows the government to take a step back to apply careful planning, precaution, and science to forge a sustainable future for the Arctic."
Difficult history
After about $7 billion in spending on the Arctic drilling effort, Shell Alaska still has $1.1 billion in contractual commitments in the area, the company said.
The company holds 275 leases in the Chukchi Sea, which expire in 2020, and 140 leases in the Beaufort Sea, which expire between 2017 and 2019.
Royal Dutch Shell's "A" stock fell about 2 percent Monday on the New York and London exchanges after the news broke.
The full breadth of the decision's impact could be clearer upon Shell's release of third-quarter financial results Oct. 29. The company earned $3.4 billion in net profit in the second quarter of this year.
The project has been plagued with difficulties, from rapidly falling oil prices to damaged vessels and federal fines, that have raised the cost and slowed the progress of the drilling effort.
The drilling outcome repeats Shell's Chukchi history.
The company drilled four wells in the Chukchi Sea in 1989 and 1990, one of them at the same Burger prospect that has been Shell's focus in its latest program.
Those four wells, and one drilled by Chevron in 1991, were the only wells ever drilled in the Chukchi prior to 2012, when Shell drilled the top portion of a different well at the Burger prospect. The company did not return to that 2012 drill site, called Burger A.
After failing to find commercial success in the Chukchi, Shell sold off all of its producing oil and gas properties in Alaska, which included a small stake in the Prudhoe Bay field and some Cook Inlet assets. The company in 1991 announced plans to close its Alaska office, which had a staff of 50 people. Its leases in the Chukchi expired.
Alaska Dispatch News reporter Yereth Rosen contributed to this report.
Related stories from around the North:
Canada:  Greenpeace responds to report Canada is ill-prepared for Arctic oil, Radio Canada International
Finland:  Finland's last nuclear project?, Yle News
Norway: Russian sanctions hit Norway hard, Barents Observer
Russia:  First step towards Arctic shelf for Lukoil, Barents Observer
United States:  Former BP chief exec warns Shell about Arctic drilling, Alaska Dispatch News