Blog: Arctic Energy Summit – Mood subdued after Shell news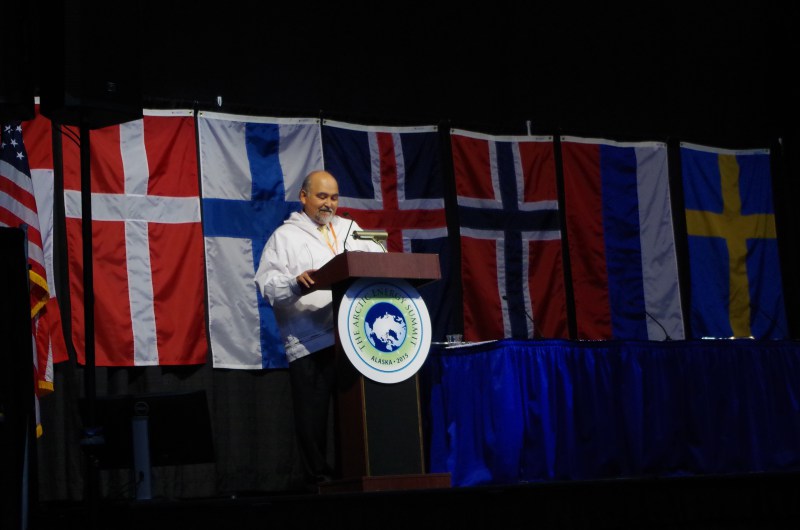 It felt like somebody had died.
Such was the mood on the frigid floor of the Arctic Energy Summit this Monday. The biannual conference opened today in Fairbanks, Alaska in the Carlson Center sports arena, where the heating hadn't yet been turned on and where news of Shell's withdrawal from Alaska's Chukchi Sea was making waves. When Nils Andreassen, Executive Director of the Institute of the North, gave one of the opening speeches, he intoned, "After some of the headlines in the papers this morning, I'd like to ask for a moment of silence."
For a brief second, some might have thought he was grieving for Shell's decision to withdraw from the Arctic following an unsuccessful exploratory drilling season at the Burger J prospect in the waters north of Alaska. Andreassen quickly clarified that the moment of silence was "to reflect on the complexity of being in the Arctic. And whether you're for or against some of the decisions that take place." As the audience bowed their heads in silence, though, one could imagine bells tolling up and down the state as Shell packed up for good.
Reverberations of disappointment
After years of abortive attempts and finally managing to drill an exploratory well this summer, Shell claims did not find enough oil to justify continued exploration. In its press release, the company also blamed high costs and "the challenging and unpredictable federal regulatory environment in offshore Alaska." Others rumored that Shell was looking for an excuse to get out of the Arctic because of so much negative press, particularly from environmentalists. Regardless of the actual reasoning, Shell's decision caused disappointment for many leaders of regional native corporations and politicians in Alaska.
At the Arctic Energy Summit, Rex Rock, President and CEO of the Arctic Slope Regional Corporation (ASRC, one of twelve regional native corporations), expressed defeat. "We were pleased that Shell was able to finally able to clear some of its regulatory hurdles and head back to the Chukchi Sea earlier this summer. However, along with Shell, we are disappointed to see the exploratory drilling at the Burger J prospect not turn out as we had hoped," he stated.
Senator Lisa Murkowski, who spoke at the icebreaker reception for the Energy Summit last night, tweeted: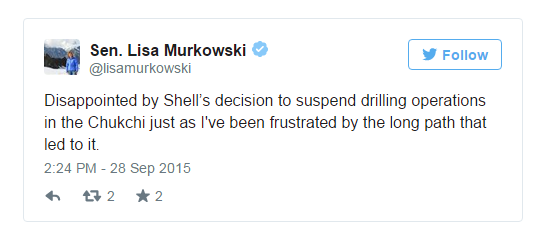 The fixed infrastructure of oil
Arctic Energy Summit is a place for industry executives, academics, practicioners, and politicians to discuss how to get more energy out of the North and how to provide its communities with more, too. Renewables have almost just as big a presence as oil, with hydropower, geothermal, and wind energy often generating a lot of excitement. But the conversation tends to center on what will be the next advance – be it a new oil field, a new regulatory change, or a new renewable technology – that will allow us to sustain our current lifestyles rather than trying to alter how we think about consumption and extraction, as a colleague pointed out.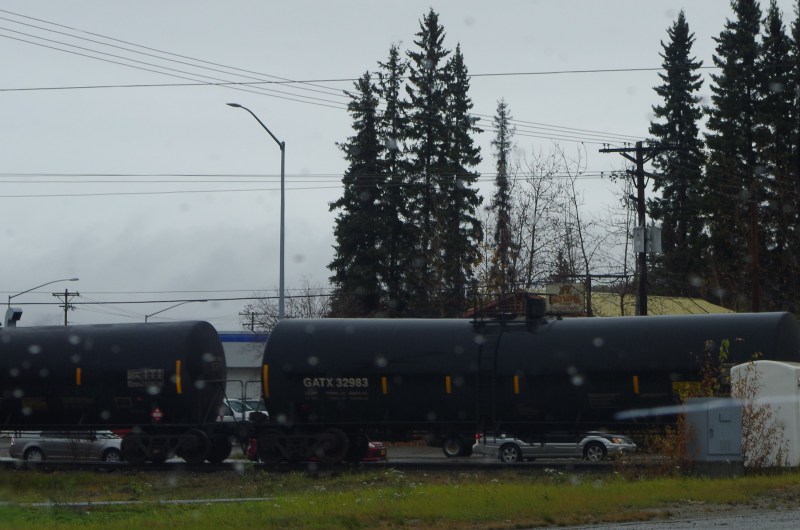 Particularly in Alaska, however, it can be hard to think of alternatives to oil given its tangible presence. Fossil fuel is invisible in most of the Lower 48, where you only really think about it at the gas station. Even then, you never see it as it moves from pump to tank. In contrast in Alaska, the inner machinery of the oil industry is etched into the landscape, both in moving and fixed form. Oil tanker trains stop traffic as they rumble between Anchorage and North Pole, just east of Fairbanks, where two refineries have operated with grave effects on human health and the environment. Meanwhile, the Trans-Alaska Pipeline System is a chrome wonder of the modern age that moves half a million barrels of oil every day from the North Slope to Valdez, the port on Alaska's southern coast.
There are several stops along the pipeline where people can appreciate its hulking immensity up close and even touch the insulated metal if they're tall enough. Seeing the four-foot wide structure curve through the orange-tinted forest of birch, spruce, and aspen trees can almost feel like coming to worship at the temple of oil. It's this infrastructure that has allowed Alaska's economy to flourish in recent years as oil skyrocketed to $147 in 2008.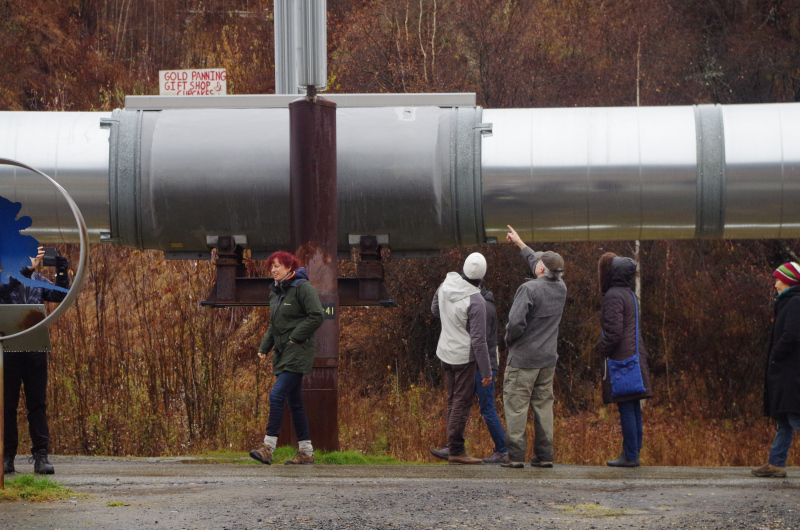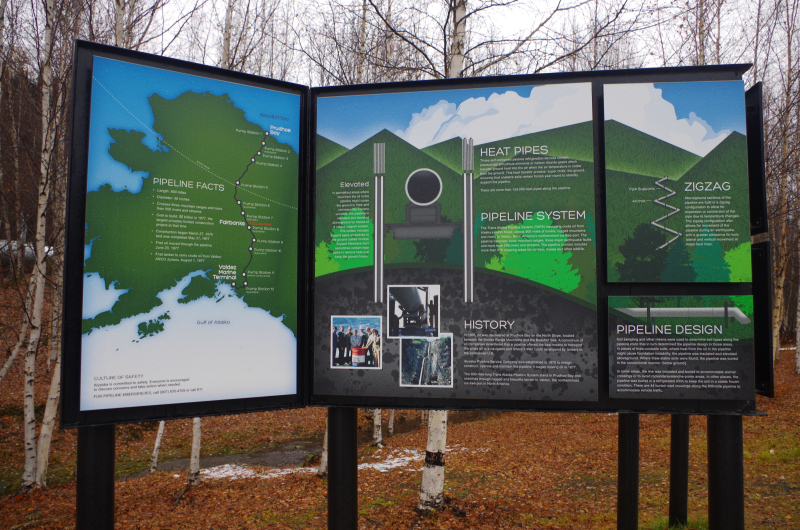 The pipeline must have a minimum amount of oil flowing through it or else a number of problems may occur, from ice build-up to an inability for the oil to pump itself over the state's steep mountain ranges. So with Shell pulling out of the Arctic, it almost feels like another nail in the coffin for the Trans-Alaska Pipeline. Without a new source of oil, the the pipeline could eventually turn into a rusty ghost of a boomtime past.
Just before seeing the pipeline, we looked at hoards of old equipment left over from Fairbanks' gold mining heyday in the 20th century. When gold was going strong, it was probably hard for people to imagine that all the dredging equipment would ever be sitting useless as much of it does now. It is similarly difficult to think that the Trans-Alaska Pipeline could ever be just an empty skeleton after all the manpower put into its construction and maintenance.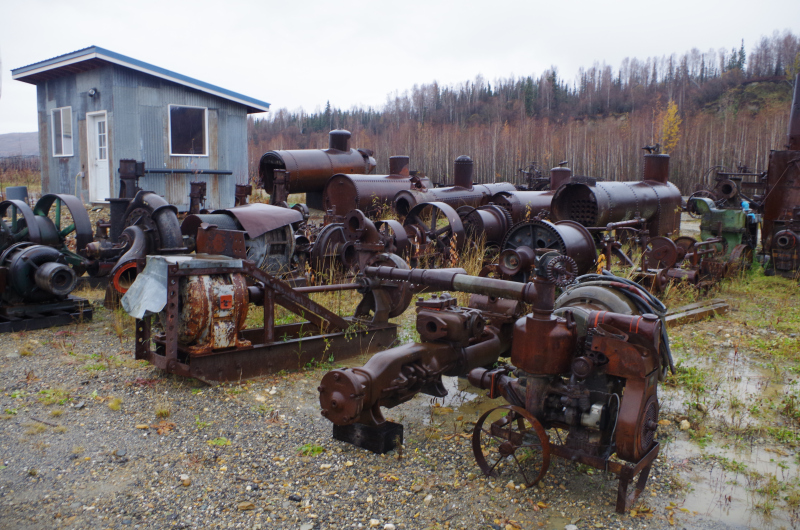 Postponing the inevitable?
Perhaps that's why although Shell said it was withdrawing for the "foreseeable future," many others see it only as a temporary delay. Despite the somber mood and moment of silence at the Arctic Energy Summit, the dream of offshore Arctic oil hasn't died. For many, it's only been deferred.
Rex Rock of ASRC declared, "Make no mistake: we are not victims of a changing climate. Our Inupiaq culture is one of perseverance and resilience." To him and many others, Arctic oil is an opportunity to be seized. If it doesn't materialize, some Alaskans, Natives among them, argue that this would be the death knell for life as they know it – not warming temperatures, melting sea ice, or longer open water seasons. In pursuit of future riches from Arctic oil, they will probably keep persevering in their hopes that Shell's drill ships will appear again on the horizon – and working hard to make it happen.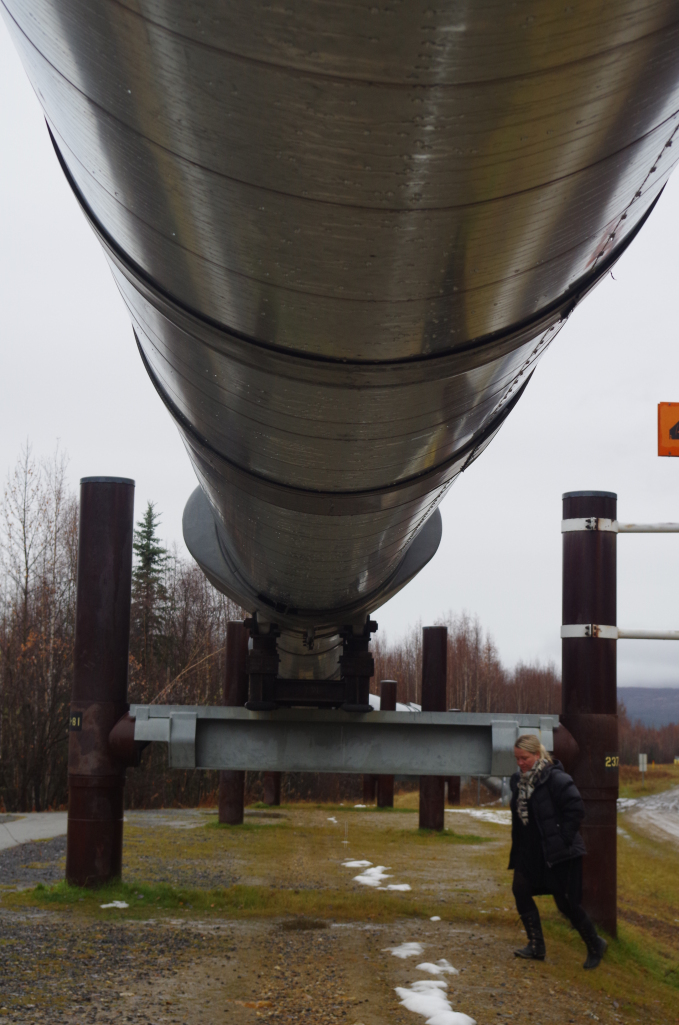 Related stories from around the North:
Canada: Metal, mineral price drop affecting Canada's North, Eye on the Arctic
Denmark:  Faroe Islands cashing in on Russian sanctions, Barents Observer
Finland:  Finland trims economic growth forecast, Yle News
Iceland:  Calls for action at Arctic shipping conference, Alaska Dispatch News
Norway: Arctic Council aims to boost business, Barents Observer
Russia: China to provide parts for Russian offshore projects, Barents Observer
Sweden: Government to form council of researchers for sustainable development, Radio Sweden
United States: Shell's failure latest in series of Arctic flops, Alaska Dispatch News