'Iceberg' sculpture captures 'awe' of Canadian Arctic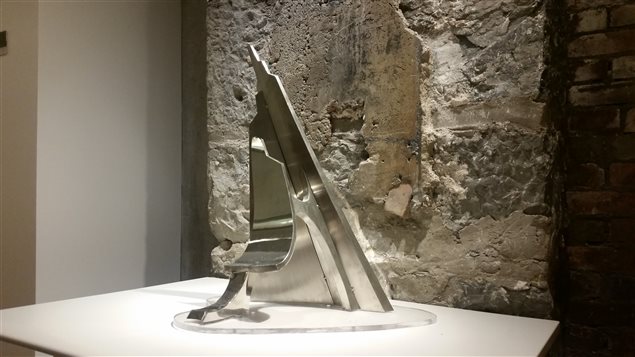 An arctic-themed sculpture inspired by icebergs is being mounted at the Canadian Museum of Nature in the nation's capital, Ottawa.
The 13-metre tall structure will be the focal point of an outdoor botanical exhibit representing the tundra, or treeless ecosystem that is found in Canada's north.
There will be two other areas: one created to represent Canada's boreal forest and the other, prairie grasslands. Plants and trees typical of the areas are being added.
Sculptor 'blown away by the shapes of icebergs'
Stainless steel components of the sculpture arrived at the museum on October 13 and are being assembled. The steel is burnished and reflects light in different ways much as icebergs do.
"I've travelled in the Arctic and the Antarctic and I was always just blown away by the shapes of icebergs because they take on such sculptural shapes and their size and the textures," said sculptor and adventurer William Lishman.
"What I've taken is a rendition of some of the best parts of icebergs I've seen because some of them form very natural arches that are a kind of classic arch. So I've worked a couple of those arches into it. And some of them are like shards of powerful ice sticking out of the water. So it's a combination of those elements."
Inspiration from Canadian art, early explorers
Lishman also took inspiration from artist Lawren Harris who was a member of Canada's famous Group of Seven artistsnoted for their striking renditions of Canadian landscapes. And he consulted sketches made by early explorers.
'That feeling of awe and vastness'
"Very few people get to see an iceberg in reality," says Lishman. "And very few people even get up close to an iceberg because they're kind of dangerous. And this way, you can walk through this and get the feeling of an iceberg. That's what I'm hoping to achieve.
"Without having to go to the Arctic, which most people can't really do, they'll have that feeling of awe and vastness of the great Arctic."
Related stories from around the North:
Canada:  Canadian artist explores Greenland's past, Eye on the Arctic
Finland: Heritage hunting in Finnish forests, Yle News
Norway:  History revealed by WW2 wrecks in Norway's Arctic fjords, Barents Observer
Russia:  Photographing Arctic water creatures, Alaska Dispatch News
United States:  Arctic artifacts temporarily back in Alaska for examination, Alaska Dispatch News