More Arctic research, intn'l cooperation needed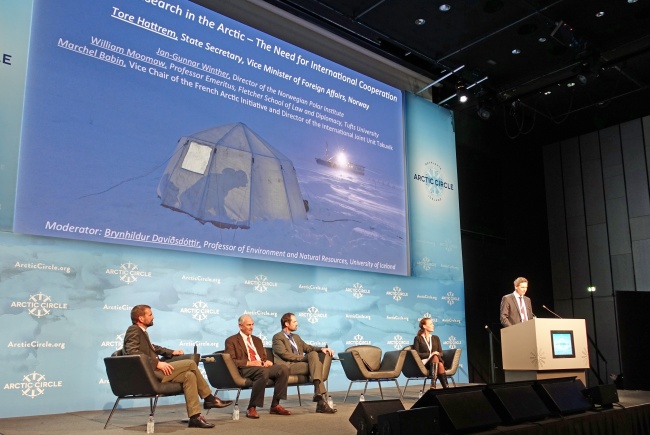 REYKJAVIK: The climatic changes taking place in the Arctic are a call to action for the world.
We must answer with more international cooperation and more research, says Tore Hattrem, State Secretary of Norway's Foreign Ministry.
"For Norway, the High North is not just at the top of the world; it is also at the top of our list of foreign policy priorities," Hattrem said in a speech at the Arctic Circle 2015 conference in Reykjavik, Iceland.
The Arctic region is of vital importance to Norway. 80 percent of the country's maritime areas are north of the Arctic Circle, and almost 90 percent of its export revenues come from sea-based economic activities and resources. "We have always been a nation of seafarers and fishermen. The Arctic waters are our natural home," he said.
Hattrem believes that the changes taking place in the Arctic should spur the COP21 process forward, and provide an incentive for a strong agreement at the Climate Change Conference in Paris in December. Arctic climate change has worldwide implications and can lead to serious effects as more extreme weather and rising sea levels.
"In the long term, the fate of the Arctic environment – and the pace of global climate change – depends on our collective efforts to reduce greenhouse gas emissions."
Svalbard as research hub
The state secretary called for more cooperation on scientific research to better understand the ecosystems in the Arctic and how they are affected by the changes going on. The Norwegian Government intends to develop Svalbard further as a platform for international research cooperation. For decades, scientists from around the world have used Svalbard as a base for their Arctic research. Institutions from 13 countries have permanent research stations in Svalbard. More than 700 scientists from 30 nations were active in Svalbard and adjacent waters in 2013.
Related stories from around the North:
Asia: Asia ahead on preparing for polar climate change, says U.S. Arctic rep, Eye on the Arctic
Canada:  Ice, shipping and the Northwest Passage, Radio Canada International
Germany: Germany, Iceland cooperate on new transpolar port, Barents Observer
Iceland:  International community talks Arctic in Iceland, Barents Observer
Russia:  New law would allow only Russian-flagged ships in Russian Arctic, Barents Observer
Sweden: Swedish icebreakers gear up for Arctic role, Radio Sweden
United States:  Arctic no shipping rival to Suez: expert, Alaska Public Radio Network