Finland's shipbuilding prospects looking up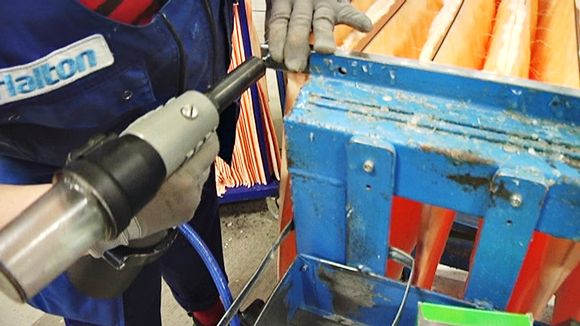 The industrial sector in Finland has been hit hard by a changing market and the economic downturn.
Tens of thousands of jobs have been lost in the last decade. Yet, the business owners' association EK predicts a light at the end of the tunnel for several industrial manufacturers.
Industrial manufacturing has been shaken as societies move toward a post-industrial age. An increase in the service and information sectors and the off-shoring trend of transferring production to more economically favourable locations has taken its toll.
"About 100,000 jobs have been lost in Finland, particularly in the forest and electronic industries," says Penna Urrila, leading economist at the Confederation of Finnish Industries, known as EK.
Part of the loss can be explained by the outsourcing of operations.
Industry's share of the Finnish GDP has also fallen, although Urrila says the current levels are on par with EU averages.
The Southeast Finland ELY Centre, charged with administering state services and development programmes, estimates that more than one-third of its industrial manufacturing jobs in the industry-heavy Kymenlaakso area were eliminated in between 2007 and 2013.
Since 2008, pulp and paper industry production capacity in Finland was cut by almost a fifth.
Bright spots on the horizon
Expert forecasts for the industrial sector have some good news, however.
"The outlooks vary from business to business, but the order books of the shipbuilding industry are full for at least the next few years, while investment in the forest products industry is also strong. The companies are renewing their product selection, so I would be cautiously optimistic about the prospects of the forest industry in the near future," says Urrila.
The Southeast Finland ELY Centre has taken note of the potential upswing in Finland's once-mighty forest industry sector.
"We can be pretty confident when it comes to the forest industry. We have seen major investment in the Sunila pulp mill and the UPM Kymi pulp mill. The demand for northern softwood and birch pulp is good and there are plenty of opportunities for further development," said the Centre's researcher Tarja Paananen.
Paananen says several other industries in Kymenlaakso, such as the gaming industry and the biomaterials industry, are poised to become the employers of significantly more workers in the area.
Momentous improvement in industry results is not expected in the short term, however, as the EK's most recent economic barometer maintains a cautious future outlook.
But economist Urrila says the restructuring of the post-industrial world is ongoing, and the swooping drastic changes that hit the Finnish forest industry in the last decade appear to be behind it.
The forestry sector continues to account for approximately 20 percent of Finland's export revenue and remains a major employer, especially in regional areas.
Related stories from around the North:
Canada: Creating an economy in the North: Can tourism save this town?, Eye on the Arctic
Finland:  Sweden's ex-Finance Minister hired to report on Finnish economy, Radio Sweden
Norway:  Peace and stability crucial for Arctic economy, Barents Observer
United States:What Shell's decision means for Alaska economy, Alaska Dispatch News