Drivers criticize Anchorage road conditions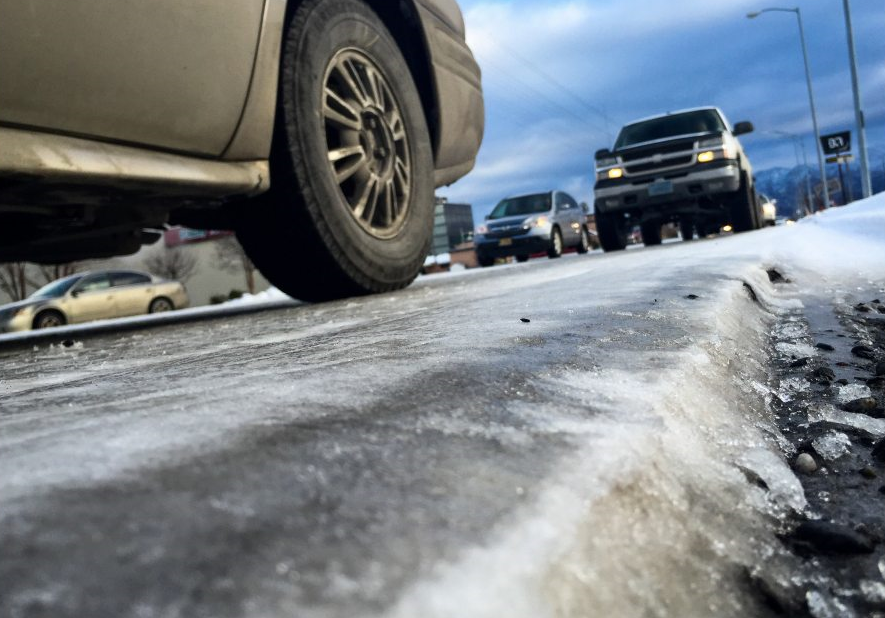 Schools closed, drivers slipped, slid and crashed into each other, and for the second time in a week there was generalized grumbling about the state of winter road maintenance in Anchorage.
State and local officials got the brunt of the blame. But Alaska Department of Transportation representatives, city maintenance officials and weather forecasters chalked up the problems to different factors. At the state level, budgets for winter maintenance have been sharply reduced, leading to fewer people and equipment on the roads in a storm, DOT officials said.
At the same time, temperatures hovered around freezing, leading to wet snow that flattened under tires into an ice sheet.
"The temperatures are almost perfect for the issues we're having," said Alan Czajkowski, director of the city's public works department.
Budget cuts
As of late Monday afternoon, Anchorage recorded 44 accidents, including four with injuries, said Anchorage police spokeswoman Anita Shell.
About half of Anchorage's roads, including most of the major highways and some neighborhood thoroughfares, are maintained by the state DOT. The DOT's budget, which includes winter maintenance, was cut $34.6 million this year from last.
A longstanding system of priorities determines which roads will be plowed, sanded or deiced first in a storm. The priorities have been unchanged for decades, said DOT spokeswoman Shannon McCarthy. What's different is the speed of the response, McCarthy said.
"With fewer resources, it just takes us more time," McCarthy said.
She said DOT is open to looking at roads and tweaking priorities if needed. But, she added, that the top-priority roads are highly-trafficked freeways and central arteries — the Seward and Glenn highways, and Minnesota Drive.
On the Hillside, where traffic was particularly snarled in the icy storm Nov. 2, the state-maintained roads are lower on the priority list.
'Problem areas'
The DOT also focuses more on hills, curves, intersections and other known problem areas on the road system. For cost reasons, DOT does not sand entire stretches of roadway, she said.
The state budget cuts also mean less overtime for crews. Whenever there are safety issues with drivers in ditches, the department authorizes overtime, McCarthy said.
She said overtime was authorized in the Nov. 2 storm, when police reported nearly 100 non-injury accidents and vehicles in distress.
But the DOT has three vacant positions in the Anchorage area. When the call went out for more help, there was no one to respond, McCarthy said.
"We literally just didn't have anyone available," she said.
McCarthy said temperatures hovering around freezing make for poor driving conditions. That much was confirmed by forecasters: Wet snow falling on barely frozen street surfaces effectively turns into ice once packed down, said Jason Ahsenmacher, a meteorologist with the National Weather Service in Anchorage.
In general, it's been icier the last several years, Ahsenmacher said. He said forecasters have observed more episodes of freezing rain and light precipitation with temperatures right around freezing.
Fickle weather conditions
McCarthy said it's also difficult to keep up with sanding when the streets are freezing and re-freezing over the course of several hours. She said the DOT is trying to lay down anti-icing chemicals to keep snow from sticking to pavement surfaces before the weather sours. The anti-icing material is a mild salt mixed with an anti-corrosive agent, she said.
But in the icy storm last week, the ice formed within an hour, and the state couldn't clear all the roads before traffic hit, she said.
As far as preventative measures go, Anchorage's fickle weather compared to other winter cities is also tough for maintenance supervisors, said Czajkowski, of the city's public works department. He said it's hard to justify doing expensive preventative work because forecasts can be inaccurate.
Czajkowski said the city, which is on a calendar year budget cycle and spends an average of $11 million a year on snow maintenance, hasn't made any big changes to its operations for the winter.
On Monday, the city announced it had upgraded a years-old online mapping tool that shows plowing plans in storms where it snows more than 4 inches. The "Snow Plowing in Anchorage" map also shows whether roads are maintained by the state, the city or by private owners.
That tool wasn't being updated on Monday, because the city only had about 2.5 inches of snow.
Related stories from around the North:
Canada:  Driving on the ice road in Canada's Northwest Territories (Video), Eye on the Arctic
Finland: Winter speed limits take effect in Finland, Yle News
Norway: Cheaper ruble boosts Norway-Russia petrol traffic, Barents Observer
Russia: Traffic over Finnish-Russian border drops by one third, Yle News
Sweden:  Report says cars guzzle more gas than claimed, Radio Sweden
United States:  High temperatures sink vehicles traveling ice roads in Western Alaska, Alaska Dispatch News