Arctic Profile : Doing business in Finnish Lapland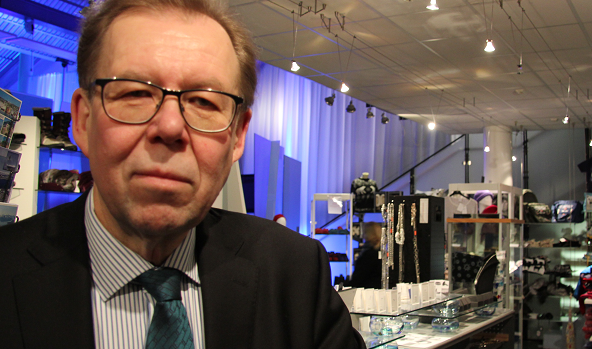 Arctic Profiles is an occasional Eye on the Arctic series where we check in with different Arctic regions to take the temperature of the current political, business or social climate.
In this instalment, we've turned our attention to Arctic Finland. The Nordic country has been facing serious economic and political challenges in recent months and we've checked in with the head of the Lapland Chamber of Commerce for his take on what's going well … and what isn't.
Q&A : Doing business in Finnish Lapland
Name : Timo Rautajoki
Title : CEO & President of Lapland Chamber of Commerce, organization that represents the business community in Arctic Finland.
Eye on the Arctic: What are the three main business/economic issues facing the business community in Lapland?
Timo Rautajoki: Finland is dealing with a financial crisis at the moment. It's not as bad for us as it is in South Finland but it's still there. Which leads into point number two: Politics. We had parliamentary elections last year and the new government needs to start making some decisions. It's as if everything has stopped. We need it to keep its promises on taking measures to improve our competitiveness. We need to have decisions and investments.
What's the number one frustration the Lapland business community brings up with you when they meet you in person?
Transportation. Why are flights so expensive? Why is it 600 euros to fly from Helsinki to Rovaniemi and back when you can fly to Rio de Janeiro cheaper. But because of the economic crisis we haven't made investments in improving transport and infrastructure.  We need more money for transport connections in Finland. This is a national question but because we are far away from Helsinki, this is of even more importance to us.
What's the number one challenge the business community in Lapland has, because of it's Arctic location, that businesses in other Finnish regions don't have?
Again, transportation and infrastructure. When we look at Northern Norway with its northern strategy, it looks like a dream come true.  And in northern Sweden, it looks like they have lots of money for new railways.
But I think there's a national question affecting all regions when it comes to business. It looks like we, as a country, cannot imagine what to do in a post-Nokia Finland. It's like everything stopped when Nokia left. It's not an easy question, but there needs to be action, whatever it is. Inaction isn't changing anything.  It's important that we find solutions here in Finland because we need money for welfare and social programs.
When you travel abroad, or in southern Finland, what's the biggest misconception people have about doing business in Lapland? 
People have warm feelings about Lapland. Everybody thinks tourism and about our Santa. That's all positive. But people often don't know we also have industry here and are a big export county. People also don't realize how big we are. There are at least three Belgiums inside Lapland so there's still possibility for more industry. But we are a bit too shy about telling people the great things we have here. But we here in Lapland can't blame other people, we need to do a better job of educating people.
What's going well in Lapland economically? What major issue/challenge has Lapland's business community overcome in recent years, and how did they do it?
One thing that has been saving the Lapland business community from the bigger recession is that we have started cross-border business with northern Sweden and northern Norway. Today, northern Sweden and Finland have daily business but 20 years ago companies didn't know how to do that. That's why we've had investments in spite of the economic crisis. It's a win-win situation and we are working hard to take down osbstacles to even great northern cooperation.We had learned to do good business with northwest Russia but with the sanctions now that's out of the question.
I think the biggest issue for us is making Helsinski and south Finland realize that there are possibilities with our neighbouring northern regions here in the Arctic and that better transport links and business links can only facilitate that. This would offer possibilities for all Finnish companies.
If I was to eavesdrop on you, and the heads of the chambers of commerce in Finnmark (Arctic Norway) and Norrbotten (Arctic  Sweden) while you were all blowing off steam over a beer, what would I hear you guys griping about?
The South!  It's always problems with southern capitals.
The above Q&A has been edited and condensed
And the Arctic Economic Council? Will it help anything?
Write to Eilís Quinn at eilis.quinn(at)cbc.ca
Related stories from around the North:
Canada: How biz initiative by Canada went from blasted by critics to praised by politicos, Eye on the Arctic
Finland:  Entrepreneurial burnout in North Finland, Yle News
Norway: Stop romanticizing Arctic development say indigenous leaders, Eye on the Arctic
Russia:  Arctic shipping: The myths, the realities & the challenges ahead, Eye on the Arctic
Sweden:  Wind power investments down in Sweden, Radio Sweden
United States: Native corporations Alaska's new wildcatters, Alaska Dispatch News