Veterans suffering from PTSD cheer on Iditarod musher who supports them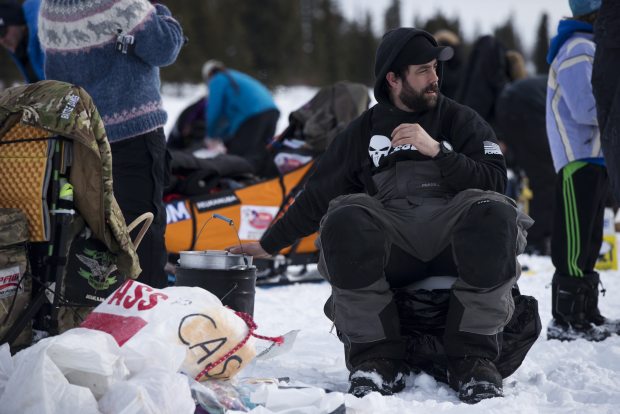 RAINY PASS LODGE — Jeff Turkel traveled to the Rainy Pass checkpoint Monday to heal.
The 56-year-old once served in the U.S. Air Force and worked in Iraq in 2004 as an employee with the Department of Defense, he said. The job left him battling flashbacks. He said doctors told him the post-traumatic stress disorder triggered his seizures.
"Basically I lose all cognitive functions. My brain shuts down. I weaken," Turkel said, standing in the snow Monday and awaiting the arrival of musher Rick Casillo. "I lose all touch with reality. It's kind of like a fainting spell, but worse."
Iditarod veteran Casillo started Battle Dawgs four years ago for combat veterans, aiming to "change and save lives," he said. The nonprofit connects veterans with the outdoors and promotes teamwork in an effort to shrink suicide rates, Casillo said. He takes the veterans on glacier tours, ice fishing trips and asks them to help out with the Iditarod Trail Sled Dog Race.
This year, he flew three veterans, Turkel included, to the Rainy Pass checkpoint. Their airplane briefly followed Casillo on the trail — the men cheering loudly for their musher.
"It was pretty awesome," Casillo said. "They were giving me fist pumps."
When Casillo pulled into the Rainy Pass checkpoint, the veterans held up a camouflage flag that said "Battle Dawgs" in white print underneath a large paw-print. Casillo has a camouflage sled bag with a patch that had the number 22 crossed out. Each day, he said, 22 veterans commit suicide.
"I was very close to being one of those 22," Turkel said.
While Casillo isn't a combat veteran himself, his wife is a lieutenant colonel in the Alaska Air National Guard. He said he's always had a passion for helping those who enlisted. After pouring water into his dogs' bowls and feeding them, he sat down near his sled and held up the bottom of his boot that had studs pushed into it. He said he asked one veteran to help him with that — sort of as a mission.
"It makes them feel part of a team," he said.
Turkel said he sent in an application to join Battle Dawgs after hearing Casillo speak at the Chris Kyle Patriots Hospital in Anchorage, where he underwent treatment for PTSD.
In the past three days, as he focused on helping Casillo prepare for the Iditarod, he hasn't had a seizure. Usually, he has a few a week.
"The more I get out and do things that I used to enjoy, the more healing there is," he said. On Sunday, he held Casillo's sled dog team at the Iditarod start line in Wasilla.
"I actually broke down crying just thinking, 'Here I am, holding a dog team under the start of the Iditarod only because this group called Battle Dawgs gives a damn enough to care about us veterans,'" he said.
Related stories from around the North: