Supreme Court of Canada extends rights to Métis and non-status Indians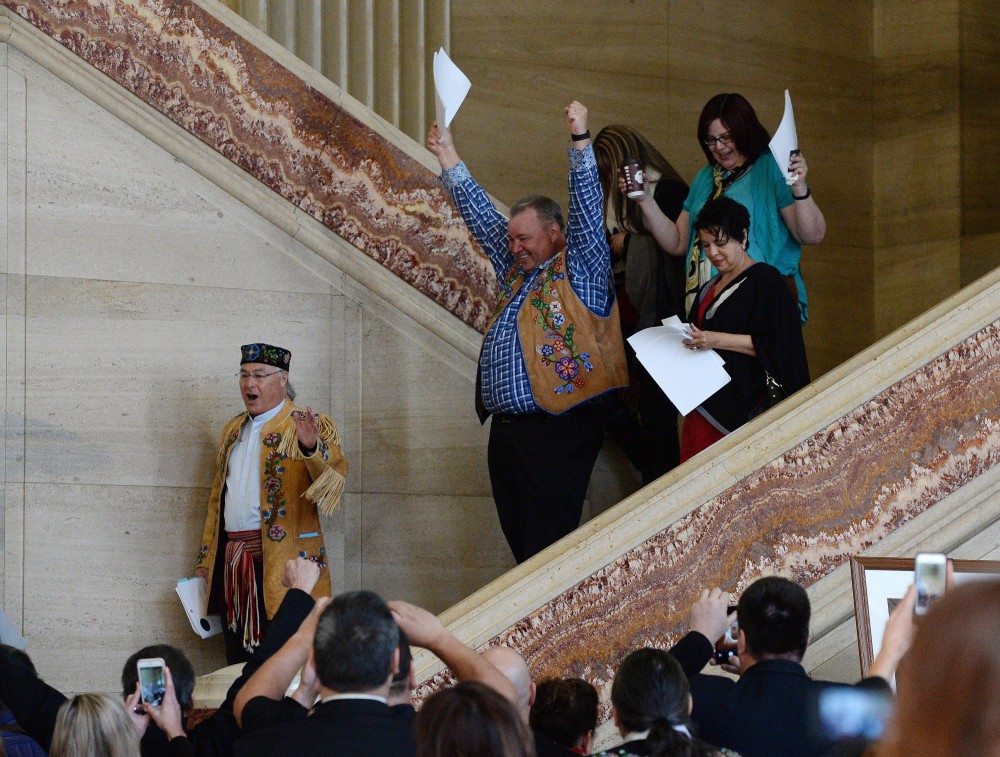 Canada's highest court has unanimously ruled that Métis and non-status are Indians under the Constitution, handing the federal government responsibility of negotiating rights and treaties with thousands of Métis and Aboriginals living off-reserve.
The landmark, 9-0 Supreme Court ruling will have an impact on the relationship between the federal government and 600,000 Métis and off-reserve Indians across the country by extending to them, for the first time, federal programs, services and rights that prior to the court decision had been reserved for indigenous Canadians living on reserves.
It could also open the door for Métis and non-status Indians to negotiate for hunting, harvesting and land rights.
'Great day'
"This is a great day for over 600,000 Métis and non-status Indians," said Dwight Dorey, national chief of the Congress of Aboriginal Peoples, after the decision was released in Ottawa Thursday morning.
"It affects all indigenous people regardless of urban, rural, remote or status or non-status."
The landmark case was launched in 1999 by prominent Métis leader Harry Daniels — then president of the Congress of Aboriginal Peoples — along with Leah Gardner, a non-status Anishinaabe woman, and Terry Joudrey, a non-status Mi'kmaq man. Daniels died in 2004.
Speaking outside the court, his son, Gabriel Daniels, told reporters he was "overwhelmed and ecstatic."
"I'm very proud and I wish my father was here," Daniels said.
"This completes what I believe was his life's work, which he started in 1982 by telling (former prime minister) Pierre Trudeau that we needed to be included in the Constitution. It brings it all full circle."
'Jurisdictional wasteland'
Justice Rosalie Abella, writing for the court, said the provincial and federal governments have both denied having legal authority over non-status Indians and Métis, leaving them in a "jurisdictional wasteland."
"The historical, philosophical, and linguistic contexts establish that 'Indians' in s. 91(24) includes all Aboriginal peoples, including non status Indians and Métis," Abella wrote.
There is no need to delineate which mixed‑ancestry communities are Métis and which are non‑status Indians, the court said.
"They are all "Indians" under s. 91(24) by virtue of the fact that they are all Aboriginal peoples," Abella wrote.
It also said there was no need to rule on whether the federal government has a fiduciary duty to Métis and non-status Aboriginals because that would be "restating settled law."
The high court also ruled that "Metis and non-status Indians have the right to be consulted and negotiated with, in good faith, by the federal government on a collective basis through representatives of their choice, respecting all their rights, interests and needs as Aboriginal peoples."
Dorey said he never wants to hear the term "non-status Indians" again.
"When you're 'non,' you don't exist," Dorey said. "That term should be gone forever from the English language in Canada. We are all status now."
With files from CBC News and The Canadian Press
Related stories from around the North:
Canada:  Time for action – Canada's Truth and Reconciliation Commission releases recommendations, Eye on the Arctic
Finland: Finland's Sámi request UN help in securing their rights, Yle News
Greenland: What the EU seal ban has meant for Inuit communities in the Arctic, Eye on the Arctic
Iceland: Iceland conference draws on hopes, concerns for changing Arctic, Alaska Dispatch
Norway: Alarming situation for indigenous peoples in Russia, Barents Observer
Russia: Russia to give indigenous peoples priority in Barents chairmanship, Barents Observer
Sweden: Swedish archbishop wants 'truth commission' for abuse against indigenous Samis, Radio Sweden
United States:  Arctic conference spotlights indigenous issues, Alaska Dispatch News