Ice extent still well below normal in Arctic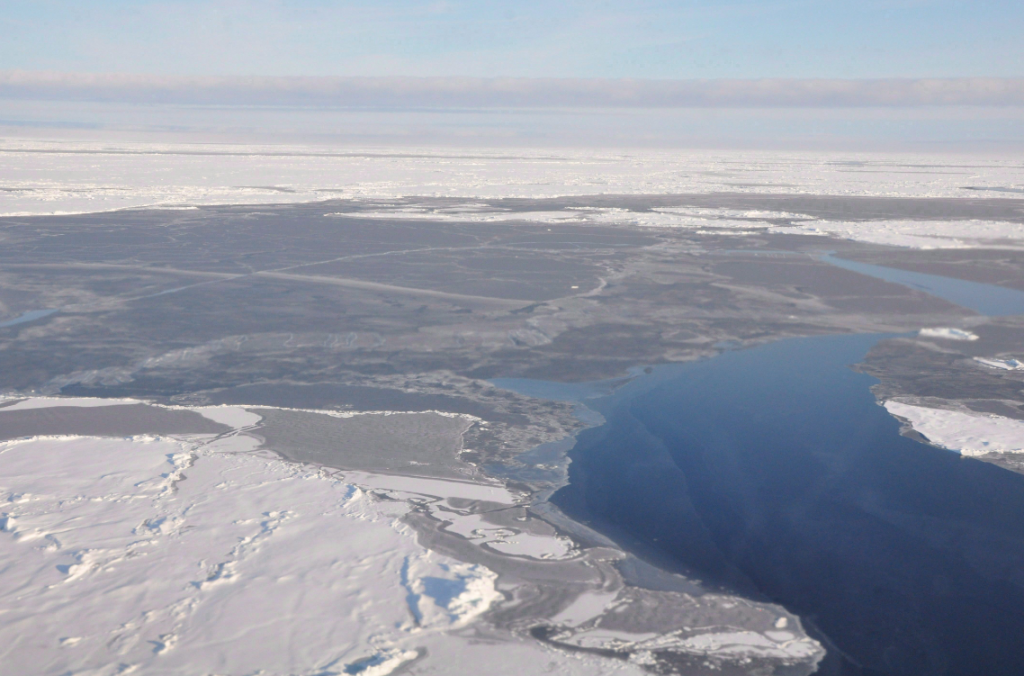 Arctic sea-ice extent in April was probably at a record low for the month, continuing this year's trend of record or near-record lows, the National Snow and Ice Data Center said on Tuesday.
Though mechanical glitches have made information from the NSIDC's satellite temporarily unavailable, other satellite data collected by Japanese and German programs shows Arctic sea ice is much sparser now than it once was at this time of the year.
"We are way, way down on sea ice," said NSIDC director Mark Serreze. "There's no indication of any kind of recovery."
He and his colleagues stopped short of declaring last month a record-low April, because the ice-extent information borrowed from the other programs is produced using a slightly different methodology than that used by the Colorado-based center, making a correlation with U.S. historical data inexact.
However, it is clear April sea ice extent as measured by the Japanese Aeronautical Exploration Agency was the lowest ever for the month in that program's record, which goes back a little over a decade, Serreze said.
It was also the lowest in the record kept by a University of Bremen program, which uses the same Japanese satellite, the NSIDC reported in its monthly status report.
Indicator of Arctic climate
Sea-ice extent, which grows during the winter and shrinks in the summer, is a much-watched indicator of Arctic climate. In March the ice reached its maximum extent for the year — thelowest maximum in the satellite record that dates to 1979. That followed record-low monthly extents for February and for January and the fourth-lowest sea-ice annual minimum, reached last September.
The unusually warm conditions that created the past months' low-ice conditions continued in April, Serreze said.
Sea-ice extent is defined as the area where there is at least 15 percent ice coverage. Satellite systems use microwave signals, which are unaffected by cloud cover or darkness, to detect sea ice and measure its extent.
Satellite woes
Reports of the NSIDC's own satellite readings have been on hold since early April. A malfunction aboard the U.S. Department of Defense satellite used by the center resulted in wildly inaccurate readings.
The center is in the process of switching to a different and newer satellite, part of a DOD array that has been used to conduct simultaneous measurements. Serreze said the NSIDC will soon post readings from the newer satellite.
"I think we'll have something on line next week," he said.
This year's satellite woes highlight a potential long-term problem. The DOD satellites the NSIDC has been using are aging; the newest and last in the series is now awaiting launch, but funding has not been secured, Serreze said.
"We are potentially entering a vulnerable period where we do have a chance of losing our ability to monitor what's happening in the Arctic in the long term," Serreze said.
Related stories from around the North:
Canada: Arctic sea ice hits new record winter low, Radio Canada International
Finland:  Warm Easter predicted across Finland… even for Lapland, Yle News
Greenland:  Changing Sea Ice: The Ripple Effect (VIDEO), Eye on the Arctic
Norway:  A letter from Svalbard's dwindling sea ice, Deutsche Welle's Iceblogger
Sweden: Storm Helga weather warning for Sweden, Radio Sweden
United States: Arctic's 'startling' winter warmth 'milepost' say scientists, Alaska Dispatch News