Inuit hunters worry about toxic splash from Russian rocket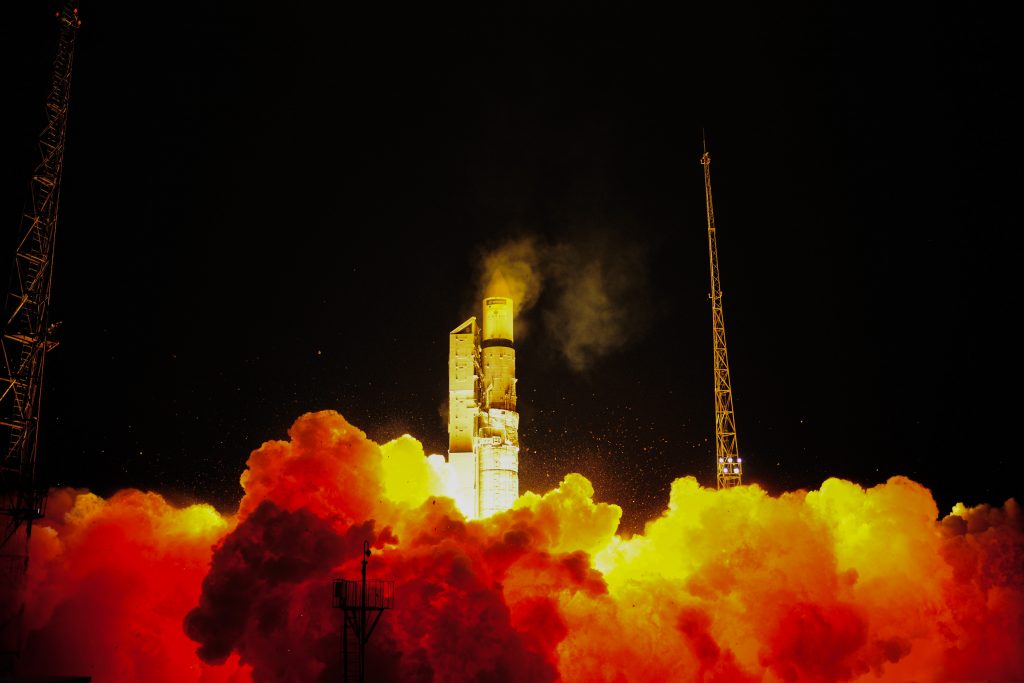 Despite assurances by Russian and Canadian authorities that a Russian rocket engine slated to fall in northern Baffin Bay this weekend does not pose any danger, Inuit hunters in the eastern Canadian Arctic worry about the potential environmental impacts from its highly toxic rocket fuel.
An international aviation authority has issued a notice warning that debris from a Russian rocket launch is slated to fall Saturday into Baffin Bay, in international waters between Canada and Greenland.
The Rockot (Russian for rumble) launch vehicle, a repurposed Cold-War-era intercontinental ballistic missile redesigned to launch commercial satellites instead of nuclear warheads, uses hydrazine for fuel, a highly toxic substance.
The launch vehicle is expected to come down in what is called the North Water Polynya, an 85,000-square-kilometre area of Arctic sea that naturally remains ice free year round.
'A slap in the face'
The polynya (Russian for ice free water) is a vital habitat for narwhal, beluga, walrus and bowhead whales. Its waters attract shoals of Arctic cod and other fish species, which in turn feed thousands of seals, polar bears and millions of seabirds.
The area is a prime hunting ground for Inuit from Canada and Greenland.
"Our animals come from there," Marty Kuluguqtuq, senior administrative officer for the tiny hamlet of Grise Fiord on Ellesmere Island told CBC News. "It is quite alarming that a foreign object with contaminants might be affecting our way of life, with us literally seeing the thing coming down from the sky."
Okalik Eegeesiak, chair of the Inuit Circumpolar Council, calls the move "a slap in the face by Russia," noting the debris will land in an area her organization is working hard to protect.
"We don't know what the impact will be in the short term or long term on the animals that we depend on," she told CBC News.
"How will that impact us later on?"
Environmental concerns taken into account
Russian authorities say the rocket debris poses no environmental threat.
"With regard to the inquired rocket launch, the Canadian side was informed it would be done in a way that no territory of Canada or its territorial waters would be affected while the fuel of disposed rocket stages fully burn out," Kirill Kalinin, the press secretary of Russian Embassy in Ottawa, said in a statement emailed to RCI. "In this context environmental concerns are seriously taken into account."
Canadian officials said they too expected "minimal environmental risks" from the launch, noting that most of the rocket's fuel is expected to burn up before it hits Earth.
Global Affairs Canada spokesman Austin Jean stressed, however, that Canada wanted more advance notice of similar events in the future.
Canada's department of Public Safety it will monitor the launch closely.
In June 2003, the Canadian Space Agency used the same Rockot rocket to launch its MOST (Microvariability and Oscillations of Stars ) satellite into space.
With files from CBC News
Related stories from around the North:
Canada: Canadian web documentary highlights Arctic science, Eye on the Arctic
Finland:  Northern lights could be visible from southern Finland this weekend, Yle News
Norway:  Norway's polar satellite centre, Deutsche Welle's Iceblogger
Russia: Rocket fails, falls down near village in Russia's North, The Independent Barents Observer
Sweden: Sweden's Arctic space centre sets sights on satellite launches, Radio Sweden
United States: Auroral research rocket blasts into space from Alaska range, Alaska Dispatch News