Swedish ex-minister tells Finland's PM: "Hard to understand why you invited Putin"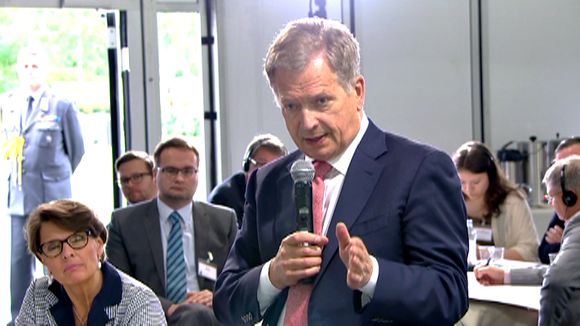 President Niinistö forced to defend forthcoming visit by Russian president in July and tells Swedish former defence minister: "You're behind the times".
President Sauli Niinistö has been forced to defend Finland's continued dialogue with the Kremlin on the second day of a security summit at his residence in Naantali, western Finland.
Speaking at the Kultaranta conference, Sweden's former defence minister, Karin Enström, criticised Niinistö's decision to invite Russia's president Putin to Finland this July.
During a panel discussion on Baltic and northern European security, the former minister told the panel that "We in Sweden find [President Putin's forthcoming visit] somewhat hard to understand," adding: "We know Finland has a special relationship with Russia, but does the panel think the visit has a security benefit, or is it just for Russia relations with a small "R"?"
Behind the times
The question prompted a robust response from President Niinistö, who accused the ex-minister of being "a bit behind the times".
The president insisted that during his dialogue with the Kremlin, the EU's sanctions on Russia have never been criticised, and there has been no attempt to influence Finland's foreign policy.
"When the lines are clearly set out there's no need to discuss them, but we can pass on messages about how to find a way through the difficulties. This is as simple as that," Niinistö said.
"All around the world I've heard about how it is very important that the international community make it clear to Russia that it has acted wrongly, yet it is seen as equally important to maintain dialogue," Niinistö said on Monday.
New criticism
He added that he has heard criticism from the Baltic countries of his stance towards Russia in recent years, but said that this view coming from Sweden was something new.
Niinistö insisted that countries such as the US have also kept communications active with Moscow, and he rejected the idea that Russia has been trying to influence Finland's foreign policy.
Niinistö has held regular meetings with President Putin since the annexation of Crimea in 2014, and has repeatedly spoken out in favour of keeping lines of communication with Moscow open despite the Kremlin's deteriorating relations with the West following the Ukraine crisis.
Related stories from around the North:
Canada: Canada's defence review and the Arctic, Eye on the Arctic
Denmark:  Nordics to step up security cooperation on perceived Russian threat, Yle News
Finland:  Sweden dismisses NATO talk, Finland says no Russian threat, Yle News
Norway:  Norway creates new Army unit on Arctic border with Russia, The Independent Barents Observer
Russia:  New Russian spy ship to keep tabs on Norway, Barents Observer
Sweden:  New security landscape in the Arctic, Radio Sweden
United States: U.S. general says Alaska military cuts not final without Arctic plan, Alaska Public Radio Network