Defence Minister downplays Swedish report citing risks of defence cooperation with Finland
Defence Minister Jussi Niinistö says that a recently-released Swedish security policy report provides no reason to re-evaluate defence cooperation arrangements between Sweden and Finland.  Released last Friday, the report said that defence cooperation between the two countries would create risks for Sweden.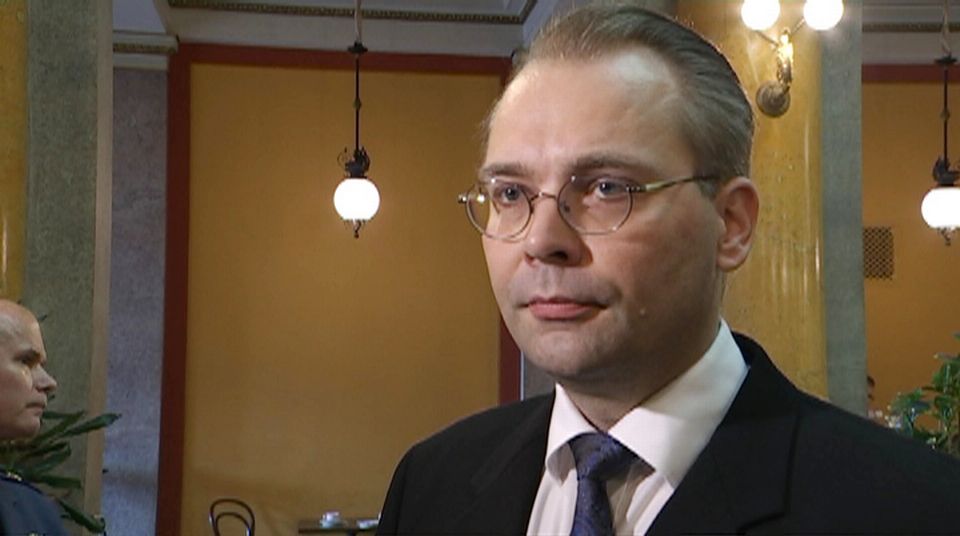 Long-serving diplomat Krister Bringéus authored the security and defence policy report commissioned by the Swedish government. In it, he said that defence cooperation with Finland would present Sweden with some risks. According to Bringéus, it would shift Swedish defence policy further east to the Russian border.
Speaking at the opening of the National Defence Course on Monday, Defence Minister Jussi Niinistö downplayed the analysis, but said that Finland should closely follow the ongoing discussion in Sweden.
"The view of the situation is from a single analyst, albeit a seasoned ambassador. It is good that Finland also understands that Sweden thinks this way, but in spite of this defence cooperation between Finland and Sweden is progressing like a steam engine," Niinistö declared.
Minister: 'No surprises' from Sweden on NATO
The report by the former Swedish head of delegation to the Organisation for Security and Cooperation in Europe, the OSCE, reviewed Sweden's existing defence cooperation arrangements and also looked at possible NATO membership. Bringéus stressed in the report that Sweden would make an independent decision on joining any possible military alliance. Niinistö said that he was not concerned about any surprises from Sweden on the NATO question.
"Information exchange between Finland and Sweden is proceeding. The kinds of mistakes that happened at the beginning of the 90s with applying for membership in the European Union won't occur. Nowadays ties are much closer and this matter has been dealt with. It's no trauma in the relationship between Finland and Sweden," Niinistö remarked.
The Swedish security policy report also speculated that all Baltic region countries would easily be drawn into any military conflict in the Baltic Sea.
"It's almost certain that if [a country] is militarily aligned, then it will be part of conflict in some way. But it is difficult to predict whether or not it will help for a country to be non-aligned," the minister observed.
He stressed that in spite of its close cooperation with Sweden, Finland is not counting on the relationship for defence.
"We aren't relying on any assistance; rather we are preparing to defend ourselves alone. But we will work towards being able to accept assistance if it is offered. Whether or not we are non-aligned, we will get help if it's in the interest of the assisting party," he noted.
Defence Forces chief: Cooperation with Sweden on good footing
Chief of the Finnish Defence Forces Jarmo Lindberg said that Finland has very detailed plans about cooperating with Sweden in the years ahead. He pointed out that collaboration has intensified in recent years.
"We've been involved in several manoeuvres recently. We have been in Swedish main military exercises in Gotland with fighter jets and soon Gripens [Swedish jets] will be coming to Finland. These are like steps progressing one after the other that show we are engaged in a concrete, deeper, and new form of cooperation with Sweden," Lindberg said Monday.
The defence forces head said that he did not endorse the report's view that all Baltic States would be involved if conflict erupted in the Baltic region.
"The situation could be anything at all. This is not such a large marine area, but whether or not it would automatically affect all [countries] would depend on the situation," Lindberg said.
Related stories from around the North:
Canada: Canada's defence review and the Arctic, Eye on the Arctic
Denmark:  Nordics to step up security cooperation on perceived Russian threat, Yle News
Finland:  Report: Russia now a greater threat to Finland, Yle News
Norway:  Norway calls snap military drill in Arctic, after Russian announcement, The Independent Barents Observer
Russia:  New Russian spy ship to keep tabs on Norway, Barents Observer
Sweden:  NATO membership not for Sweden: Ministers, Radio Sweden
United States: U.S. general says Alaska military cuts not final without Arctic plan, Alaska Public Radio Network