Murmansk opens biggest highway north of Arctic Circle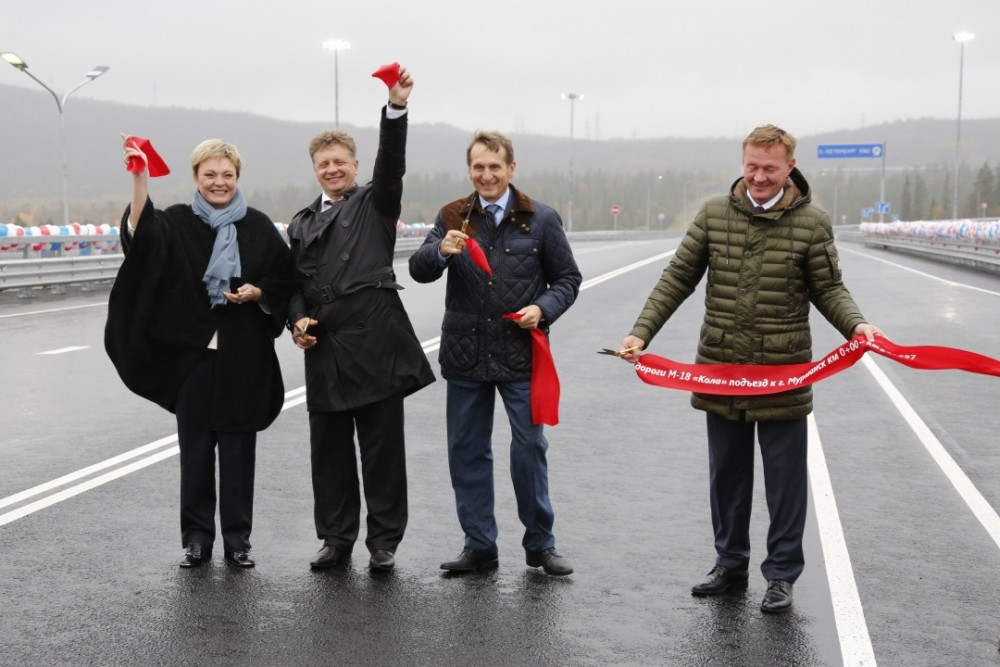 It has the capacity to handle 20,000 cars per day, Governor Marina Kovtun says.
"From now on, everyone driving into Murmansk will immediately understand that he is arriving in the capital of the Russian Arctic," Kovtun said as she officially opened the new road today, flanked State Duma Speaker Sergey Naryshkin and Transport Minister Maksim Sokolov.
The 15-kilometre-long highway has four lanes and goes around the Murmansk city center. According to the governor, it can handle up to 20,000 cars a day. That makes it the biggest highway north of the Arctic Circle, according to Russian officials. Until now, the biggest Arctic highway has been in Rovaniemi, Finland.
The Murmansk road includes three exit points, 14 bridges and viaducts, and one underground pedestrian crossing, said a press release from the regional government.
It is opened as Murmansk prepares for the celebration of its 100-years anniversary.
"It is probably the most expensive present we could get to the anniversary," Kovtun said. The region's sea port and airport are also up for a major facelift, she said. 
"In order to develop strategically important northern regions we have to constantly extend the existing road infrastructure, reconstruct and build new, modern and high-quality roads that meet the highest standards," Sergey Naryshkin said during the ceremony. 
According to Rosavtodor, the Russian road authority, as much as 86 per cent of the federal roads in Murmansk Oblast now meet the normative standard. That is 15 per cent higher than the national average, said Rosavtodor head Roman Starovoyt.
Over several years, the federal government has made significant investments in Murmansk infrastructure.
Only in 2016, the region got a total of 4,5 billion rubles from Moscow to upgrade its roads. A key part of that is spent also on the highway leading to the Norwegian border.
Related stories from around the North:
Canada: Blog: To understand the road to the Arctic Ocean, first go south, Mia Bennett
Norway:  Norway improving infrastructure on Arctic island, Barents Observer
Russia: Murmansk, Russia: Transport hub trouble, again, Barents Observer
Sweden: Sweden opens world's first electric highway, Radio Sweden
United States:  Alaska's North Slope fortifies against highway flooding, Alaska Dispatch News