Ungava Gin: apologies for cultural insensitivity and appropriation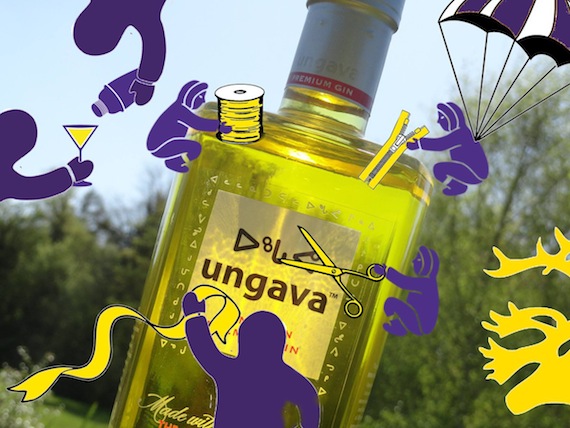 The company behind the successful Ungava Gin liquor brand, named for the region in northeastern Quebec, has issued an apology, following the objections of many people to the company's branding and marketing.
Stephen Puskas, a young Inuk originally from Yellowknife, North West Territories who now makes his home in Montreal, was interviewed on CBC recently, describing what he finds offensive.
Listen to the full interview with Stephen Puskas:
Initially, the creator and former owner of Ungava Gin said the objections were a "one-off" but Puskas came across objections to the product that go back to its introduction in 2012 and 2013. Many more people joined the social media protest this past week, including well-known Inuit musician and throat singer, Tanya Tagaq.
"We are truly sorry that we've offended the Inuit community, as this was never our intent, nor does it align with our corporate values and beliefs," Charles Crawford, the founder and president of Ungava gin, said in a written apology on Wednesday.
"We are deeply sorry and we will do better."
Ungava Premium Canadian Gin says on the bottle, that it is made with "rare botanicals from the Canadian north". The essences of Arctic plants such as Labrador tea, crowberry, wild rose hips, Nordic juniper and cloudberries are collected and dried in Nunavik at the end of the summer.
Corby Spirit and Wine Ltd. of Toronto, will pay $12-million cash to buy the Ungava gin brand and some of the other assets of Domaines Pinnacle Inc which is based in southeastern Quebec.
The spirit has garnered great reviews and earned eight medals and awards, including Gold Medals at the 'World Spirit Awards' and 'Spirits International Prestige (SIP) Awards. Ungava Gin is now available in 17 countries around the world. But here at home it has some work to do.
Skimpy parkas
Stephen Puskas says the marketing campaigns have been insulting. "The photos of the girls wearing skimpy parkas promoting the product Ungava Gin, they were taken in Panama City, they were taken in Singapore so there's definitely a marketing campaign that's probably world wide that use Inuit identity as a mascot."
He acknowledges that it is his opinion, but following the interview on CBC, many people agreed. "Sexualizing Inuit to sell alcohol. Classy." was one of Tanya Tagag's comments on Twitter.
What does @Ungava_Gin do when there are no Inuit to model their ridiculous costumes? Hire Asian ladies. pic.twitter.com/JKFDYRyphl

— tanya tagaq (@tagaq) September 13, 2016
"I don't speak on behalf of all Inuit, but I personally think that If there's a company out there that's made millions of dollars using, selling a product that has an Inuit identity as the brand, and this has been happening for years, and Inuit, as far as I know, have not seen any benefit out of this, I think for a company to take so much like that from Inuit, such a marginalized group of people here in Canada… I think it's the right thing to do, to maybe expect that they give something back." Puskas said.
Trivializing us as a people
"The parka, making it into the sexy Halloween costume it kind of makes a mascot of us, so does the cartoons that I've seen, the still images…  seeing Inuit as cartoons, two dimensional, in some of the photos, tiny little people kind of like little elves around this big bottle of Ungava, it makes a caricature of us, and in that sense it dehumanizes us, as if we're not real people… trivializing us as a people."
Calls to Action
Puskas refers to Canada's Truth and Reconciliation Commission's Calls to Action. Citing Article 92, Puskas says it is now incumbent on Canadian businesses or non-Indigenous people to "get prior, free and informed consent when they use indigenous knowledge, indigenous culture, heritage, language, medicine, so Inuit language, Inuktitut, has been used in their marketing campaigns."
"It's an interesting directive and useful in that it would help people use the culture in the appropriate way perhaps. The supposed throat singing by a man, that is the soundtrack to their Facebook posts, is not only annoying, but is an aberration, as only women and girls throat-sing in Inuit culture."
"Ungava Gin and Domaine Pinnacle, they're not the only company that do this, that use Indigenous identity as their corporate identity and I think other cases like this may sprout up in the future," Puskas says.
I'm not the first Inuk to be complaining about this
Stephen Puskas says he would like to see the federal government get involved.
"Since the federal government has adopted the United Nations Declaration of the Rights of Indigenous People, I think they have a responsibility to do something about this."
He would also like to see the Inuit leadership step up and take over the issue and in dealing with Ungava Gin, and find a path to reconciliation.
Puskas says he doesn't necessarily have a problem with the product itself. But he understands how an Inuit group apparently contacted by Crawford in the past, wanted nothing to do with it, as the association of alcohol with Inuit people is not a positive one,
Ultimately he hopes the conversation about the several issues involved in this product, from production to marketing, will continue.
"I hope to really work toward some progress and I really hope that this could work towards benefiting Inuit in Quebec and the rest of Canada."
Related stories from around the North:
Canada: U.K. fashion label apologizes for copied Inuit design, Radio Canada International
Finland:  Ralph Lauren collection shot in Arctic Finland, Yle News
United States:  New stores celebrate Alaska's eclectic fashion sense, Alaska Dispatch News