Metsä Fibre plant to meet new demand, make electricity in Finland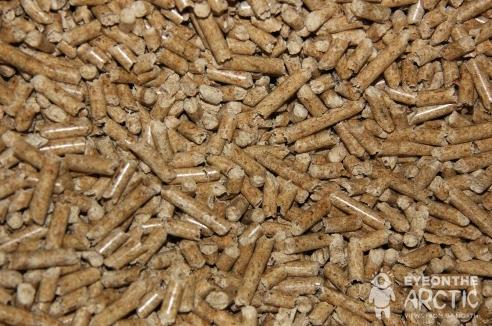 In an increasingly paper-free world some may have thought that the Finnish paper products industry's days were numbered.
But the people behind Metsä Fibre's new pulp facility that's under construction in Äänekoski say demand for their products is increasing – and that the facility will produce the equivalent of 2.5 percent of Finland's energy.
The company Metsä Fibre is investing heavily in a new facility in the town of Äänekoski which – when completed – will produce not only wood by-products but also generate the equivalent to 2.5 percent of Finland's energy needs.
Two-thirds of the construction of Metsä Fibres' giant complex in Äänekoski is already complete. The new facility will give the company a needed boost to meet increased worldwide demand for pulp materials, but also other materials.
"Pulp is our main product, because global demand for it goes up about one to one and a half percent every year," Camilla Wikström, the construction project's chief says.
In its promotion Metsä Group is trying to underscore the modern, innovative  technologies at the new plant. Rather than using the more outdated term 'pulp mill,' Metsä is calling the new fibre facility a bio-product plant.
Pine oil, turpentine and biogas
"We also produce pine oil, turpentine and sulphuric acid for our own production – as well as a large amount of energy," Wikström says. "It will become an important part of our operations. For example, we make biogas out of the sludge from pulp production which can be used in vehicles."
Even though their primary – and profitable – product will continue to be pulp at the new plant, the production of energy at the plant will be significant.
"We will produce 2.5 percent of Finland's electricity in Äänekoski – 1.8 terawatt hours," Wikström says.
The facility itself will require less than half of that energy – and the rest will be sold back to the electricity grid, Wikström explains.
That's a significant amount of energy. Two and a half percent of Finland's energy needs is equivalent to roughly half the amount of power produced at Fortum's nuclear power plant in Loviisa.
Metsä Fibre's VP of research Niklas von Weymarn says energy production is an important aspect of the new facility's profitability.
"But [our] processed products are of higher value. An energy company we are not, but we are a big player in bio-energy in Finland," von Weymarn says.
The construction site has about 2,000 workers from more than 600 companies. According to Metsä Fibre the facility should be operational by the third quarter of next year.
Demand rising for pulp and cardboard
Metsä Group is not alone in believing the forestry industry still has a future in Finland's economy. Several other firms are investing heavily in facilities around the country because the market for pulp and cardboard products is growing.
"As a result of changed market conditions the industry was forced to rethink. Now we're at a stage when it's time to invest again," von Weymarn says.
"As we read newspapers less and because of digitalisation, the paper industry is losing ground," Wikström says. "But sales of cardboard, tissue, toilet and kitchen paper is stable and demand is increasing."
The new investments will also require more wood – and the trees that wood comes from.
Metsä Fibre says it will nearly triple the amount of wood it currently uses. And even though some of the trees used are imported, most of the wood will come from forests within a 150 kilometre radius of the Äänekoski plant.
Related stories from around the North:
Canada: Time to invest in renewable energy for Arctic communities: WWF-Canada, Radio Canada International
Finland: Health threat as wood heat gets popular?, Yle News
Norway: Focus on green energy in the Arctic, The Independent Barents Observer
Russia: No alternative to Arctic oil says Russia environment minister, Barents Observer
Sweden: Sweden to have 100 percent renewable energy by 2040, Radio Sweden
United States: New Alaska rules may help renewable energy projects, Alaska Public Radio Network