Snow-buried Stockholm begins digging out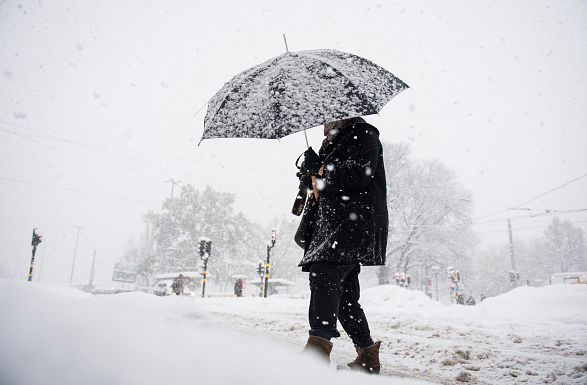 After 39 cm of snow blanketed central Stockholm on Wednesday, the city is struggling to get roads clear and traffic moving as normal.
Radio Sweden got an update on the current situation from Swedish Radio's traffic newsdesk.
The heavy snowfall triggered bus delays and cancellation,s and rail traffic in eastern Sweden has also been disrupted due to the weather. In the Stockholm area many cars got stuck in the snow, and some were abandoned – which in turn caused problems for snow ploughs clearing the roads.
"We in Stockholm are not used to this large amount of snow," Swedish Radio's traffic reporter Love Bergström told Radio Sweden. "Yesterday, there were a lot of people going out in the traffic with their summer tyres still on," he added.
Many people leaving work early to return home to Värmdo on Wednesday did not make it back until past midnight.
Leaving cars at home
On Thursday, the Swedish Transport Administration called upon motorists to leave their vehicles at home.
"There are abandoned cars and trucks on the main roads," the agency wrote in a press release. "In many places the traffic is completely stopped and access is very limited."
Snow in Stockholm pic.twitter.com/fsq1VlUOaE — Johan Klemets (@arKlemets) November 10, 2016
Measuring 39 cm in town, the snowfall was the largest for Stockholm in November since records began in 1905, according to national weather service SMHI.
Traffic challenges
The snow-packed roads and reduced bus traffic will likely make Thursday's morning commute difficult for many in the capital.
Traffic in Stockholm still chaotic after yesterdays snow, but it's beginning to recover. Trains are at least running, if sporadically. — Björn Fahller (@bjorn_fahller) November 10, 2016
Several schools in greater Stockholm remain closed Thursday, due to the extreme traffic situation.
Relief from more snow appears to be in the forecast for central Sweden. Thursday's temperature should hover around freezing with partly cloudy skies and Friday should offer sunny skies with colder temperatures, down to -5 degrees Celsius.
Related stories from around the North:
Canada: Arctic sea ice hits new record winter low, Radio Canada International
Finland:  Warm Easter predicted across Finland… even for Lapland, Yle News
Greenland:  Changing Sea Ice: The Ripple Effect (VIDEO), Eye on the Arctic
Norway:  A letter from Svalbard's dwindling sea ice, Deutsche Welle's Iceblogger
Sweden: Storm Helga weather warning for Sweden, Radio Sweden
United States: Ice extent still well below normal in Arctic, Alaska Dispatch News