Canada's inquiry into missing and murdered Indigenous women issues final report with sweeping calls for change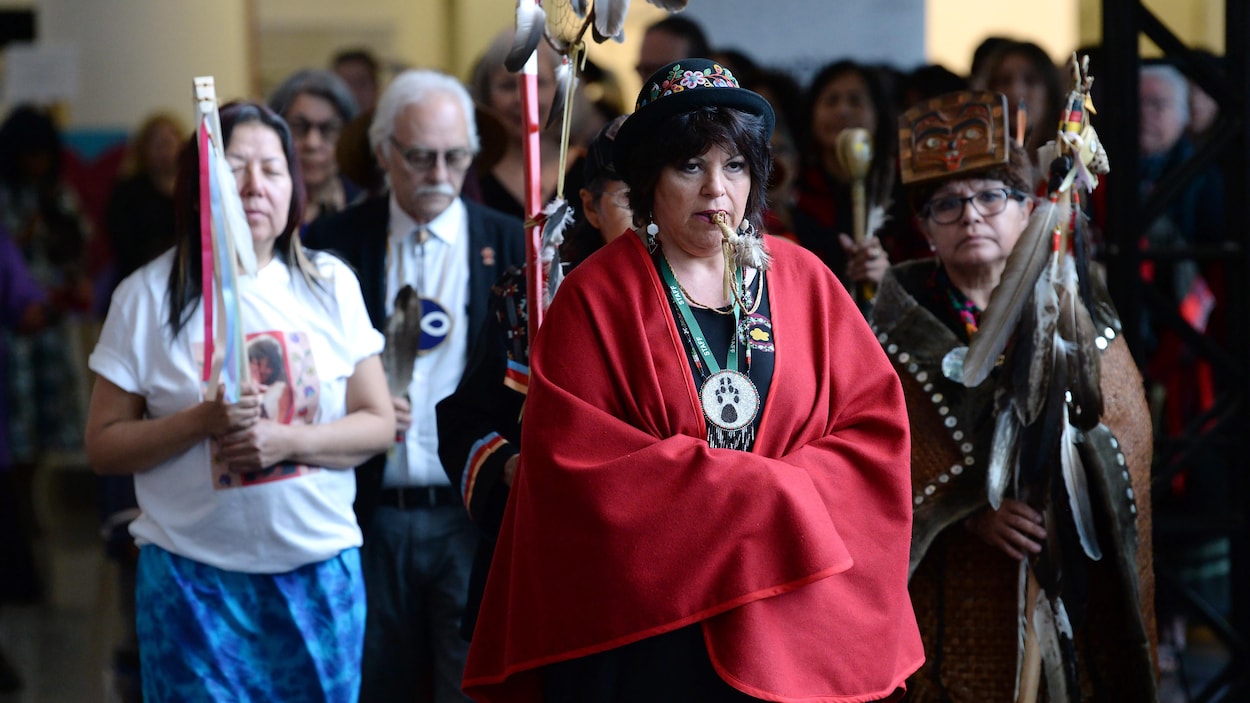 After more than three years, dozens of community meetings and testimony from well over 2,000 Canadians, the missing and murdered Indigenous women and girls inquiry delivered its final report to the federal government at a ceremony in Gatineau, Que., today.
The report includes many recommendations to government, the police and the larger Canadian public to help address endemic levels of violence directed at Indigenous women and girls and 2SLGBTQQIA (two-spirit, lesbian, gay, bisexual, transgender, queer, questioning, intersex and asexual) people.
A copy of the final, 1,200-page report — and its 231 "calls for justice" — is available here.
At the ceremony, Marion Buller, chief commissioner of the inquiry, said the calls for justice are not just "recommendations" but are "legal imperatives" that must be implemented to help end a cycle of violence that has claimed untold thousands of Indigenous women.
"This report is about these beautiful Indigenous people and the systemic factors that lead to their losses of dignity, humanity and, in too many cases, losses of life," Buller, the first First Nations woman appointed as a provincial court judge in British Columbia, said in the preface to the long-awaited report.
"This report is about deliberate race, identity and gender-based genocide.
"As a nation, we face a crisis: regardless of which number of missing and murdered Indigenous women and girls is cited, the number is too great. The continuing murders, disappearances and violence prove that this crisis has escalated to a national emergency that calls for timely and effective responses. This is not what Canada is supposed to be about; it is not what it purports to stand for."
Beyond defining the level of violence against these women as a "Canadian genocide," recommending official language status for Indigenous languages and a guaranteed income for all Indigenous peoples, the commissioners are also recommending sweeping reforms to the justice system and policing in this country, including stiffer penalties for men who carry out spousal or partner abuse.
"We call upon the federal government to include cases where there is a pattern of intimate partner violence and abuse as murder in the first degree under Section 222 of the Criminal Code," the report reads.
First-degree murder is the most serious of all the homicide offences. If convicted, offenders usually spend longer in prison, with fewer chances for parole.
The inquiry said that, too often, murder investigations are "marked by indifference" and negative stereotypes that result in Indigenous deaths and disappearances being investigated and treated differently from other cases — differences that result in fewer solved cases.
And when there is a reasonable chance of a conviction, the inquiry said, Crown attorneys too often are willing to accept plea bargains or reduced charges in exchange for guilty pleas in cases of murdered Indigenous women.
To that end, the inquiry calls for more "Indigenous-specific options" for sentencing, without specifying what exactly the government should change on that front. It calls for a strengthening of 'Gladue principles' in Canadian courts — a legal term that stipulates an offender's Indigenous ancestry should be considered in the sentencing process.
"While the prosecutorial decisions … may well be justified, the frequency with which this occurs understandably raises questions in the Indigenous community, particularly when the sentences on conviction escape the mandatory parole ineligibility of 10 or 25 years on the more serious charges."
To ensure more equitable outcomes, the inquiry said, more Indigenous judges, justices of the peace and police should be hired to ensure Indigenous voices are in positions of power in the criminal justice system.
Failing that, the report said a separate court system for the Indigenous population should be established to lead to more "meaningful and culturally appropriate justice practices …"
Far too many murder cases aren't solved and don't make it to trial at all, the inquiry said — and that means the federal funds ought to be bolstering the ranks of Indigenous police forces across the country to ensure better investigations.
"We call upon all governments to immediately and dramatically transform Indigenous policing from its current state as a mere delegation to an exercise in self-governance and self-determination over policing," the report reads.
"The federal government's First Nations Policing Program must be replaced with a new legislative and funding framework, consistent with international and domestic policing best practices and standards, that must be developed by the federal, provincial, and territorial governments in partnership with Indigenous Peoples."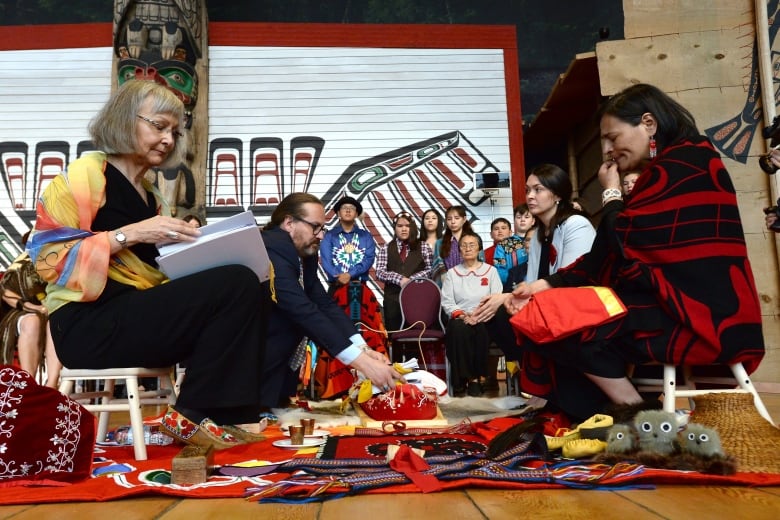 The report also calls on provincial and territorial governments to improve the restraining order system by making them "available, accessible, promptly issued and effectively serviced and resourced" — to help Indigenous women stay out of harm's way when faced with a violent partner.
Beyond facilitating access to restraining orders (or "protection orders," as they're often known in Canada), the inquiry is calling on the government to offer guaranteed access to financial support, legislated paid leave and disability benefits and "appropriate trauma care" to Indigenous victims of crime or other traumatic events.
"Skeptics will be fearful and will complain that the financial cost of rebuilding is too great, that enough has been done, that enough money has been spent," said Buller. "To them I say, we as a nation cannot afford not to rebuild. Otherwise, we all knowingly enable the continuation of genocide in our own country."
Michèle Audette, one of the commissioners and a former president of the Quebec Native Women's Association, said the Royal Canadian Mounted Police need fundamental reforms.
The inquiry has recommended Ottawa establish "robust and well-funded Indigenous civilian police oversight bodies" to prevent police negligence and misconduct in rape and sexual assault cases. The inquiry has also recommended the RCMP hire more Inuit officers to help police Canada's far north; there are thought to be fewer than 10 currently working with the service.
"They made an apology but we want action," Audette said of the national police force. "We have solutions in the report. We want it now. We want to work with you. I want to work with the police … the justice system that is in place right now across Canada — it's not functioning, it's bitter and we know it. The women and families told us they don't want to go through that system. That has to stop."
'You have my word': PM vows to implement an action plan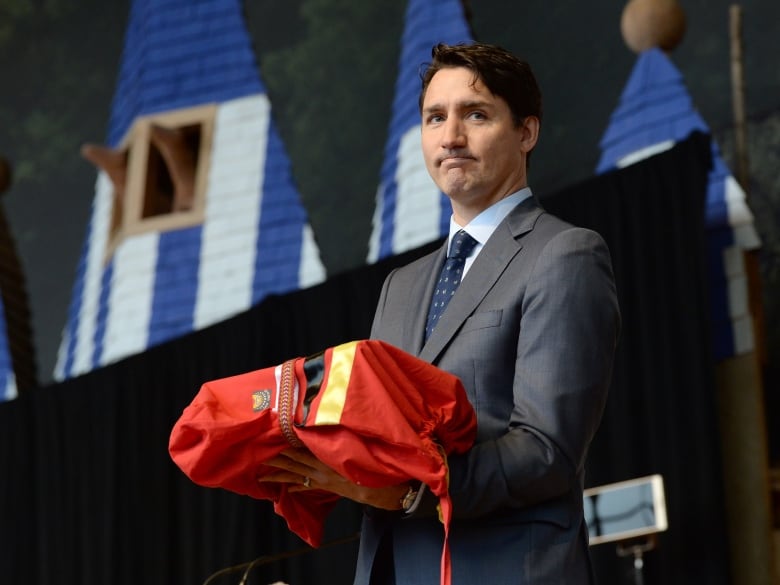 Prime Minister Justin Trudeau received the report from the commissioners after a blanket ceremony at the Canadian Museum of History Monday.
In a short address to the hundreds of family members, elders and dignitaries gathered for the closing ceremony, Trudeau vowed to review the calls for justice and implement meaningful reforms to the country's institutions.
He said his government will now begin the work of developing an action plan to address the "absolutely unacceptable" levels of violence directed at Indigenous women and girls.
"To the survivors and families here today, and to those watching or listening at home, I want you to know that this report is not the end. The work of the commissioners, the stories they have collected, and the calls for justice they have put forward will not be placed on a shelf to collect dust," Trudeau said.
"You have my word that my government will turn the inquiry's calls for justice into real, meaningful, Indigenous-led action … we must continue to decolonize our existing structures."
Trudeau said the government already has committed to major reforms for Indigenous peoples, including new cash injections for on-reserve housing, a plan to end all long-term boil-water advisories, a fundamental overhaul of the child and family services regime, legislation for an Indigenous languages strategy and a push to foster more self-government. The last federal budget included billions of dollars in new spending for Indigenous files.
"To the missing and murdered Indigenous women and girls of Canada, to their families, and to survivors – we have failed you. But we will fail you no longer," Trudeau said.
In addition to the calls for government action and new funding commitments, the report said political leaders alone cannot solve a decades-long societal problem.
The inquiry called on all Canadians to read the report, denounce violence against Indigenous women, girls and 2SLGBTQQIA people when they see it, and work to "decolonize" by "learning the true history of Canada."
"Learn about and celebrate Indigenous Peoples' history, cultures, pride, and diversity, acknowledging the land you live on and its importance to local Indigenous communities, both historically and today," the inquiry said.
For immediate emotional assistance, call 1-844-413-6649. This is a national, toll-free 24/7 crisis call line providing support for anyone who requires emotional assistance related to missing and murdered Indigenous women and girls. You can also access long-term health support services such as mental health counselling and community-based cultural services through Indigenous Services Canada.
Related stories from around the North:
Canada: National inquiry calls murders and disappearances of Indigenous women a 'Canadian genocide', CBC News
Finland: Swedish-speaking Finnish women launch their own #metoo campaign, Yle News
Sweden: Report sheds light on Swedish minority's historic mistreatment, Radio Sweden
United States: Alaska reckons with missing data on murdered Indigenous women, Alaska Public Media