Here are a few things some Alaskans are hoping to get out of President-elect Trump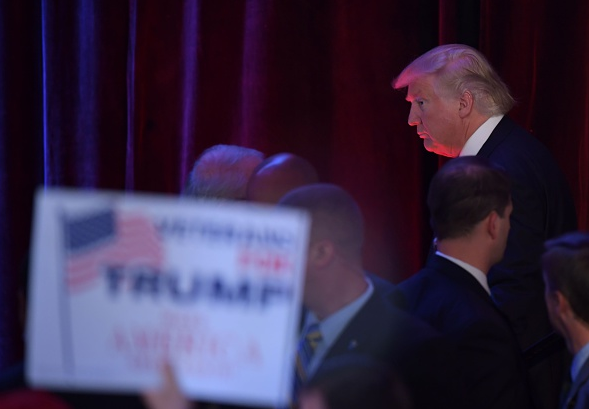 Alaskans excited about a Donald Trump presidency have much of their wish list ready to go, even if his win caught some of them by surprise this week.
But Trump, to our knowledge, has not visited Alaska. As the state's senior U.S. senator pointed out on election night, he has no legislative history. So what exactly does a Trump presidency mean for the 49th state?
Three potential changes immediately caught the imagination of Alaska Republicans in the wake of Trump's victory: drilling, regulations and getting that road to King Cove.
The election was up for grabs late Tuesday evening, but as the vote tallies took a positive turn for Trump, the ghost of drilling in the Arctic National Wildlife Refuge was almost immediately in the air. And as soon as it was clear Republicans had held onto the U.S. House and Senate, pro-development Alaskans could already taste oil.
As Sen. Lisa Murkowski circulated at an election night party at a downtown Anchorage brewery, so did talk of opening ANWR. The Associated Press had called the race for Murkowski, and she huddled near the stage to talk to a few reporters about Trump, her victory and the Senate's continued Republican majority.
A reporter had just begun to ask Murkowski what might become of ANWR when someone wandered over and shoved a smartphone under her face, interrupting the exchange midsentence. On the screen it said Trump had been elected president.
"More Than a Feeling," by Boston, blared in the background. Murkowski's eyes grew wide and her face froze.
"Can I see that again?" she asked when he pulled the phone down. She stared at it for a solid 30 seconds before looking up, saying "I've got to go check this out," and walked away to talk with staff in a corner.
When she returned a few minutes later, the situation was no longer hypothetical.
"Well, as you know, we have been working to advance ANWR for decades now. And we need to have the support of the Congress," Murkowski said. As of yet, it wasn't clear if they'd have the numbers.
"But if the numbers continue for us with the Senate and you have a president who has expressed support, I will be chairing the energy committee again, and I am going to look to push that early on," she said.
The Senate Republican majority will be just 51 or 52 members, depending on a runoff election in Louisiana.
Former Democratic Sen. Mark Begich and former Republican Lt. Gov. Mead Treadwell, writing on the Midnight Sun political blog, said Tuesday night they would love to get ANWR into Trump's plan for his first 100 days in office.
Begich would be happy to drum up support among moderate Democratic lawmakers, he said. "That's the kind of stuff I'd do pro-bono."
"I would suspect that the opening of ANWR actually has a fairly good chance (when) Republicans hold" both Congress and the White House, said Bob Gillam, founder of McKinley Capital Management, who has known Trump since the two graduated from business school together.
Carving through regulations
Central to the Trump fans' excitement for Alaska energy is his pledge to carve away regulatory gridlock they say stands in the way of energy development.
"Jesus, federal permitting has been killing us," said John Hendrix, Gov. Bill Walker's oil and gas adviser. "We need to make Mr. Trump aware of the challenges Alaska has been having and let him know that oil and gas is the main engine keeping our schools open and paying for services."
One way to do that would be to ease regulations requiring developers to pay "mitigation" fees when they destroy wetlands during construction, said former Alaska legislator Drue Pearce, who advised Interior secretaries on state issues during the George W. Bush administration.
Pearce said doing so could help the Alaska LNG gas line project move ahead by bringing costs down.
"Mr. Trump has said to myself and other Alaskans that he expects America to become energy independent." That means developing coal, opening up ANWR to drilling and getting a gas line in place, said former legislator Jerry Ward, the sole official Trump campaign employee in Alaska.
"Those are all issues that are on Mr. Trump's radar," he said. "He knows that Alaska is ready to do environmentally sound development of our resources."
As soon as she knew she had a Republican president and a Republican Congress on her hands, Murkowski started talking about King Cove. She's been fighting Interior Secretary Sally Jewell for years about the agency's refusal to allow a road from the town to the nearest all-weather airport, through a Izembek National Wildlife Refuge.
"I talked to a couple of people from King Cove today. They were pretty excited," Murkowski said.
"But think about where Alaska is going to take the country," Murkowski said to supporters in a brief victory speech Tuesday night. "Think about — we might even take the country to King Cove because we'll have a road!"
"We might take people up north where we will discover that there's still a lot of oil up there if they just give us permission to go get it," she added.
-By Erica Martinson & Alex DeMarban, Alaska Dispatch News 
Related stories from around the North:
Canada:  Trudeau and Obama's Arctic endeavours, Deutsche Welle's Ice-Blogger
Denmark:  Obama and Nordic leaders pledge Arctic cooperation, Alaska Dispatch News
Finland:  UN rep. urges suspension of Sámi elections, Yle News
Greenland:  Greenland, Alaska elections bolster Arctic resource extraction, Blog by Mia Bennett
Iceland:  Iceland's Pirate Party leads polls few days before elections, The Independent Barents Observer
Russia:  Russian Foreign Ministry dismisses Supo property fears as Russophobia, Yle News
Sweden:  Land, water rights big issues in Sweden's Sami elections, Radio Sweden
United States:  Trump's election a cold reality check for Arctic, Blog by Mia Bennett