Melting Arctic ice patches reveal rich archaeological record
Canadian archaeologist Tom Andrews is in a race against time.
For more than a decade, Andrews and his team from the Prince of Wales Northern Heritage Centre in Yellowknife and their partners from the Shúhtagot'ine (Mountain Dene) Indigenous community of Tulita have been flying to high alpine pastures in the Selwyn and Mackenzie Mountains of the Northwest Territories (N.W.T.) where climate change is revealing ancient hunting sites.
They have been collecting, studying and preserving ancient artefacts – darts, bows and arrows – lost or misplaced by prehistoric hunters who hunted caribou on mountain ice patches, bits of annual snowfall that don't melt off during summertime and accumulate over millennia.
But now these artifacts buried and preserved in these alpine ice patches and caribou dung emerge to the surface as each warmer summer peels off another layer of snow and ice. Finding them before merciless time erases them forever is what drives Andrews and his team.
Lost and found
"It's quite a remarkable moment when you find one of these things," Andrews said in a phone interview from Yellowknife. "You've climbed out of a helicopter and climbed down the ice patch, the caribou of course have been resting on these things for millennia and releasing the food that they've eaten during the day, so the outside edges of these ice patches are thick-thick layers of caribou dung that have melted out of the ice and it's in that dung that we find the artefacts."
(click to listen to the full interview with Tom Andrews)
These ice patches are always on the north face of the mountain, protected from the summer sun there, between 1,500 and 2,100 metres (5,000 and 7,000 feet) in elevation, along the Rocky Mountain chain, near the Yukon-N.W.T. border.
"As you walking along this accumulated dung, you come across a very beautifully made arrow shaft that looks like a piece of dowel you might find at a local hardware store, it's made so well," Andrews said. "And to pick it up and hold it and to realize that somebody had the appropriate knowledge and skills to be able to select, not any kind of wood, but just the particular kind of wood that's used in that arrow shaft, and then to fashion it to such a skillful level using nothing more than stone tools, it's quite remarkable."
Hunting caribou
The ice patches are critical summer caribou habitat.
"During the hot summer days the caribou will eat in lower elevations and as the day warms and those parasitic biting insects get bad, the caribou climb high up into the high alpine and seek out these ice patches to bed down to cool off and find some relief from the insects," Andrews said.
Thousands of years ago, hunters not just in Canada but around the circumpolar world figured out that this was a regular behaviour for caribou and began to exploit this during their hunts, Andrews said.
They learned that they had to choose mountains that had fairly rounded tops that were easier for the humans to climb up over the top.
"They would come up the back of the mountain, crest the top of the mountain and there would be the caribou within the effective range of their older dart throwing technology and more recent bow and arrow technology right at the mountain top at the ice patch," Andrews explained.
In the process they sometimes dropped or misplaced hunting implements – darts and throwing sticks, bows and arrows, and even snares – that became embedded in the snow and ice that piled up over centuries and millennia, creating a near perfect preservation mechanism.
Archaeologists in neighbouring Yukon began finding these ancient artefacts in the late 1990s, prompting their colleagues in the Northwest Territories to wonder whether ice patches on the N.W.T. side of the border would reveal similar sites.
Finding a needle in the haystack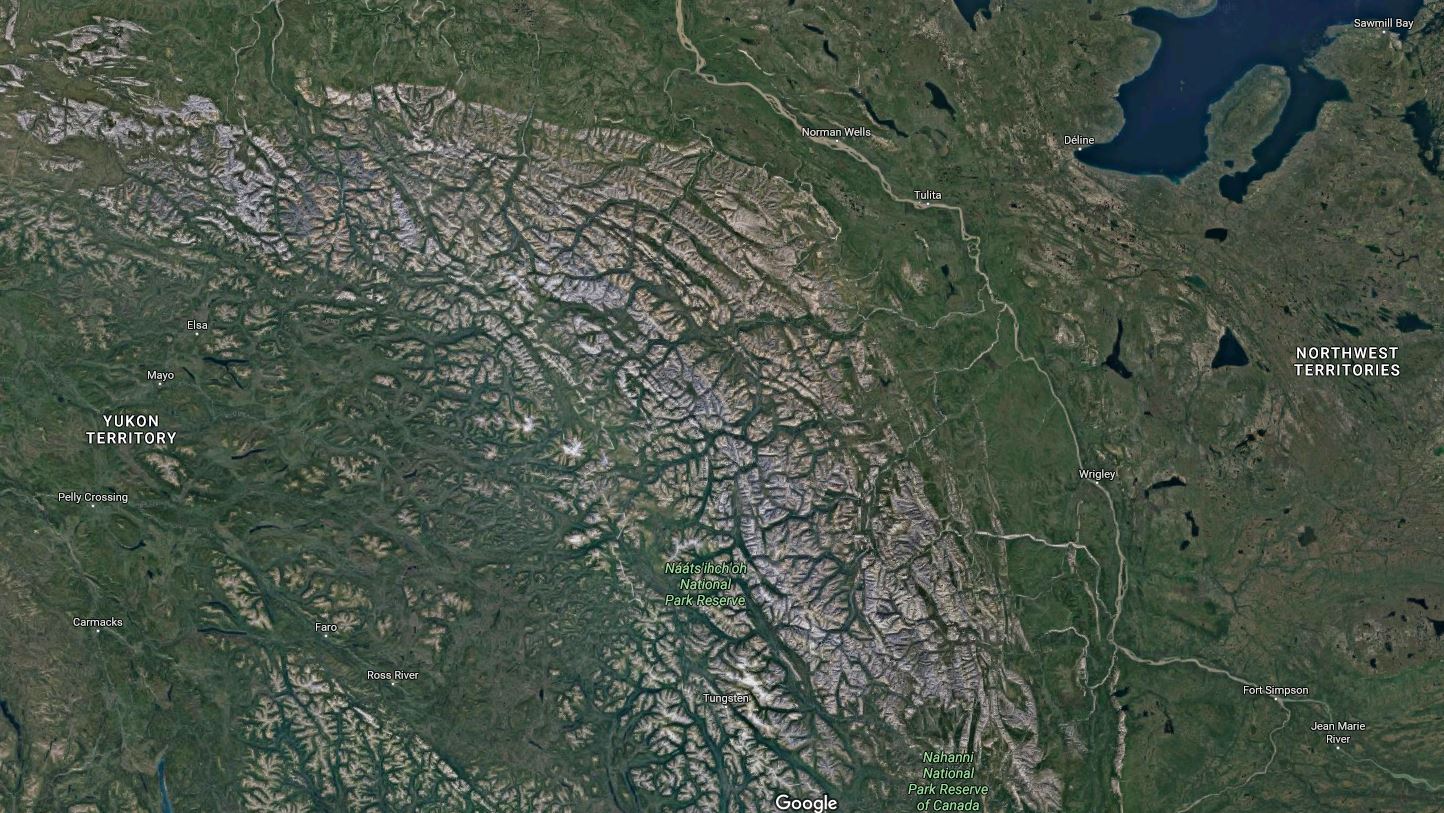 "But there is 144,000 square kilometres of mountainous territory in the Northwest Territories and that begs a question where do you begin," Andrews said.
The scientists took a two-pronged approach to identify potential archaeological sites.
The team led by Andrews used satellite data analysis to find the remnants of these ice patches and they also initiated a partnership with the Shúhtagot'ine Indigenous band in Tulita.
"They have historically lived and occupied the Mackenzie and Selwyn Mountains and elders are very-very knowledgeable about those environments," Andrews said.
Traditional knowledge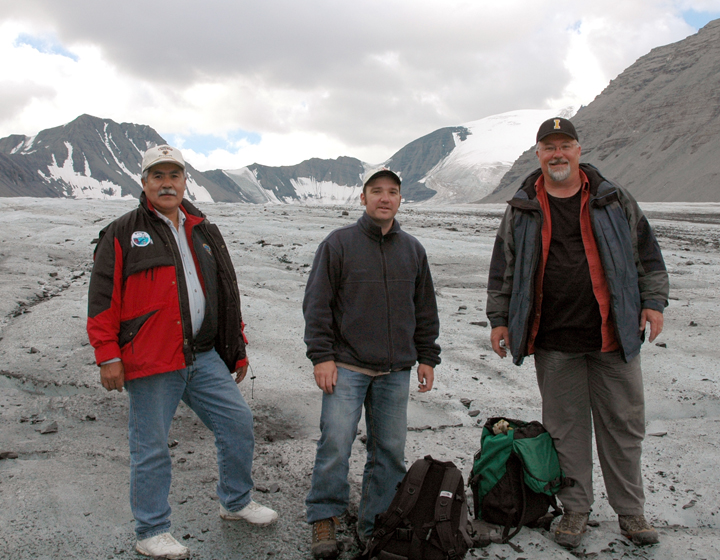 Andrews and his team have relied on the expertise of one Shuhtagot'ine elder in particular, Leon Andrew.
"With his help we were able to better understand the behaviour and actions of caribou in the area but also understand hunting practices as well," Andrews said. "And by combining those we were able to isolate certain ice patches that have a higher probability of finding artefacts on them."
It was Andrew who told them to look for rounded mountain tops as one of the major indicators for a successful caribou hunting site because these settings allow hunters to sneak up on the caribou on the ice patches from above, without being seen or smelled by the animals, Andrews said.
"As a young boy his father would tell him when hunting in the mountains, it's important to climb high and stay high," Andrews said. "That bit of traditional knowledge was critical for us being successful in our work."
Ancient record
The oldest artefact found by researchers in N.W.T. so far, a piece of birch dart, is about 6,000 years old.
The dart-throwing technology was used by early humans for thousands of years.
"There are images of these things in paleolithic cave paintings in France, they are very-very old," Andrews said. "They would use a stick as long as your forearm with a peg at the far end and into that peg they would notch a long-long dart and then use the stick as an extra lever in their arm to propel these darts at very hard forces and fast speeds."
That technology was then entirely dropped as the ancestors of today's Mountain Dene adopted the bow and arrow technology about 1,000 years ago, Andrews said.
"The preservation is really the remarkable part of this," said Andrews. "We found a broken arrow over a period of two years, the feathers were still laying right beside the nock end of the arrow shaft and a stone projectile point was still tied on with sinew and glued in with spruce gum at the other end."
Understanding the past
Ice patch archeology has massively expanded our understanding of hunting technology.
"We had always struggled in the archaeology, especially in the sub-Arctic of North America where preservation is generally very poor, with the difference between different hunting techniques, whether people used darts or bow and arrow," Andrews said. "But the ice patch archaeology has given us an incredible insight into that change and we've been able to radiocarbon that change precisely to about a thousand years ago."
Researchers also learned how ancient hunters chose certain kinds of raw materials for their tools and how that knowledge is still embedded in the traditional knowledge of Indigenous people, he said.
Researchers were also able to better study and understand climatic conditions in the area. Data from the ice patches and the analysis of pollen records contained in caribou dung has shown that for the last 5,000 to 6,000 years the environment in the area had remained relatively stable.
"One of the shocking things in our work was in taking ice cores from these ice patches we were able to extract stratified layers of caribou dung in the ice and radiocarbon date them and show that the ice patches themselves are of the same age as the samples we're finding," Andrews said. "They go back five, six thousand years."
Race against time
But since the researchers began their work in 2005, several of these ice patches have melted entirely, Andrews said.
"In fact one of them we sampled in 2007 by taking an ice core, the bottom date of the oldest layer in that ice patch was almost 4,000 years old, suggesting that the ice patch was relatively stable for 4,000 years," Andrews said. "It melted out in the next five years. So the impact of climate change is quite current and quite dramatic as well."
In fact, the same phenomenon can be seen all around the world, he said.
Ice patch archaeology is being undertaken in Norway quite extensively, where reindeer were exploited on ice patches from ancient times, Iron Age and Vikings, to modern times.
"Interestingly in those areas we know too that – from Sami reindeer herders and others who herd reindeer today – they would use the exact same behaviour and move their reindeer herds into the mountains in the summertime so the reindeer could seek these ice patches as well," Andrews said. "We've learned quite a bit about ice patch archaeology by looking at the practice of Sami reindeer herders."
And as climate continues to warm, ice patch archaeology is being undertaken around Yellowstone National Park in the U.S., in Alaska and Yukon, and even in Swiss Alps, where retreating snow and ice are revealing evidence of humans transiting high alpine passes and leaving behind extensive records, he said.
"As ice melts in the circumpolar north, archaeologists are scrambling in many jurisdictions to try and record the fragile artefacts that are being exposed before they're lost."
Related stories from around the North:
Canada: Arctic shipwreck confirmed as Franklin expedition's missing HMS Terror, Radio Canada International
Finland: Archaeological sites targeted in Finland, Yle News
United States:  New evidence of prehistoric trade with Asia found at Alaska site, Alaska Dispatch News