Alaska House Democrats introduce oil-tax bill to heated debate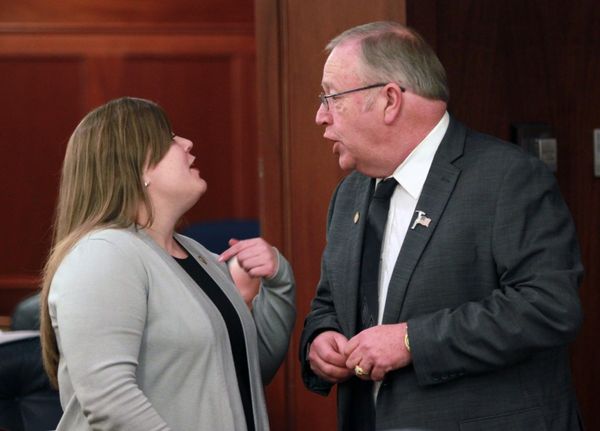 JUNEAU — Alaska House Democrats unveiled their proposal Wednesday to raise oil taxes and limit cash subsidies and oil-tax credits, officially launching a legislative debate over how much more the industry should contribute to filling the state's massive deficit.
The oil industry already accounts for the majority of Alaska's unrestricted revenue, and lawmakers last year reduced subsidies for companies developing natural gas projects near Anchorage, as well as slicing tax deductions for new North Slope oil.
But as lawmakers face a $3 billion deficit, the House's majority coalition of Democrats and moderate Republicans is pushing for more changes, arguing that oil company concessions would help ensure fairness as part of a broader deficit-reduction plan.
The coalition is also expected to ask Alaskans to pitch in themselves, through another bill set for introduction Friday, that will include an income tax and a restructuring of the Permanent Fund dividend.
"We have an overly generous system of subsidies that needs to be reformed," Rep. Geran Tarr, D-Anchorage, said at a news conference Wednesday. Tarr is co-chair of the House Resources Committee, which sponsored the new oil-tax bill.
Starting the dialogue about oil taxes
The legislation, House Bill 111, brings back several ideas the Senate's Republican-led majority rejected last year during a seemingly endless battle that stretched into June. The new legislation would hit smaller companies trying to develop new prospects on the Slope as well as Alaska's big three producers: BP, Exxon Mobil and ConocoPhillips.
The measure, if all its pieces were approved, would likely cover only a small fraction of the deficit.
But its provisions could still save hundreds of millions of dollars and reduce the state's annual outlay on oil companies' cash subsidies, which in previous years have exceeded $400 million and are projected to cost $200 million annually through 2020.
The other resources committee co-chair, Rep. Andy Josephson, D-Anchorage, described the bill as the start to a dialogue about oil taxes. Its pieces include:
Increasing oil companies' minimum tax rate from 4 percent to 5 percent, and barring them from using credits to drop their taxes below that base.
Reducing the value of a credit that allows companies to convert their operating losses into tax deductions — moving the rate of deductions to 15 percent from 35 percent. It would only allow companies to receive the credit as direct cash from the state if they're a small producer with a daily volume of less than 15,000 barrels.
It would cap companies' annual cash subsidy payments at $35 million, down from a $70 million limit approved last year. And starting next year, it would stop companies from earning cash subsidies entirely — forcing them to apply their credits only against their tax bills.
It would slice another tax credit given to oil companies for each barrel of oil when prices are between $80 and $100 a barrel.
Tarr and Josephson didn't have estimates of each provision's budget impact. Projections by Gov. Bill Walker's administration last year said raising the minimum tax could net the state roughly $50 million annually.
Industry reaction
The state's main oil industry group, the Alaska Oil and Gas Association, released a statement within minutes of HB 111's introduction, saying the measure makes the state look like an "unreliable, unstable and unpredictable business partner."
"We're already part of the solution," Kara Moriarty, the group's president, told reporters Wednesday after the Democrats' news conference. Moriarty noted her industry already contributes more than half of Alaska's unrestricted revenue and already gave up ground in last year's oil-tax bill.
Heated debate
A bill's introduction is normally a routine event — it happens on the chamber floor, and in a few seconds the House speaker reads its title and assigns it to committees. But Wednesday's introduction of the tax bill turned chaotic, with Republicans even arguing over whether the committee name could be printed atop the bill as its sponsor, rather than individual legislators.
The dissonance seemed to serve as a prelude of the oil-tax fight likely to come later in the session.
"I want my name off this thing," said Rep. Chris Birch, R-Anchorage, a resources committee member who's already staked out his opposition to higher oil taxes in hearings this year. (His name wasn't on the bill; he appeared to be referring to the name of the committee.)
The GOP objected even though the practice of putting committee names atop bills was routine last year — before Republicans lost control of the chamber in the November election.
Democrats were quick to make that point, even as Rep. Mike Chenault, R-Nikiski, the previous House speaker, suggested the coalition had held an "illegal" meeting to arrange the resources committee's sponsorship of the bill.
"Ah, shoot," Juneau Democratic Rep. Justin Parish mused during a break. "The shoe on the other foot doesn't feel so good."
HB 111 had its first hearing in the House Resources Committee on Wednesday afternoon. Josephson said it would be the subject of many more meetings.
Republican-led Senate
The legislation has a good chance of moving through the Democratic-led House, but its passage through the Republican-led Senate is far less certain. That chamber — where two majority members work for ConocoPhillips outside the legislative session — has been more resistant to tinkering with Alaska's oil tax regime since its broad framework was approved in 2013.
In an interview Wednesday, Anchorage Republican Sen. Cathy Giessel argued  the new House legislation would cost the state jobs and oil production, and she characterized the bill as a distraction from other budget-balancing measures like spending cuts or a spending limit.
Giessel, who chairs the Senate Resources Committee, suggested the House legislation could end up being tied into other end-of-session negotiations about deficit-reduction proposals, like using the Permanent Fund's investment earnings to help pay for government spending.