Iditarod sled dog race teams head out into Alaska's big chill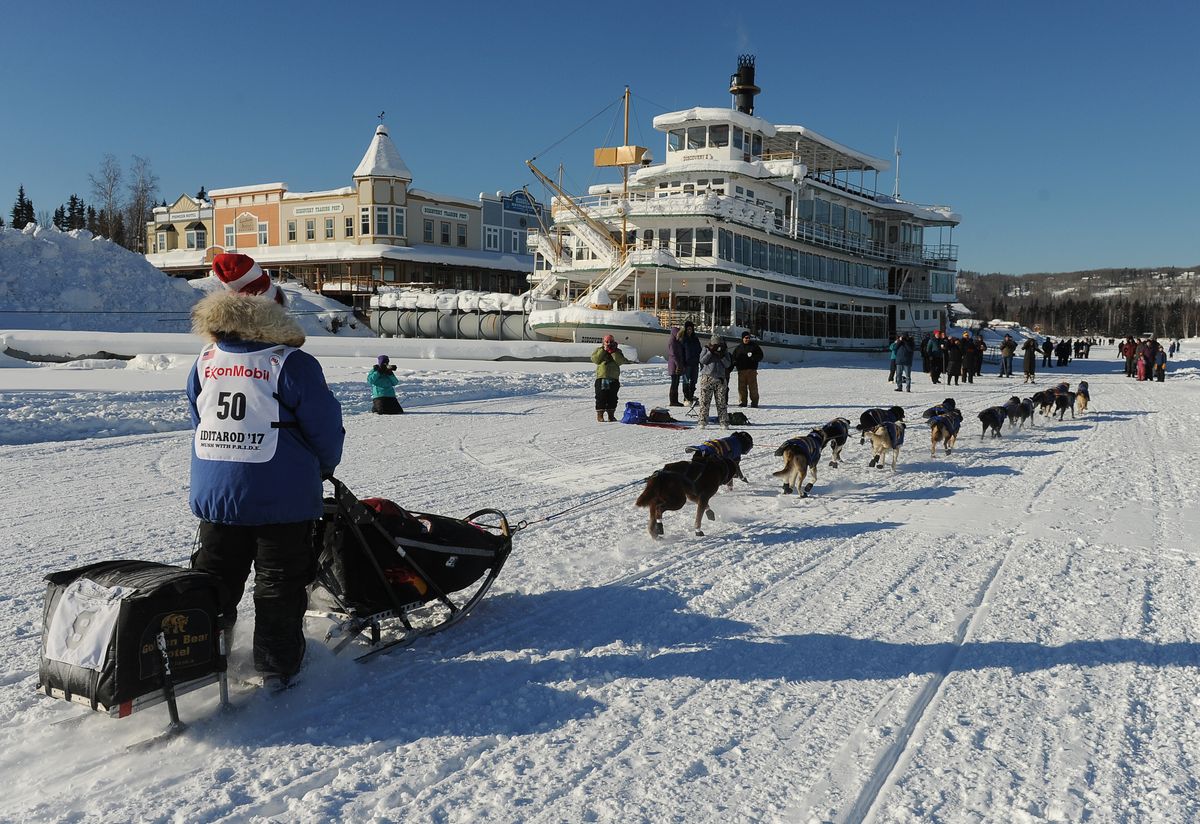 FAIRBANKS — Off to Nome. At 11 a.m. Monday, 71 teams in the 45th Iditarod Trail Sled Dog Race started leaving Fairbanks in subzero temperatures, rising from the minus-30s recorded overnight.
One by one, the mushers and dog teams left the snowy starting line on Hoselton Road at two-minute intervals and briefly traveled down city streets before turning right and dropping onto the frozen Chena River.
Crowds of people bundled in layers of jackets and heavy boots cheered near the starting line on the bright, clear morning. Some climbed up snow banks for a better view, holding cell phones and cameras to snap photographs. Some closer to the road held out their hands for high-fives from departing mushers.
Susan Carothers and her husband, Mark, arrived at the starting line around 10 a.m. when temperatures hovered around 25 degrees below zero. She said they were "thrilled" to have the Iditarod in Fairbanks, and they were prepared for the cold.
"The only thing I want to complain about is being too warm," said Susan, 61 of Fairbanks, who wore a fur hat, fur mittens and a fur jacket. "You just want to dress for the weather so you don't have to go inside.
Final preparations
As spectators gathered Monday morning, the Iditarod mushers toiled by their dog trucks in a nearby lot, packing their sled bags with the help of family and handlers. They velcroed booties to their sled dogs' feet and dished out kibble, frozen meat and water. Some mushers strapped a bale of straw to their sleds to use to rest their dogs between Fairbanks and the next checkpoint of Nenana, about 60 miles away.
Musher Trent Herbst, a fourth-grade teacher from Idaho, compared Monday's start to 2015, the last time the Iditarod start was moved to Fairbanks. "That year was a lot colder," he said.
Herbst said he had the gear for temperatures that dove far below zero. To keep himself warm on the trail, he said, he would run kick his foot off the ground and swing a ski pole to help move his the team forward. For the dogs, the temperatures were good, he said.
"The dogs, it's going to be good weather for them, but it's going to be murder on us," he said. "It's hard to get motivated to get out of your sleeping bag when it's 20 below."
Herbst, wearing bib 67, was the one of the last mushers to leave Fairbanks Monday. Ryan Redington, he grandson of race co-founder Joe Redington Sr., led the pack out of Fairbanks and Kristy Berington, half of the identical-twin Iditarod mushing sisters, left last.
Deep snow and frozen rivers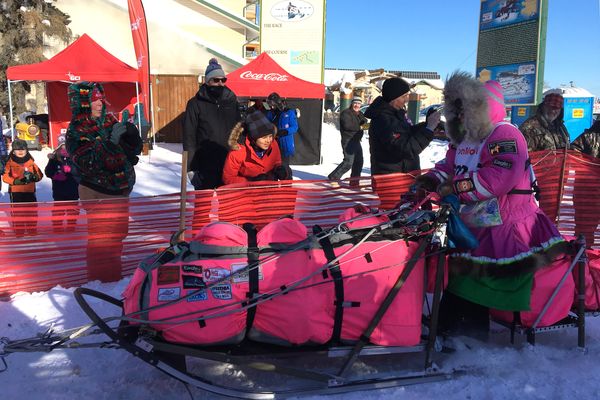 There was one fewer team in Fairbanks than at the Anchorage ceremonial start. Rookie Otto Balogh scratched due to health reasons, the Iditarod Trail Committee said Monday.
Beyond Fairbanks, sleepless nights, deep snow and hundreds of miles of racing across frozen rivers likely lie ahead for mushers and their dogs. They'll traverse Interior Alaska to the Norton Sound coast, following the same route as 2015.
Compared to the journey out of Willow, the Fairbanks route is flatter, with fewer checkpoints, which means longer runs between remote communities. Teams also spend more time — nearly half the 1,000-mile race — on frozen rivers, the flat terrain more exposed to brutal winds. The forecast called for the subzero cold to persist during at least the first few days of the race.
Once out of Fairbanks, the teams will follow the Chena River to the Tanana River.
They have 60 miles to go until they reach their first checkpoint: Nenana.
Related stories from around the North: