Challenging first year for ENI's oil production in the Barents Sea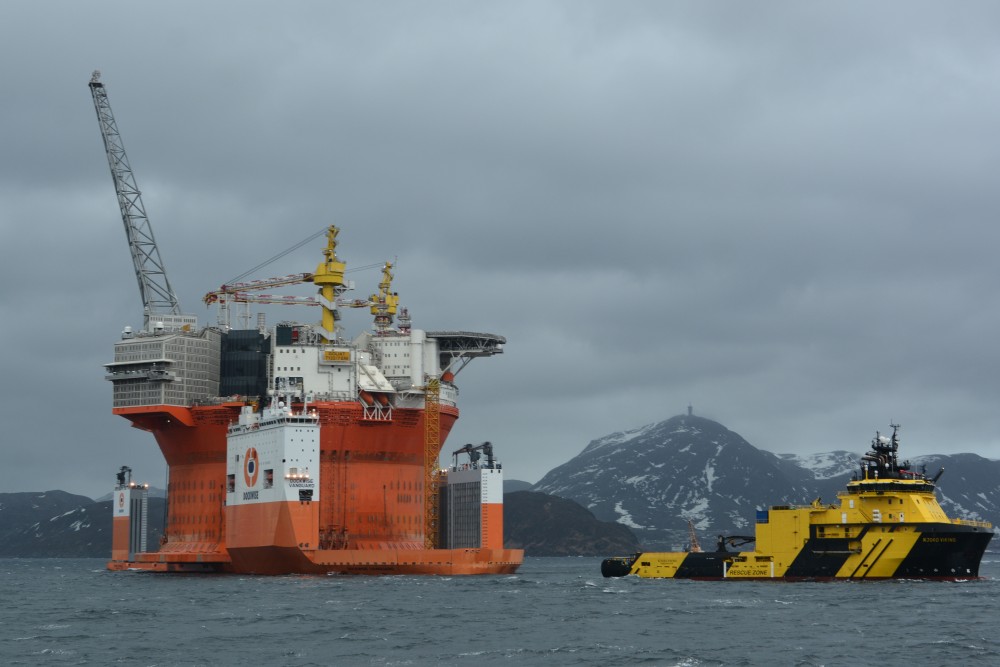 ENI admits that first year of production at Goliat was challenging. The oil pumps will be shut down for a period in September.
Norway's Petroleum Safety Authority gives yet another safety rebuke to ENI Norge after an audit revealed that status of some security systems was partly not known to relevant personnel on board the platform.
Goliat, located some 88 kilometres northwest of Hammerfest, is the only operating oil-field in the Norwegian sector of the Barents Sea.
A team from the authorities visited the platform in late January, early February as a follow up after seven gas leaks occurred on the platform last year.
«The audit detected one-conformity associated with knowledge of the status of safety systems,» the report reads.
In addition, improvement points were detected in connection with:
Management of competence for personnel with responsibilities and duties linked to hydrocarbon-carrying systems
Dissemination of information
Procedures
Key locks on valves liable to be incorrectly operated
The Petroleum Safety Authority says «there is considerable workload in all parts of the organization» and «the organization's capacity was largely tied up in «firefighting» with little opportunity to plan ahead.»
Andreas Wulff, Director of external communications and public relations with ENI Norge says in a phone interview with the Barents Observer that the findings are well known for ENI.
«The findings by the safety authority made in January and February are related to issues know to us. Since last year, we haven't had any incidents related to Health, Safety and Environment (HSE),» says Wulff.
«We are now working on a reply to the Petroleum Safety Authority, to be ready by May 12th.»
Good HSE trend
Andreas Wulff says the current trend in production at Goliat is good. «Goliat sees a good trend regarding HSE and production. Since start up a year ago, 20 million barrels of oil are produced.»
Wulff, however, admits that the first year «has been more troublesome than expected.»
Upstream, an online news publication specializing on oil and gas industry, last week reported that production at Goliat will be shut after the summer.
Andreas Wulff confirms and says oil production at the installation in the Barents Sea will be halted for some three weeks in September.
«A maintenance stop has been planned for a long time. We will at the same time complete some outstanding work at Goliat. We are detailing this now,» he explains.
This is not the first time production at Goliat has been halted. From Christmas, production was stopped for five weeks and another technical stop took place in February.  In August last year, the Petroleum Safety Authority order production to stop after the platform lost all power and personnel was evacuated to shore.
Ongoing scandal
Head of the Bellona Foundation, Frederic Hauge, says to the Barents Observer that ENI's Goliat oil is an on-going scandal. «Oil-supporting politicians don't know what they have started by opening the Arctic for oil companies,» he says and points to the 14 releases and 11 detections of gas and chemicals at Goliat over the last year.
«In total, ENI has reported 68 incidents to the safety authorities. Despite all the incidents, the Government continues to grant new licenses to this scandal company » Frederic Hauge says.
180 million barrels
Goliat field is facilitated by using a subsea system consisting of 22 wells. There are twelve production wells, seven water injectors and three gas injectors. At full capacity, the field will produce 100,000 barrels of oil per day.
In total, the field is estimated to contain about 180 million barrels of oil.
Related stories from around the North:
Canada:  Arctic offshore drilling too dangerous: Trudeau, Radio Canada International
Finland: Finland carbon neutral by 2045 says country's environment minister, Yle News
Germany: Cheap oil from the Arctic? Fake news, says climate economist Kemfert, blog by Irene Quaile, Deutsche Welle
Norway: Norway proposes massive opening of Arctic shelf to oil drilling, The Independent Barents Observer
Norway: European Parliament calls for ban on oil drilling in icy waters, The Independent Barents Observer
Russia: Big Russian oil conquers new Arctic region, The Independent Barents Observer
Sweden: Swedes discover new Barents oil and gas, Radio Sweden
United States: U.S. Democrats remount effort to block drilling in Arctic National Wildlife Refuge, Alaska Dispatch News