Alaska's cruise industry just keeps getting bigger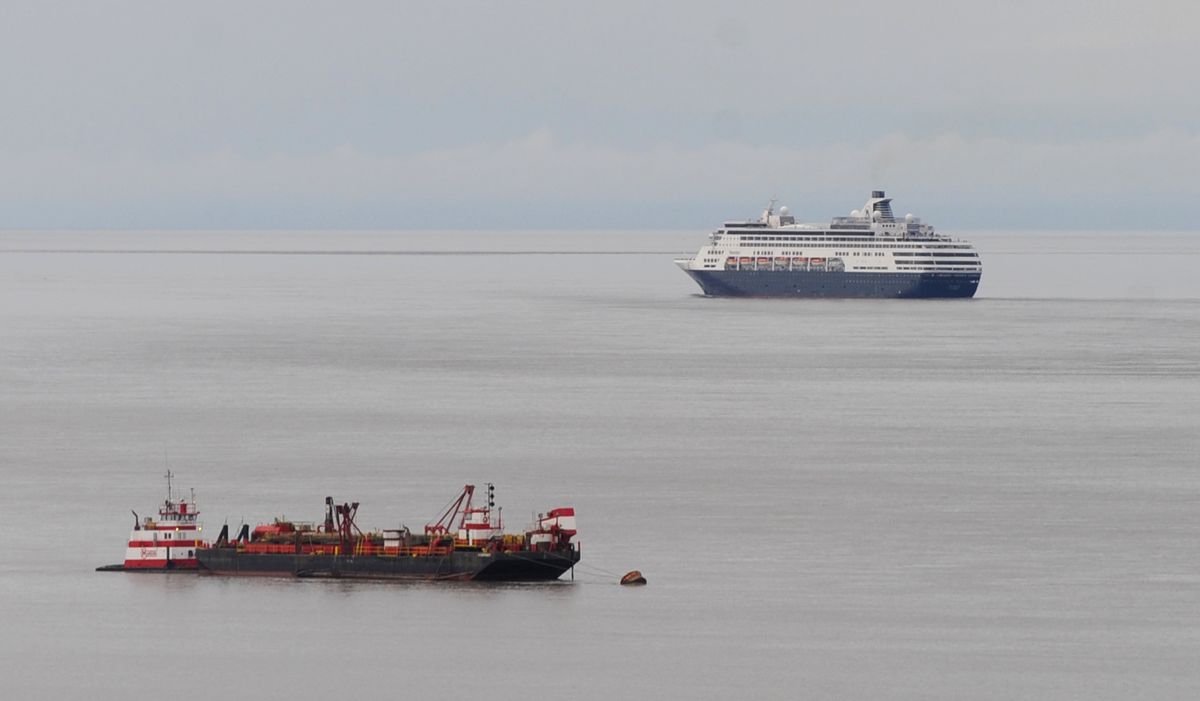 The cruise industry in Alaska is getting bigger, in more ways than one. The state is seeing larger ships traverse its waters, and new companies are on their way to debuting cruise itineraries here.
Between the ships that came to Alaska in 2015 and those scheduled to arrive in the summer of 2018, average ship tonnage will have grown by 16 percent, and capacity will have grown about 14 percent, according to numbers from Cruise Lines International Association Alaska.
"A lot of the growth is in those smaller ports," said John Binkley, president of CLIA Alaska. He pointed to Hoonah, Whittier and Wrangell as a few places that have seen an uptick in activity recently or will see it soon.
The passenger count at Icy Strait Point in Hoonah, for example, is expected to shoot up 17 percent between this year and next summer alone, said Mike Tibbles, a government affairs consultant for the cruise association.
Much of the recent capacity growth in the industry as a whole in Alaska has come from larger ships replacing smaller ones, he said. But there are also more ships visiting Alaska waters than in previous years.
In the 2014 season, 28 ships sailed to Alaska, he said, and that number is up to 33 planned to come this year. What's more, the number of voyages those vessels are taking through Alaska waters is estimated to increase from 485 in 2015 to 518 next summer.
Looking for authenticity
New companies have their sights set on Alaska in coming years; Azamara Club Cruises, Viking Cruises and Cunard Line are all planning 2019 itineraries here. Windstar Cruises is also coming in 2018.
"Alaska is still considered the Last Frontier for so many reasons," said Mary Schimmelman, a spokeswoman for Seattle-based Windstar, when asked why the state was such an attractive market for expansion. "That destination authenticity is something we're really after."
Princess Cruises and Holland America Line are also planning to increase their passenger capacity in Alaska.
Some ports around the state will need to upgrade infrastructure, or in some cases add more dock capacity, to be able to handle larger ships and more passengers, Binkley said.
"Seward's numbers are going to increase for sure," said Christy Terry, Seward port manager with the Alaska Railroad Corp. The railroad wants to build a new dock in coming years because the cruise ship dock there is at the end of its life, she added. "Within that construction, we're taking into account larger cruise ships, increased traffic patterns."
Three-year trend
About 1,060,000 passengers are anticipated to arrive in the Last Frontier this season aboard such ships, according to the state's cruise association, setting a new record. Last summer was the first year the passenger count topped 1 million since 2009.
The projection, if met, would also mark the third consecutive year of cruise passenger growth in the state.