Alaskans in Cessna 172 make goodwill flight to Russia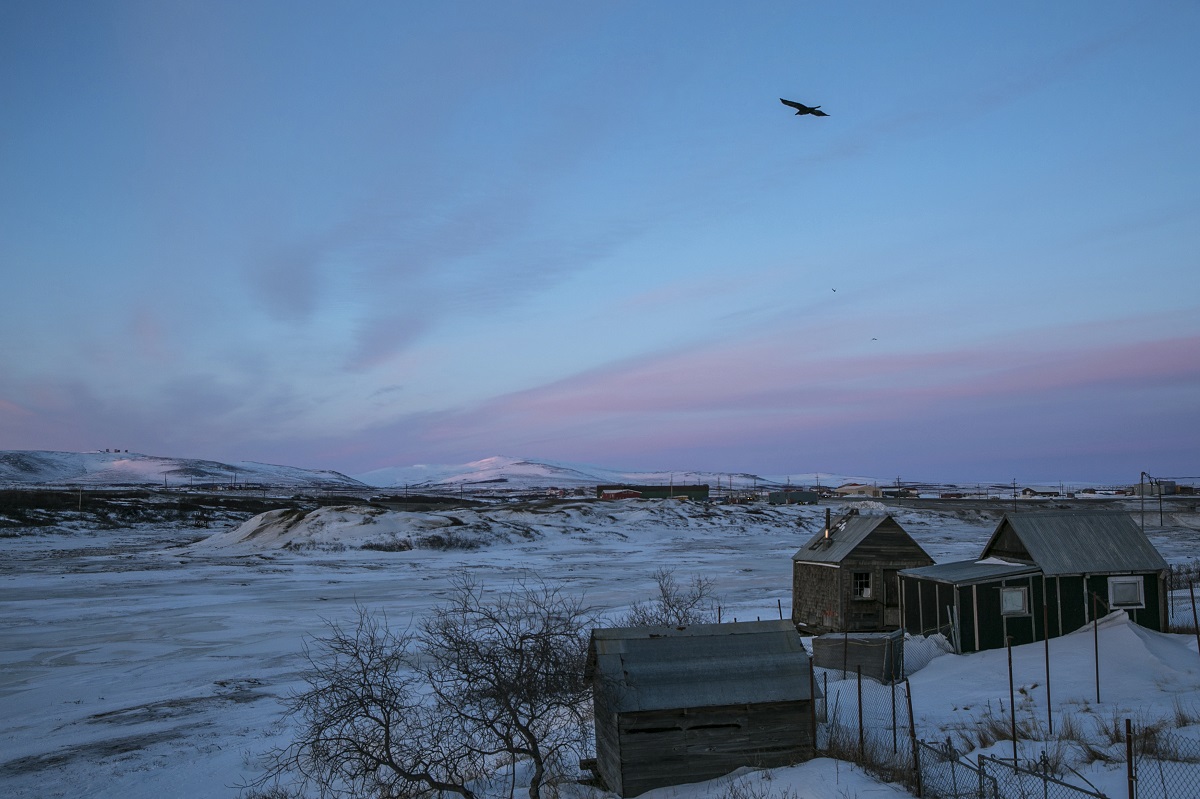 A Cessna 172 flew from Nome to an airport in Russia in just three hours.
But the goodwill mission on June 14 in a small plane by two veteran Alaska aviators took three months to plan and cost the rough equivalent of a month on the sunny Mediterranean.
Pilot Marshall Severson of Anchorage and passenger Dan Billman, who owns a lodge on Lake Louise, flew an air route that both helped pioneer more than 15 years ago.
"Whatever's going on in D.C. and Moscow, it's different when you're way out there — Alaska and the Russian Far East," Severson said in an interview Friday.
From 'nyet' to fond farewell
The Americans received a warm, albeit initially stern, reception in the dour, still-wintry atmosphere of the otherwise empty Provideniya Bay airport in the Chukotka District of Russia.
They saw a striking, mountain-flanked bay as they descended. It looked like Seward, only darker. Black rock rose from the water instead of green tundra and trees. Snow still coated the peaks.
The plane landed and the men sat inside, waiting for the signal to exit from about 10 Russian security personnel, border agents and others, Billman recalled Thursday. The group — the men wore military-style uniforms — practically marched in formation. They looked pretty stern.
The group conducted a thorough, professional search of the plane. Billman, struck by the spectacle, pulled out his camera.
"I asked them, 'Can I take a picture of you guys?' " he recalled. The answer came back in Russian: "Nyet!"
Both described courteous treatment from the Russians throughout the trip. By the time the Alaskans left five hours later, however, the mood had shifted. They got a much warmer than expected sendoff.
"We went up to shake their hands and it turned into hugs from all these folks," said Billman.
A route friendly for small planes
For many Alaska aviators, Russia is tantalizingly close during flights along the western coast.
But, given the bureaucracy involved, it's likely the Cessna was the first private plane in a decade or so to fly the route established in 2001 by the Alaska Airmen's Association, Federal Aviation Administration and Russian officials. Severson, 62, retired last year as an FAA flight services manager. Billman, 66, still works for the agency as a safety program manager.
The Nome-Russia route is notable because it represents a visual-flight connection that private pilots can fly without a more demanding instrument rating.
"You can fly it in small general aviation aircraft," Severson said. "The big feature is that normally the Russians require a Russian-speaking navigator on board who essentially acts as a translator, but along this route they guarantee English-speaker service for VFR pilots."
The route originally hinged on the Russians creating a 6-mile-wide civilian air corridor across restricted military airspace that blankets their skies. The air path crosses only 39 nautical miles of open water, compared with a previous route farther south that crossed 206 miles of the Bering Sea.
Severson was one of seven Alaskans who flew the route in 2002 to mark the end of years of negotiations.
Billman tried it twice after that but got turned back both times, including once when his GPS receiver blanked out as soon as he crossed the International Date Line and left U.S. airspace.
The pair's successful trip this month involved months of preparation, both men said. They needed not only multiyear visas but border permits and a required air-traffic permission that didn't come in till 3 a.m. the morning they made the flight.
The trip didn't come cheap, with gas sometimes as high as $8 a gallon along the route and several multihundred-dollar fees.
The men packed survival gear for the trip, including drysuits, a raft and emergency beacons.
"I told my wife we coulda both went to the French Riviera and lived in a villa for a month for what it cost to do this just for me," Billman said. "But then again, it was the biggest adventure of my life."
The aviators spent only part of a day exploring with a local guide, and saw mostly the area of Provideniya near the airport.
Bering Air, which makes one or two weekly charter flights to the Russian Far East in summer, ferries mostly ecotourists or Alaskans reuniting with relatives across the Bering.
The air service sums up the trip with a Soviet-style grim warning on its website: "This is not a luxury trip. There are limited shopping opportunities, public restaurants & services or entertainment in the forms that you may be used to. There are no facilities for the physically challenged. Every building has long flights of cement stairs."
For Severson, who with his wife adopted two Russian children, the country has held a fascination since he was a boy growing up with a Norwegian mother during the Cold War, when American travel to what was then the Soviet Union was difficult.
He said his mother's home in Norway was near a forced-labor camp where Nazi soldiers held Russian prisoners of war. She heard the shots of prisoners killed by their captors.
The cemetery where his grandparents are buried holds the bones of 51 Russian soldiers.