Russia launches new nuclear icebreaker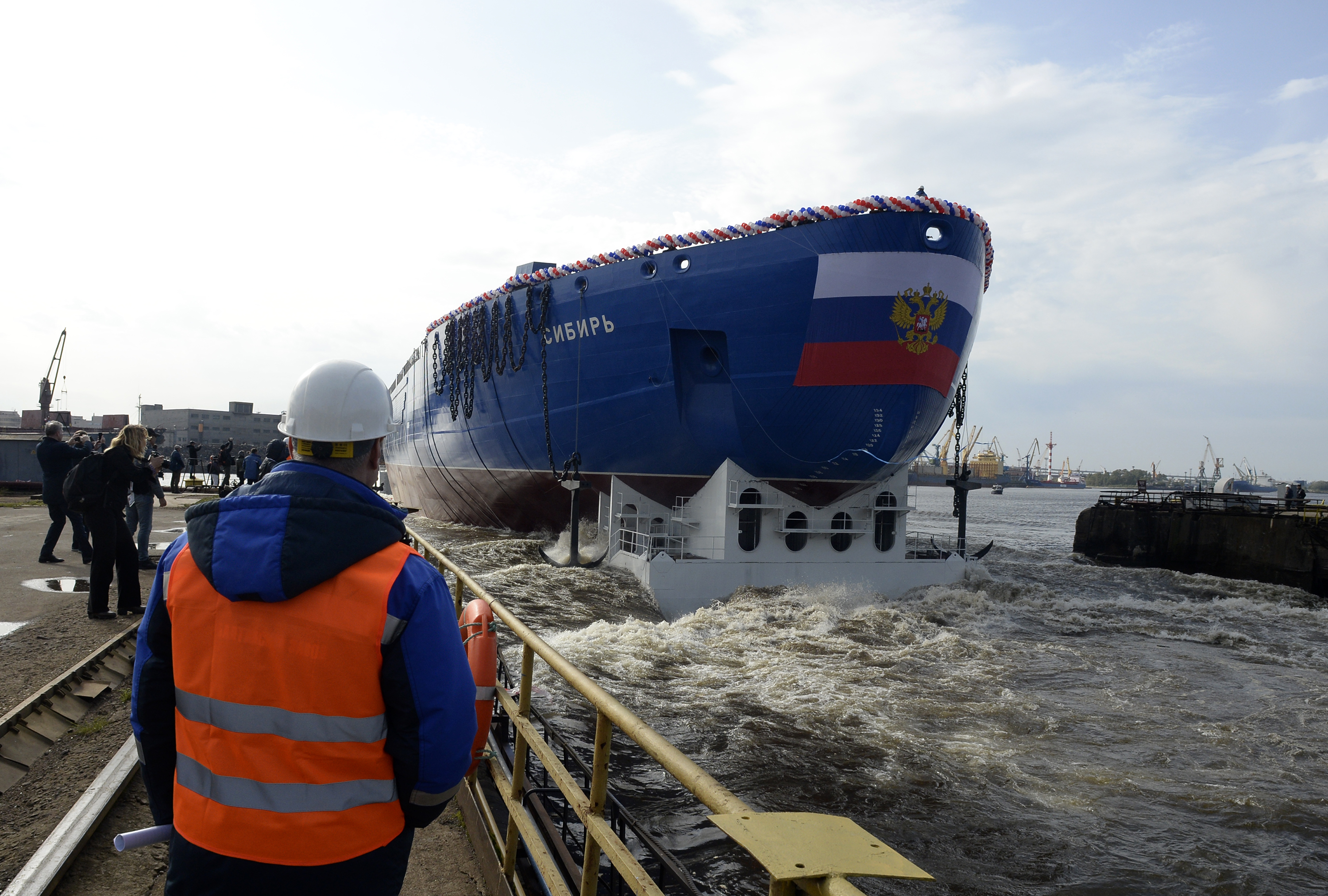 Baltic shipyard in St. Petersburg on Friday launched the second of the new generation powerful icebreakers aimed for the Northern Sea Route.
«Sibir» is the second of Russia's new Project 22220 nuclear powered icebreakers for year-around navigation in Arctic waters.
The first of the class, «Arktika», was put on water last year and will be commissioned in mid-2019. «Sibir» will follow a year later and is expected to make her first port-call to Murmansk in November 2020, Rosatom, Russia's Stae Atomic Energy Corporation, informs.
A third icebreaker of the class, «Ural» will start sailing in 2021.
As previously reported by the Barents Observer, Russia's new icebreakers are significantly behind schedule, allegedly due to the ruling east-west sanction regimes. Steam generators for the vessels were originally to be delivered by Turboatom, a Ukrainian company based in Kharkiv. The current war in eastern Ukraine put a quick stop to that deal. Also General Electrics' deliveries of the electric propulsion systems for the icebreakers was stalled and Russian systems were used instead.
When in operation, the three new icebreakers will be the most powerful in the world. Powered by two RITM-200 reactors with a capacity of 175 MW the vessels will be able to break through three meter thick ice. On board, there is a crew of 53.
The icebreakers will be based in Murmansk on the coast of the Barents Sea. Here, Atomflot base serves as home port and service centre for what is the world's only fleet of civilian nuclear powered vessels.
The three new icebreakers, «Arktika», «Sibir» and «Ural» are replacing older icebreakers, of which two have the same names «Arktika» and «Sibir».
A fleet of eight vessels
When all three vessels of the Project 22220 are commissioned by 2021, the fleet of nuclear powered vessels operated by Rosatom from Murmansk will consist of eight vessels.
«Sevmorput» – container vessel (1988)
«Yamal» icebreaker (1993)
«50 Let Pobedy» icebreaker (2007)
«Taymyr» icebreaker for shallow waters (1989)
«Vaygach» icebreaker for shallow waters (1990)
«Arktika» new icebreaker (2019)
«Sibir» new icebreaker (2020)
«Ural» new icebrealer (2021)
Related stories from around the North:
Canada: Canada announces $175 million investment in Arctic waters protection, Eye on the Arctic
China: China's Belt and Road initiative moves into Arctic, blog by Mia Bennett
Finland: Helsinki, Finland set to become world's busiest sea passenger port, Yle News
Norway: Tourism on the rise in waters around Svalbard, Norway, The Independent Barents Observer
Russia: Northern Sea Route is free of ice, Arctic shipping thrives, The Independent Barents Observer
South Korea: South Korean company plans shipping through Arctic Russia, The Independent Barents Observer
Sweden: Swedish PM questions Chinese warships in Baltic Sea, Radio Sweden
United States: Alaska's cruise industry just keeps getting bigger, Alaska Dispatch News