More than 200 polar bears assembled on beach in Arctic Russia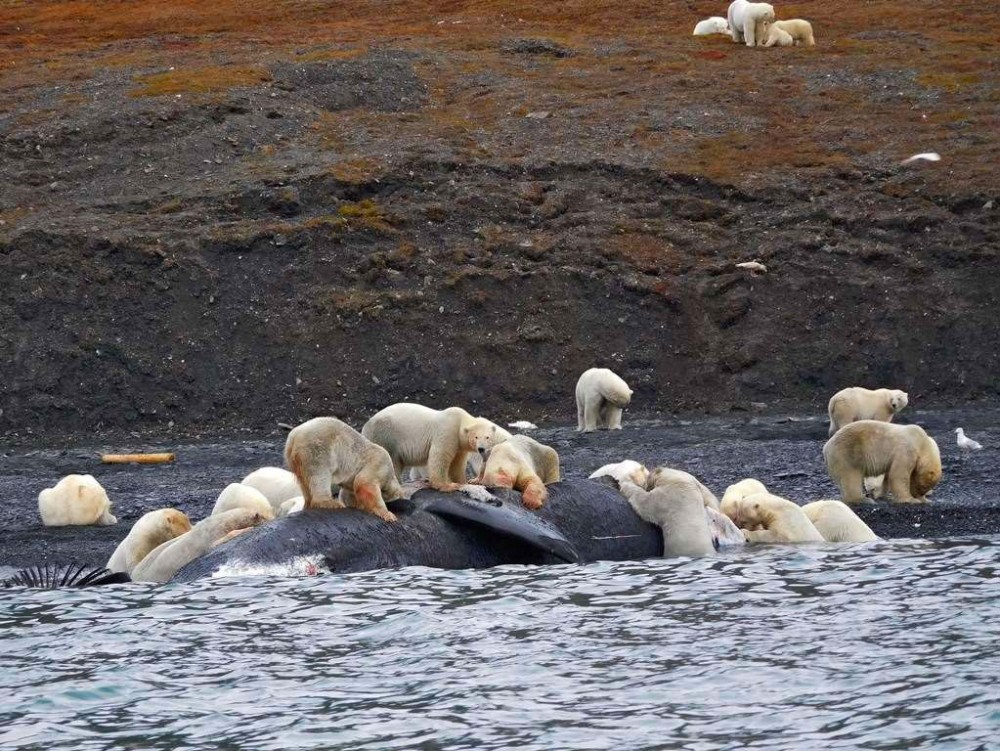 A group of tourists on board the Russian cruise ship «Akademik Shokalsky» got a sight of their life when they on 20th September this year came across the huge group of polar bears assembled on a beach of the remote island.
On board the ship were also representatives of the local Wrangel nature reserve, who counted «at least 230 polar bears» on site. Among the animals were bears of all ages, the nature reserve informs.
The animals had made it to the site because of a dead whale which had stranded on the shore. There appeared to be more than enough food for all, a video from the site shows.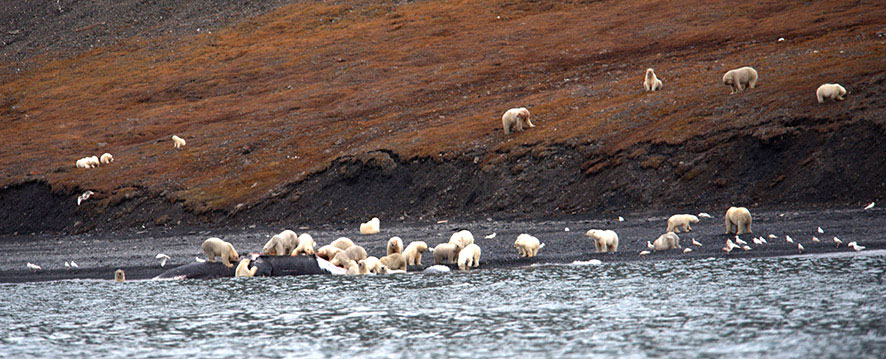 «We have earlier experienced that about 70 polar bears eat from a stranded whale», leader of the nature reserve Aleksandr Gruzdev says in the video. «But we have never before seen anything close to 200».
The unique sight was made as the number of bears on the Wrangel Island, as well as other Arctic archipelagos, is rapidly on the increase. A key part of the reason is the melting ice which forces to animals to retreat to solid lands. A Russian-U.S research expedition to Wrangel this fall counted a total of 589 polar bears on the island. That is a new record, the local nature reserve informs.
The number of animals on the 7 600 km² Russian island is significant. As a comparison, Norwegian authorities in 2015 estimates the number of polar bears on Svalbard, an almost ten times bigger territory, to about 300.
Related stories from around the North:
Canada: Obituary for an Arctic river, blog by Mia Bennett
Finland: As sea ice gets scarcer, polar bear attacks on people become more frequent, Yle News
Greenland: Greenland earthquake and tsunami – hazards of melting ice?, blog by Irene Quaile, Deutsche Welle
Norway: Less seal on the menu for hungry polar bears in Svalbard, Norway, The Independent Barents Observer
Russia: Buildings in Arctic Russia could collapse within decades says study, The Independent Barents Observer
Sweden: Sweden's glaciers are melting away, Radio Sweden
United States: 'The permafrost is dying': Alaska city sees increased shifting of roads and buildings, Alaska Dispatch News