Saimaa seal population on the rise in Finland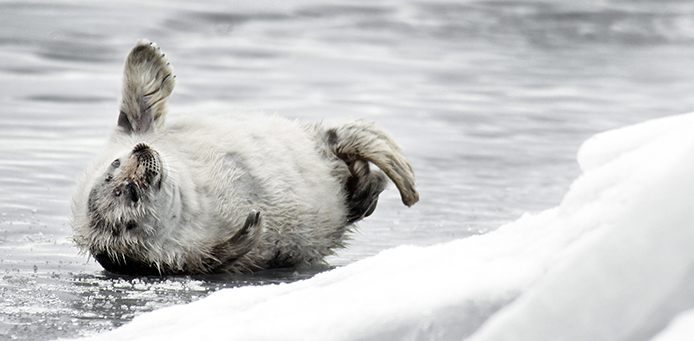 Recent heavy snowfall and large drifts have created ideal conditions for the dens where the endangered Saimaa ringed seal raise their young, and a record number of pups may be born this year.
The freshwater Saimaa ringed seal is one of the most endangered seal species in the world. Found only in Lake Saimaa in eastern Finland, the entire population is currently estimated at around 380 individuals.
Jouni Koskela, a protected species biologist with the forest and waters management enterprise Metsähallitus, told Yle that in the best possible case, the population may see the addition of up to 90 pups by this coming spring.
This is more pups for a single breed season since an active annual count was started at the beginning of the 1980s.
"Conditions for nesting right now look really good. The population is showing three to four percent growth and it's possible that this will be a record year," says Koskela. "It looks like the number of new pups will be between 80 and 90."
Helped by fishing restrictions
The growth in the Saimaa seal population is being attributed in part to an extension of the area of Lake Saimaa included in fishing restrictions about five years ago. Pups who survived from that time have now reached, or are reaching, breeding age.
"In principle, there should be more pups born year after year, unless there is some kind of unpleasant surprise," Jouni Koskela points out.
Saimaa seals usual give birth to a single pup in late February or early March. Very rarely, a female will have two pups.
The female digs a den for herself and her young in a snow drift along the lake shore, so sufficient snow cover is essential. Without enough snow for a den, seals may give birth on the bare lake ice, significantly reducing any pup's chances of survival.
Climate change a threat
One of the greatest threats to the future of the species is climate change. A permanent rise in late winter temperatures would affect snow and ice conditions on Lake Saimaa.
Even now artificial drifts are often created to help out these seals. A current project piling up snow at likely locations is expected to be completed early this week.
"Climate change is how the threat is coming. Longer warm periods would melt even any man-made snow drifts," warns Jouni Koskela.
Related stories from around the North:
Canada:  Indigenous groups prompt Canadian province to reconsider caribou designation, Radio Canada International
Finland: Finland's Bird of the Year population in steep decline, Yle News
Norway: Warmer Barents Sea hits kittiwake birds reproduction capacity, The Independent Barents Observer
Russia: More than 200 polar bears assembled on beach in Arctic Russia, The Independent Barents Observer
Sweden: Preserving biodiversity in Sweden's shrinking natural forests, Radio Sweden