Blog – With Siumut's re-election, will Greenland welcome Chinese investment?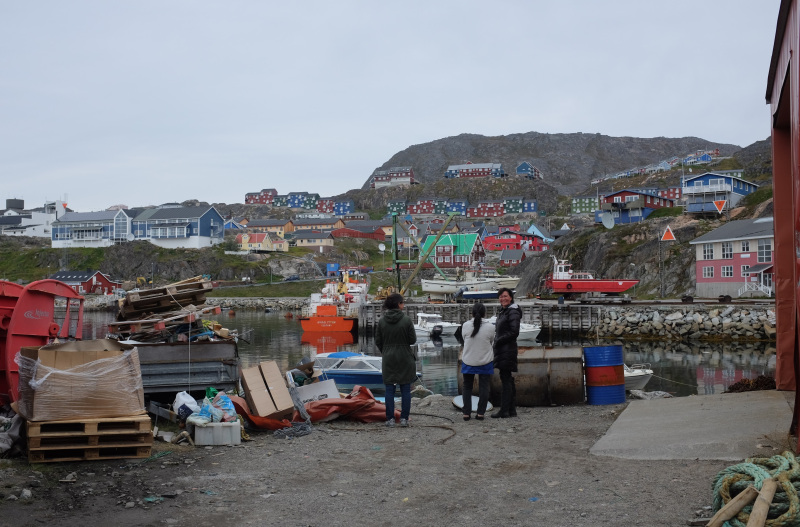 Nearly 30,000 Greenlanders, or some 71.9% of eligible voters, went to the polls today on the world's largest island. Some of them rushed in "on dog sleds" to cast their votes. More typical were people walking down the street to the voting booth under gray skies in the capital of Nuuk, where most Greenlanders live.
The election was extremely close. Siumut, the party which leads the current coalition in Inatsisartut, Greenland's Parliament, squeaked by to win a plurality of 27.2% of votes. Inuit Ataqatigiit (IA), which is part of the current three-party coalition in government, won 25.5% of votes.
Both of these parties, the two largest in Greenland and both of which support independence from Denmark, experienced declines of over 7% of their previous percentages of votes earned in the last election in 2014.
Increasing its share of votes was Demokraatit, a member of the opposition government that is skeptical of greater Greenlandic self-rule.
Since Siumut, which is led by Kim Kielsen, a former police officer, did not win a majority of votes, the party will again have to form a coalition. It has many options in choosing a partner with which to form a coalition government. As Sermitsiaq reports, Kielsen nearly has a "free choice," especially since most of the parties have already been in a coalition government under Siumut's leadership at some point in the past.
Following his party's victory, Kielsen remarked, "All parties in Inatsisartut will be invited to conversations, so we must see what direction the wind is blowing after the conversations."
Door opens for foreign investment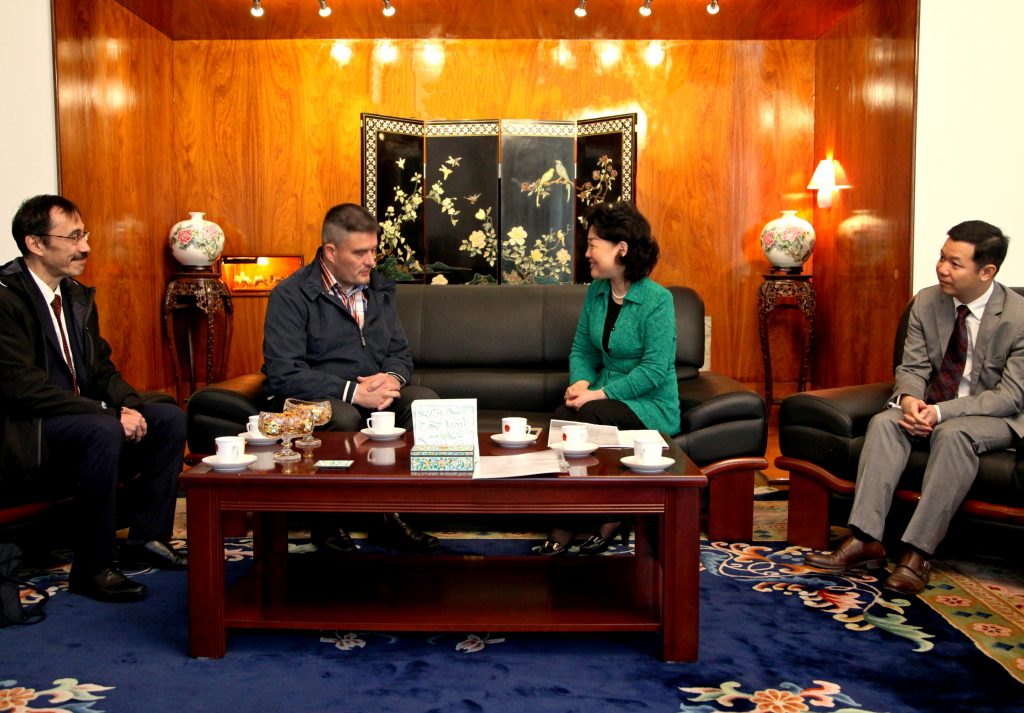 Siumut's re-election bodes well for the potential for increased foreign, and particularly Chinese, investment. Before the election, Rasmus Leander Nielsen, an assistant professor at the University of Greenland in Nuuk, explained to Reuters, "A new government led by Kielsen and Siumut but without IA will create more openness towards attracting investments, including from China…IA is more skeptical. They want mining activity, but have more emphasis on the environment."
China is increasingly carving out a stake in Greenland. Its interests in the island's minerals, from rare earths to rubies to iron, and seafood like halibut and shrimp have been detailed on this blog before. Despite suspicions in Copenhagen, China is in fact not arriving uninvited.
Under Kielsen's leadership, the Greenlandic government has been actively cultivating investment from Beijing.
In November 2017, Kielsen led a delegation to Beijing and Qingdao, a Chinese port city. In China, representatives from the Greenlandic government met with officials from a range of entities including two Chinese construction groups, (China Communications Construction Company Ltd. (CCCC) and Beijing Construction Engineering Group), China Mining Association, the Chinese Ministry of Land and Resources, and the Chinese Export Import Bank. At the "Greenland Day" event held at the Danish Embassy in Beijing, Greenlandic officials made presentations on airports, hydropower, tourism, rubies, drinking water, and seafood, being sure to bring samples for the Chinese to try (Sermitsiaq, in Danish).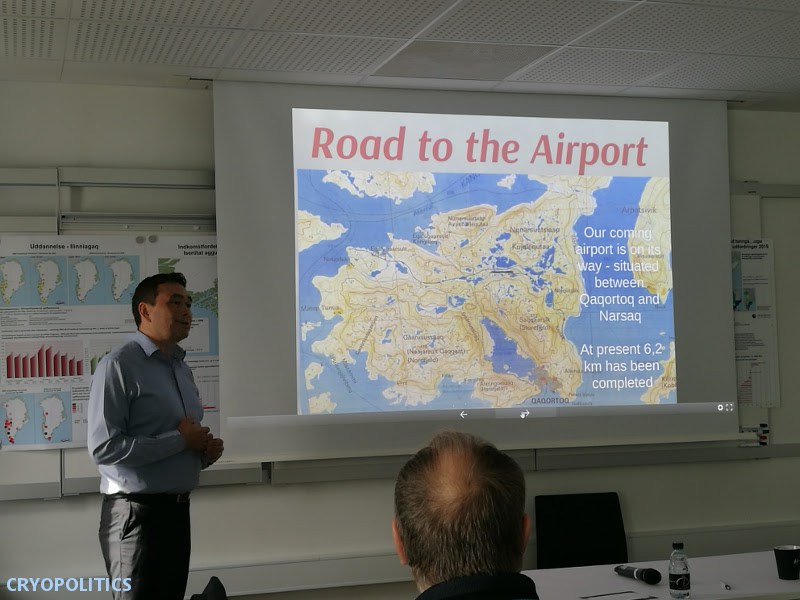 Then, a few weeks ago, Kalaallit Airports, the state-owned company that operates Greenland's airports, announced that it had shortlisted six companies in its search for a developer to undertake a $420 million plan to expand airports in Nuuk and Ilulissat and build an entirely new one in Qaqortoq, which only has a heliport.
Greenland, a country without any roads connecting its settlements together, is serious about wanting to develop its aviation infrastructure. When I was in Qaqortoq last September, I listened to a presentation about the new 6.2 kilometer road that a local company is building to the site of the future airport. I later ran the length of this gravel road, which would rank as a scenic drive in almost any country.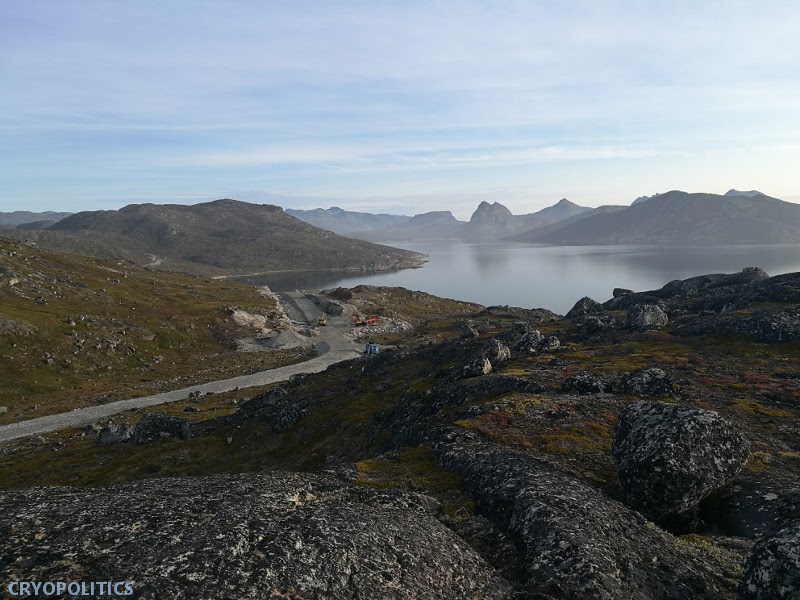 Is the U.S. losing its grip on Greenland?
Six days ago, Mary Thompson Jones, a former U.S. foreign service officer, argued for a greater display of U.S. soft power in Greenland in a piece called "Why America Should Lose Sleep Over Greenland (Think China)" published in the National Interest. Jones underscored the need for American diplomatic engagement in Greenland, perhaps by way of an "American Presence Post" – a sort of embassy-lite requiring just one staffer.
She also interestingly made a cultural argument for a strengthened U.S.-Greenland relationship, noting, "Its Inuit communities have more in common with communities in Canada and Alaska than with Washington, Copenhagen or Beijing."
At the end of the day, the real reason that the U.S. might lose sleep over a growing Chinese presence in Beijing is not that the country's people might start losing their affinities with the Inuit across the Davis Strait separating North America and Greenland and begin speaking Mandarin. (In fact, quite the opposite seems likely: Siumut actually wants to replace Danish with English as the second language learned in Greenlandic classrooms, with Kielsen claiming that the latter language offers more opportunities.)
The real reason is that if China were to set up camp in Greenland, this could directly threaten not just U.S. national interests in a broad sense, but the actual American homeland.
In World War II, newspapers drove home the risk of the Nazis using Greenland, referred to as "America's back door." Seventy years later, the American media could soon be warning that China might use Greenland as a "stepping stone" to aim missiles directly at the country's heartland.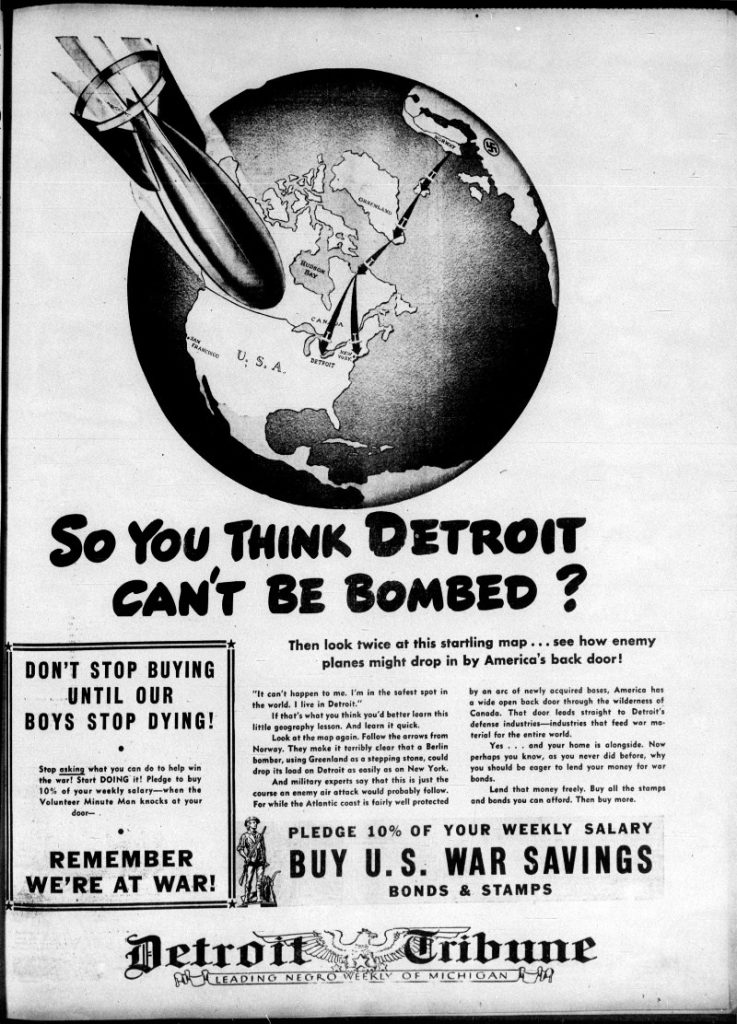 In this way, elections in the world's most sparsely populated country could have knock-on effects for U.S. national security. That creates all the more reason for Washington, D.C. to not let its military or diplomatic guard down in Greenland, or the Arctic for that matter, though it may be too late.
Already, as Andrew Holland wrote this past January in the American Security Project, "The State Department has not retained an Arctic Special Envoy, nor even replaced the recently-retired Deputy Assistant Secretary, Bureau of Oceans and Environmental and Scientific Affairs who had been responsible for Arctic relations."
Now that is something to lose sleep over.
This post first appeared on Cryopolitics, an Arctic News and Analysis blog.

Related stories from around the North:
Canada: Q&A: Impact assessments in the Arctic – What Canada and Greenland can learn from each other, Eye on the Arctic
Finland: Historic first round victory for incumbent Sauli Niinistö in Finland presidential election, Yle News
Greenland: Tales of the unexpected: Inuit shepherds in Greenland, Cryopolitics Blog
Norway: The election that shook Arctic Norway – Labour Party hammered in North, The Independent Barents Observer
Russia: What does Putin's re-election mean for Russia's Arctic policy?, Radio Canada International
Sweden: Sweden's government wants to boost "neglected" countryside, Radio Sweden
United States: Alaskan airport 5th in world for air cargo, Alaska Public Radio Network