Historic first round victory for incumbent Sauli Niinistö in Finland presidential election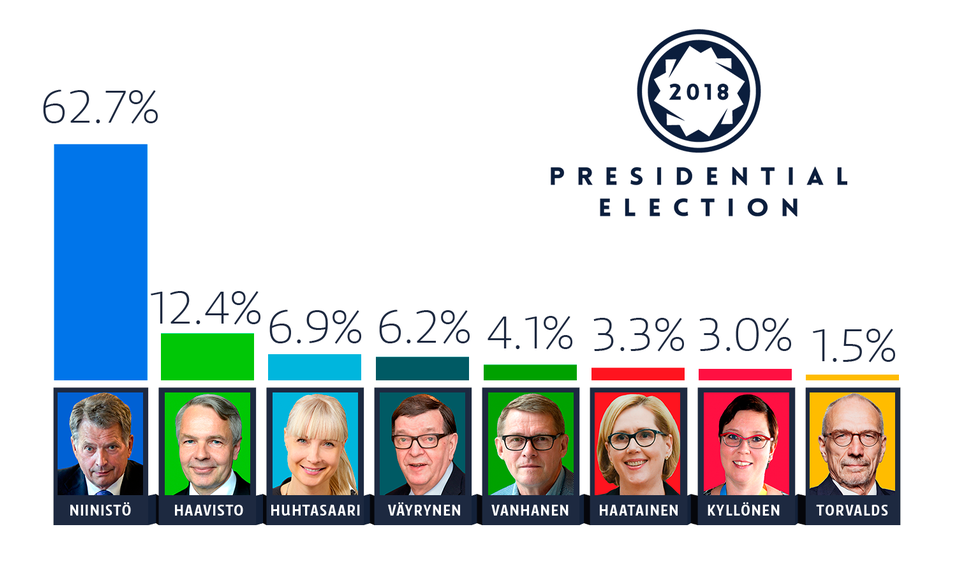 Sauli Niinistö won a second term in office as Finland's president on Sunday after securing an overwhelming victory in a first round election that never looked close at any point in the campaign. Despite finishing second Green rival Pekka Haavisto could not force a second round and conceded defeat early in the evening, and none of the other candidates secured more than 10 percent of the vote.
Voter turnout came in at 69.9 percent this year compared to 72.8 percent in 2012.
"If those numbers stay where they are, then I'll start to feel the responsibility," said Niinistö after hearing the results of advance voting. "I'd like to say I'm grateful that people have given me such good 'grades'. It is very difficult to take down a sitting president in an election."
In the end he finished up with 62.7 percent of the vote, ahead of Haavisto on 12.4 percent and the Finns Party's Laura Huhtasaari on 6.9 percent. He got the most votes in every single one of Finland's 311 municipalities, although there were 13 where he didn't clear 50 percent and so the election would have gone to a second round.
Niinistö had spurned the support of his former party the National Coalition in favour of nomination by an independent 'voters association'. In the end he secured the nominations of some 156,000 Finnish citizens to run again—equivalent to just over five percent of all those who voted in the first round in the 2012 election.
Polling suggested he drew support from across the political spectrum as he crossed the 50 percent threshold at which a second round becomes unnecessary. His image as a safe pair of hands able to handle relations with Russia proved decisive in winning a second six-year term in the largely ceremonial office.
His lead in the polls was so big as to make the election 'dull' according to the New York Times, which lamented the absence of Finland's popular 'First Dog' Lennu from the campaign trail.
Stability wanted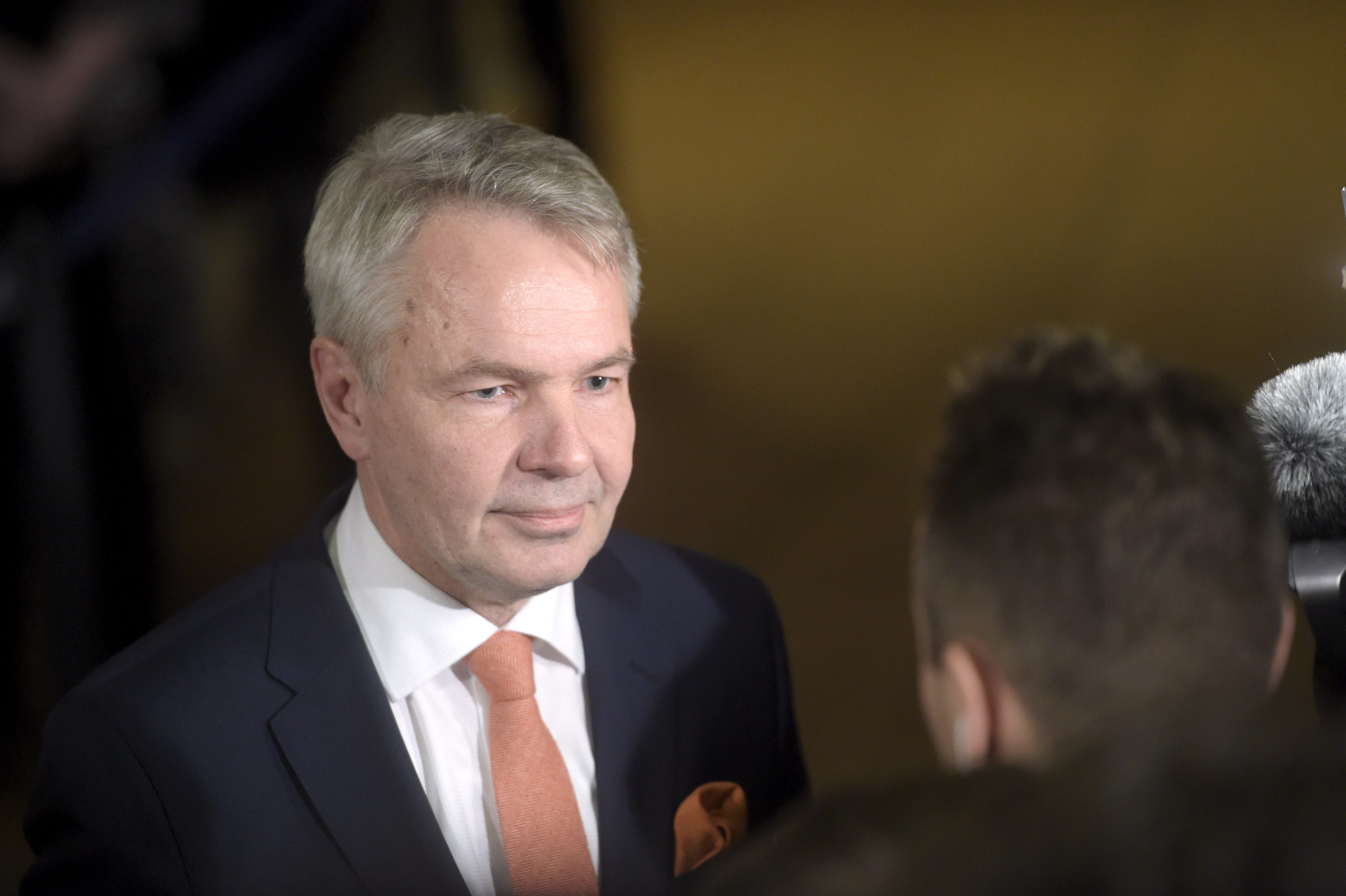 Green candidate Haavisto could not recreate the buzz he achieved in 2012, when he got to the second round after polling 18.76 percent of the vote.
"The people wanted stability," said Haavisto.
The rest of the field trailed in Niinistö and Haavisto's wake, with parties doing badly. Not any party in particular, but the party organisation in general: some 67.9 percent of votes were won by candidates nominated by voters' associations rather than traditional parties.
Solo campaign paying off
Sitting president Niinistö decided to go it alone, having run as a National Coalition candidate in 2012, and the gamble paid off handsomely. Likewise former Centre Party politician Paavo Väyrynen beat the party's official candidate Matti Vanhanen after having to gather signatures nationwide to secure nomination as an independent candidate.
It was a particularly disappointing night for the Social Democrats, who recorded their worst-ever total in a presidential election: just 3.3 percent.
The party, which held the presidency for thirty years from 1982 until 2012, just could not inspire their supporters to back Helsinki MP Tuula Haatainen as she struggled to dent bulletproof incumbent Niinistö's support.
"I'm thankful for all the support I've had, and all the support I will get," said Haatainen early in the evening.
Upstaged by Eurosceptism
It was a grim night for the Centre Party, which saw its official candidate, former PM Matti Vanhanen, gain 4.1 percent to be upstaged by grandstanding veteran eurosceptic Paavo Väyrynen on 6.2 percent. Väyrynen was the party's candidate back in 2012 but struck out on his own after being denied a ministerial post in 2015.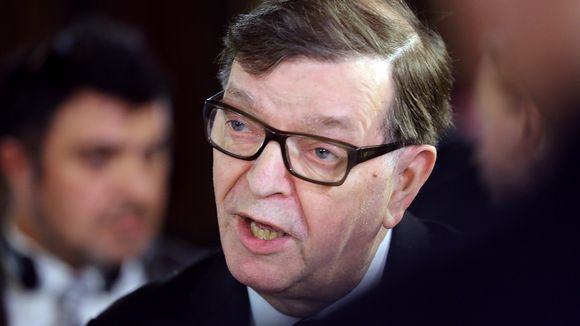 "My support wasn't any bigger this time," said a sanguine Vanhanen after advance voting totals were announced. "That's the people's decision."
Väyrynen himself stayed on-message, suggesting that his failure to reach the second round was down to media obstruction of his efforts to get his message across. It's a familiar tune from the Keminmaa MEP, who was first elected to parliament way back in 1970.
"A brilliant result, we had no party support, no millionaire donors, we just had a small group working together," Väyrynen said of his performance.
Nationalist Finns Party in third place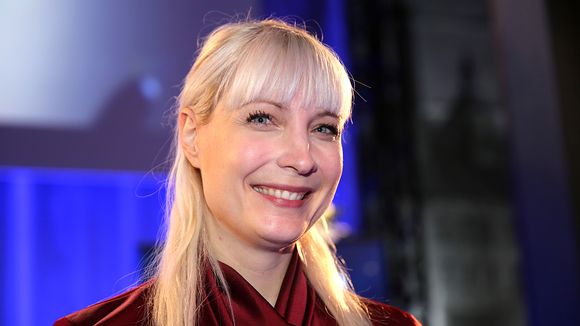 Finns Party candidate Laura Huhtasaari, hailed in some quarters as 'Finland's Marine Le Pen', was one of the few to record a result within striking distance of her party's general level of support.
The nativist from Pori ran her campaign on the themes of tighter immigration controls and 'taking Finland back', but her lack of experience of foreign affairs and of the national political stage in general held her back from making a broader appeal to the electorate. Despite only securing the backing of 6.9 percent of voters, Huhtasaari saw the election as an advance for her ideas.
"The Finns Party is the new normal," said the MP.
Only 3% for the Left Alliance's candidate
Leftist Merja Kyllönen was left to rue her failure to resonate with voters even after taking a populist turn towards the end of the campaign to try and shore up her base. She got 3.0 percent but still managed to look on the bright side.
"We on the Left also support the "president of peace". The people clearly did not vote on NATO," she said in her analysis.
Swedish People's Party candidate Nils Torvalds came last with just 1.5 percent of the vote. As the only candidate to openly advocate Nato membership, his performance suggests that Finland's security policy consensus remains strong–but he was still pleased to have put the issue on the agenda.
"It's problematic that there wasn't more support for my NATO position. It could cut off the discussion about NATO. But there's no point crying, we'll have to live with this for the next six years," Torvalds said summing up his election run.
The result will be officially confirmed by the Justice Ministry on Tuesday, with Niinistö due to be sworn in at parliament on Thursday, 1 February.
Related stories from around the North:
Canada: New Supreme Court justice brings deep experience of Arctic, Indigenous issues to Canada's highest court, Radio Canada International
Denmark: Denmark's new defence agreement renews focus on protecting the Baltic, Radio Canada International
Finland:  A who's who of Finland's 2018 presidential election, Yle News
Iceland: Norwegians and Icelanders let Alaskans in on the secrets to economic prosperity, Alaska Dispatch News
Norway:  Barents bishops ask Arctic Council to promote fossil-free future, The Independent Barents Observer
Russia: Arctic Council ministerial – View from Russia, Eye on the Arctic
Sweden: Sweden's Prime Minister reaffirms commitment to country's defense, Radio Sweden
United States: Arctic Council presents united front as Finland takes over from U.S., Eye on the Arctic