Human remains and artifacts left at doorstep of Canadian Inuit organization
A box containing human remains was dropped off anonymously at the Ottawa offices of a national organization representing Inuit on Tuesday morning, a gesture that the group's president says may have been well-meaning but was ultimately painful and wrongheaded.
The box contained a human jawbone, with several back teeth still intact, as well as several Inuit artifacts, including a carved whale vertebra and a wall hanging.
The package also contained a note, one that prompted more questions than answers, said Natan Obed, president of Inuit Tapiriit Kanatami (ITK), a national organization that represents the interests of Inuit in Canada.
"Dear Inuit people," the note reads. "In the 1950's, my father visited what was then Frobisher Bay. He found or perhaps was given these artefacts [sic] — but they are yours. Please accept them with my apologies for keeping them so long."
Obed said this method wasn't the way to return the items, regardless of the person's motives.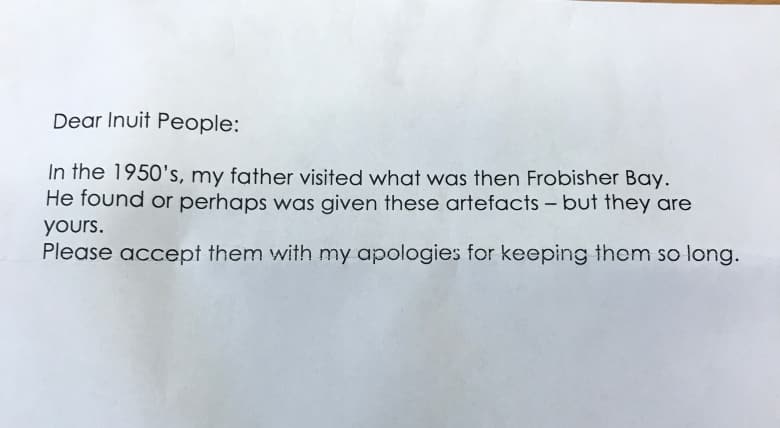 Lack of info a problem
The organization is now in a tough spot, attempting to find exactly where the remains were taken from and repatriate them back to their original resting place.
But with no geographic information beyond Frobisher Bay (now Iqaluit) that process may prove difficult, Obed said. And with so much spiritual significance placed on human remains by Inuit, the arrival of the package has served to open old wounds.
"It's really hard for me to feel that a person's soul and a person's remains were here in this office and were dumped unceremoniously in the front lobby of our building," he said. "That breaks my heart."
Ottawa police are investigating because the box contained human remains.
'There hasn't been a respect for us'
It's the long and troubled history between Indigenous peoples and settlers that led to this event, Obed said.
Explorers and researchers in the early 20th century would remove human remains and artifacts from graves in Inuit communities, never to be returned.
"There's a romantic notion about Inuit and the Arctic in the nation's conscience but there hasn't been a respect for us as a people," he said. "That led to people collecting Inuit human remains as part of a larger ethnographic or anthropological exercise."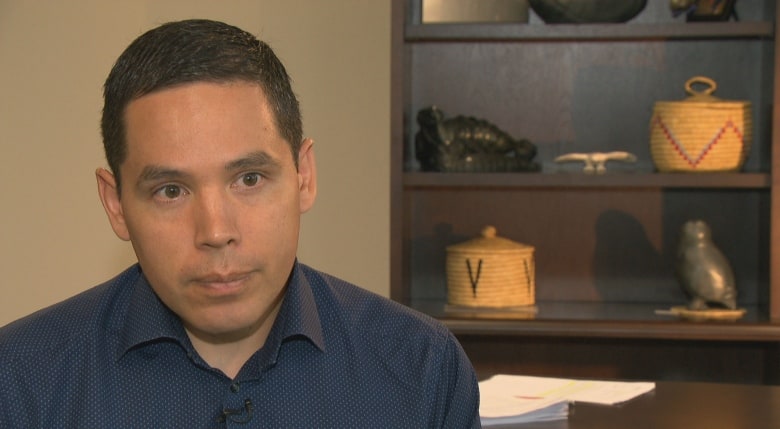 Manitok Thompson, a former Nunavut MLA, said she recalls hearing stories from her parents about ships that visited their small community of Coral Harbour around the 1940s.
"I remember my parents talking about how a ship came and they gathered all the bones that were buried and took them away," she said. "I'm pretty sure it was a very sad day for those Inuit, because they recall them being put into barrels like a bunch of animal bones."
Even historical artifacts can represent an important bridge between Inuit and their ancestors, Thompson said.
In May, she travelled to the Canadian Embassy's art gallery in Washington, D.C., to see a collection of artifacts that belonged to her grandparents.
"It gives you a grounding to where you come from," she said. "It was very emotional for me to know that my grandmother's hands touched that clothing."
Process of repatriation murky
For Obed, the whole situation has laid bare the work that still needs to be done when it comes to reconciliation in Canada.
He suggested Canada might be able to follow in the footsteps of the United States with legislation that would protect and honour Indigenous burial sites.
Currently, Canada doesn't have any guidelines outlining how to repatriate human remains to Indigenous communities.
"Leaving it up to individuals gets us to this point, where those individuals don't know what to do, don't know how to follow any guideline or rule for repatriation," he said. Dropping off an anonymous package of artifacts "exacerbates problems, creates further trauma and doesn't get us closer to reconciliation."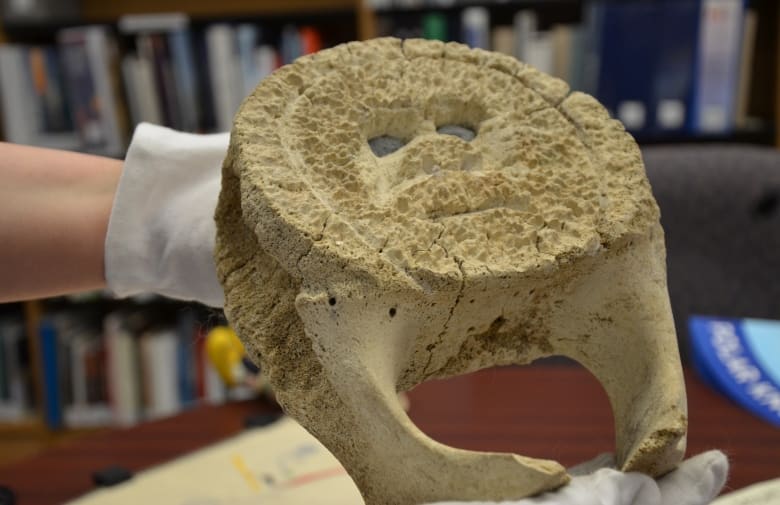 Starting conversation
Anyone else who may have human remains in a personal collection is welcome to start a conversation with the organization, Obed said.
As for the person who dropped the box off, he's encouraging them to come forward with more information.
"Without more conversation and a better understanding of what circumstances led to this, then it makes it difficult for us to know exactly where we should repatriate the remains to," he said.
After the investigation wraps up, Obed said he expects the organization will regain control of returning the items to their rightful places.
He's hoping people don't forget about the reconciliation still to come.
"For me, it's very emotional to have to do this … but at the same time I know it's necessary," he said. "I hope that more Canadians will accept that it's a necessary process that we have to finish."
Related stories from around the North:
Canada: Out-dated attitudes, deficient infrastructure, block Inuit from Arctic science, G7 summit hears, Eye on the Arctic
Finland: Sámi school preserves reindeer herders' heritage with help of internet, Cryopolitics Blog
Greenland: `Enough of this postcolonial sh#%' – An interview with Greenlandic author Niviaq Korneliussen, Eye on the Arctic
United States: Indigenous Alaskans find strength in community and tradition, Alaska Public Media