Arctic Canadian town learns lessons from Alaskan wind farm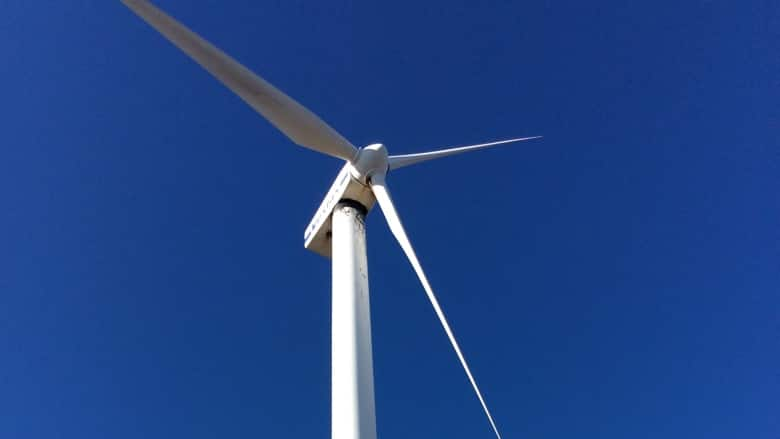 As Inuvik, Northwest Territories, looks to harness the power of wind energy in order to reduce its reliance on diesel, two Alberta graduate students are sharing lessons learned from successful wind energy projects in Alaska.
Makenzie MacKay, an environmental sociology student, and Natalia Vergara, an engineering student, travelled to Inuvik's Aurora Research Institute from the University of Alberta (western Canada) to talk to locals on Monday about the potential challenges the town may face in its endeavour.
"The arctic climate can be so extreme in the winter," said MacKay. "There are problems with ice accumulating on the turbines or them stalling altogether."
There are also logistical challenges, she said, like building on permafrost and transporting massive cranes or turbine parts to remote, fly-in communities.
Alaska as an example
Inuvik could look to Alaska for solutions to some of those challenges, said MacKay. The U.S. state has 104 active wind turbines.
During their presentation, MacKay and Vergara stressed the importance of planning and community involvement as factors that have contributed to success in some communities. They focused on Kotzebue, Northwest Alaska, as an example.
"They've been gradually growing their wind farm and successfully operating it for the past couple decades," said MacKay. "They're kind of known as one of the leaders of arctic wind."
According to the presentation, Kotzbue began harnessing wind power with three turbines in 1997. They're now up to 19 wind turbines, offsetting 250,000 gallons of diesel each year.
"The wind isn't always blowing and generating energy," explained MacKay.
But she said wind energy can offset diesel use, and reducing a community's reliance on diesel can reduce costs for residents.
Past projects in Canada's North
Past efforts at harnessing wind energy in Canada's three northern territories have been less successful.
In 2000, Qulliq Energy Corporation installed a wind turbine in Rankin Inlet, Nunavut, which operated until 2001. It was refurbished in October 2008 but was ultimately decommissioned, according to Nunavut Energy.
The corporation also installed similar turbines in Cambridge Bay and Kugluktuk, Nunavut, in the 1990s, but by 2002 they were no longer functioning.
The wind projects in all three communities experienced equipment malfunctions, issues with routine maintenance and financial restrictions.
In the Yukon, two turbines were installed by Yukon Energy on Haeckel Hill, just outside of Whitehorse. One, erected in 1993, is no longer operational while another, installed in 2000, still works but generates little energy.
Now, Northern Energy Capital — a Whitehorse-based company — hopes to revitalize Haeckel Hill and plans to build three new turbines to generate power 365 days a year.
It is also proposing a wind energy project in Rankin Inlet.
New technology
MacKay said that, since those initial projects, there have been improvements in wind turbine technology.
"There are specially-designed turbines for the Arctic," she said.
That includes internal heating to combat ice buildup and those designed to withstand harsher climates.
MacKay also said concerns like wildlife impact due to new roads can be mitigated by choosing the best location.
MacKay and Vergara said they are looking to hear from residents about any concerns they may have with the proposed turbine for Inuvik High Point.
Related stories from around the North:
Canada: Indigenous community in Northern Canada to offset diesel with solar panels, CBC News
Finland: Power company to build first non-subsidised wind farm in Finland, YLE News
Norway: Norwegian cruise company takes hybrid-electric shift, The Independent Barents Observer
Russia: Arctic electric rally hits the road towards Northwestern Russia, The Independent Barents Observer
Sweden: Sweden breaks ground on test plant for fossil-free steel production, The Independent Barents Observer
United States: Authorities agree to new wetland mitigation guidelines in Alaska, Alaska Public Media