Family that fell through ice rescued by passersby in Canadian Arctic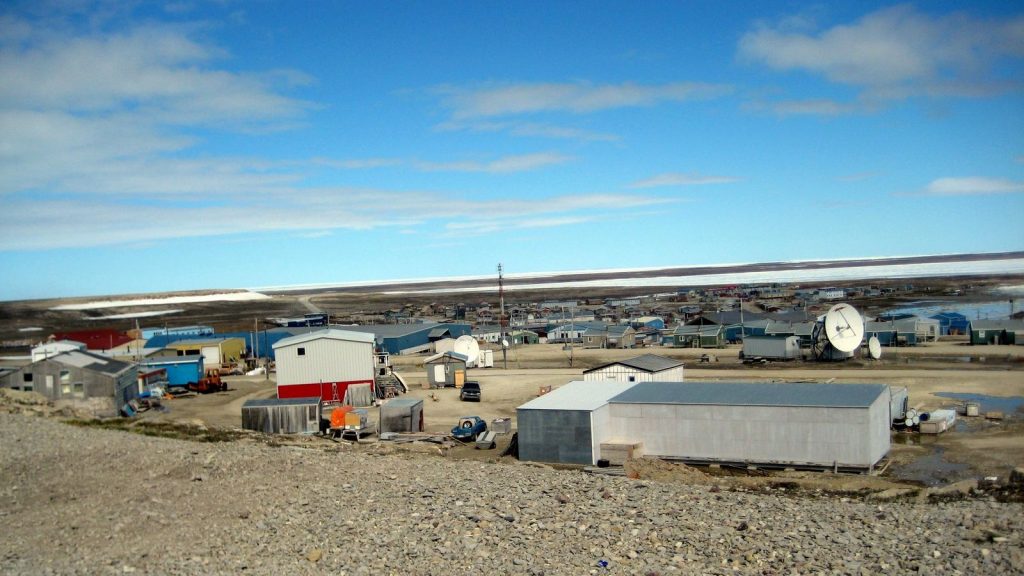 It was a terrifyingly close call for a family with a three-month-old baby last weekend, when they plunged through the ice near Igloolik, Nunavut.
Pauline Amaaq and her partner Glenn Iyerak planned a trip to take their seven-year-old son and three-month-old baby ice fishing.
'I'm drowning. I'm drowning,' is what my boy was saying.
Pauline Amaaq
After hearing about their trip, Pauline's brother, Noah Amaaq, also joined in at the last minute.
Pauline said the family of five travelled about 40 minutes southwest of Igloolik and set up camp.
Glenn went searching for routes to get to some fishing holes, and saw other families ice fishing in a different area.
"We got really excited and started looking for a path," said Pauline, who was on the qamutik — a traditional Inuit sled attached to the snowmobile — along with her brother and her two kids in tow, while Glenn dragged them by snowmobile.
Brother pulls family out of water
But along the way, Pauline said the sled started slowly sinking through the ice. Pauline, her kids, and her brother were inside a small shelter on the sled as it took on water.
Pauline said Glenn jumped in the water to try to rescue them, but he didn't know how to swim.
Once he got all warm and fed, he started to smile again.
Pauline Amaaq
Noah managed to get free of the sled and saved Glenn first.
"Noah saw Glenn starting to drown … Noah pulled him out right away," said Pauline.
But Noah's work was far from over — Pauline's seven-year-old son was in trouble.
"'I'm drowning, I'm drowning,' is what my boy was saying. But my poor boy had no clue he was saying that," said Pauline, in Inuktitut.
Her brother Noah pulled the seven-year-old to safety, and Pauline and her baby managed to stay afloat on the qamutik.
Passersby offer tent and heating
While the family was soaking wet, another family heading home drove by and saw the chaos.
The passing family rescued Pauline and her relatives — throwing a rope to help get the mother and her baby out of the water. Then, they set up a tent and got the stove going for them to warm up, said Pauline.
She said her three-month-old boy really needed the heat.
"When I wanted to feed him, poor boy was all weak and cold … So I fed him and warmed him up. Once he got all warm and fed, he started to smile again," said Pauline.
The family headed back to the community the next day, grateful for the passersby and Noah.
Related stories from around the North:
Canada: From the Arctic to Atlantic, a photographer documents seal hunting in Canada, Eye on the Arctic
Norway: Arctic nations and fishing powers sign 'historic' agreement on fishery, Radio Canada International
Russia: Densely-packed ice makes navigation difficult in Russian Arctic, The Independent Barents Observer
United States: Low fish numbers force closure of king salmon fishing in part of Alaska, Alaska Public Media