As wildfires burn, Sweden to support ravaged communities
"Sweden is in a very serious situation" says Social Democrat Justice Minister Morgan Johansson on Tuesday morning, as Sweden's emergency services struggle to contain the biggest forest fires in modern times.
At a government press conference he said there are currently 20 fires burning: 17 forest fires and three brushfires.
Millions in damage
The government will soon take a decision that will allow the state to give money to the local municipalities hit by the fires, as well as to the voluntary organisations that are helping. The Justice Minister says they want to make sure that the local councils don't have to take money that should go to schools or health care.
The money will be channeled via the Civil Contingencies Agency (MSB) and is estimated to be SEK 300 million. This is far more than the cost for the 2014 Västmanland fire, which reached SEK 120 million.
The minister says lessons have been learned from that fire, including a need for a stronger civil defence organisation, and this is one of the reasons the brochure "If war or crisis comes" was sent to all Swedish households earlier this year.
Lauds European support
The minister also spoke warmly of meeting the Polish firefighters who have arrived to help, via the EU disaster cooperation, and says that "We have always welcomed a stronger EU-cooperation".
The deadly fires raging in Greece mean that government has also called on EU resources, and that will affect what Sweden gets, although the minister has no details currently.
What's the military's role?
At the daily Civil Contingencies Agency (MSB) press conference Anneli Bergholm Söder, operative department, says firefighters are holding the lines, but need to be prepared for new fires breaking out.
The parliament's defence committee is also to meet later this morning. Around 500 members of the armed forces are involved in the crisis effort, and there is debate over whether the military should get more responsibility for such civil emergencies, something that was taken away from them in a 2004 decision.
Defence Minister Peter Hultqvist said at Tuesday's press conference that there is already a legal framework which allows the military to aid in such disasters, and repeated that the armed forces' primary function is to defend Sweden against armed attack.
French firefighters arrive, EU's capabilities stretched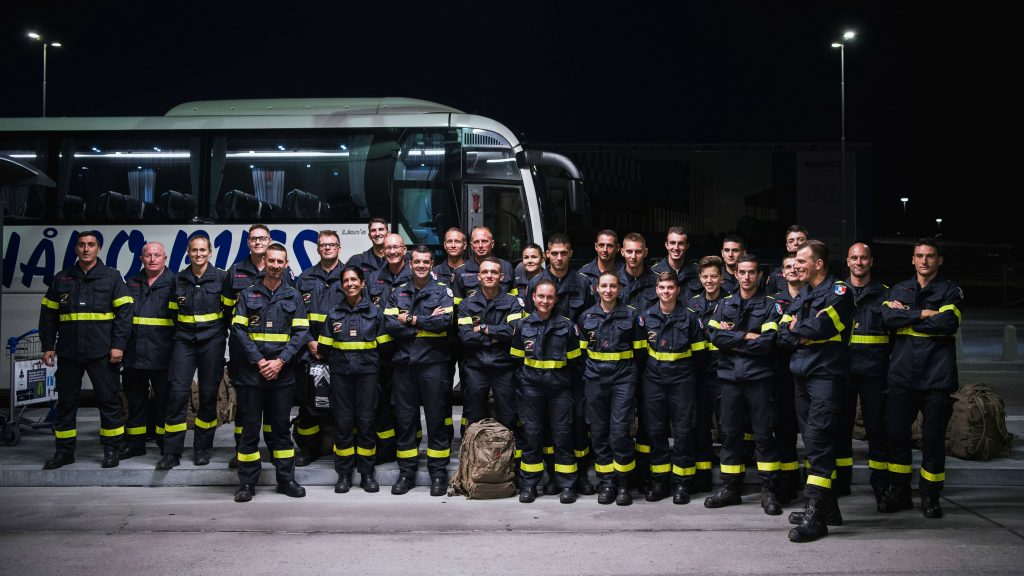 More firefighters are arriving soon via EU cooperation, with 70 from France on their way. The EU Commission says the funneling of help to Sweden is the biggest such operation they have carried out.
But now the fires in Greece and Latvia have caused those countries to also activate the EU Civil Protection Mechanism, meaning resources could be stretched across Europe.
The Swedish Maritime Administration is also working to re-fit all its helicopters to be able to carry water, to aid in putting out the fires.
Related stories from around the North:
Canada: This year's exceptional heat is becoming the new normal, scientists warn, CBC News
Finland: Rain helps tame forest fires in northern Finland, Yle News
Norway: European Arctic swelters under tropical temperatures, breaks heat records, The Independent Barents Observer
Russia: Forest fires are raging across the Barents region, The Independent Barents Observer
Sweden: Sweden's worst-ever wildfires could last for months, Radio Sweden
United States: Warming, fires, warming, fires: How tundra wildfires could create an unstoppable cycle, Alaska Dispatch News