Norwegian supply ships support drilling activities in Russian Arctic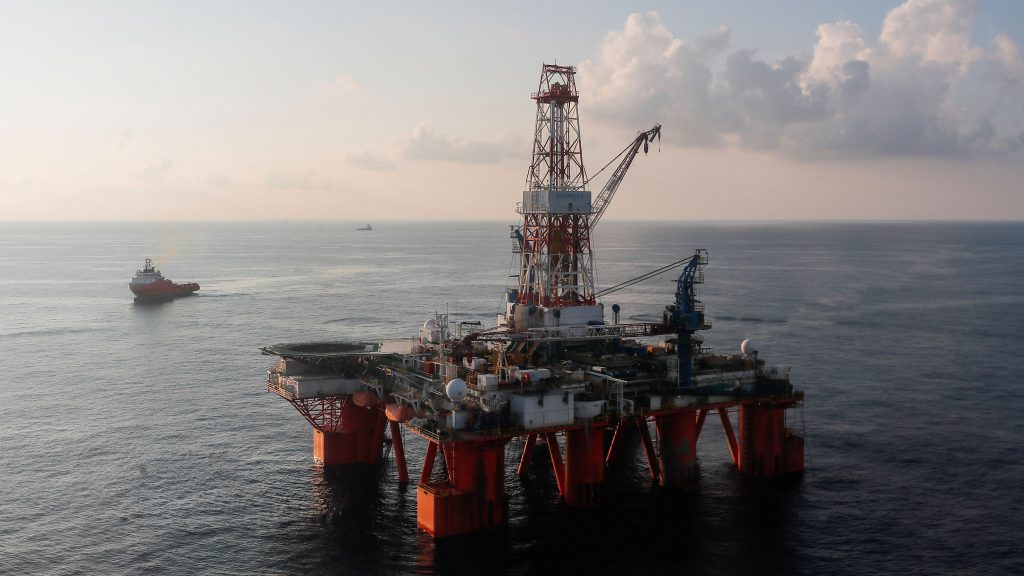 The drilling of two wells in remote Arctic waters is basis for an international meeting of oilmen.
When the Chinese rig Nanhai 8 set out from Murmansk on July 17th, it was accompanied by a Norwegian ship. The Siem Emerald towed the drilling installation all the 800 sea miles through the Barents Sea and to the Kara Sea drill site. The 91 meter long offshore supply ship has since been in the area to provide services to the Chinese drill men.
The semisubmersible Nanhai 8 is in the Kara Sea for the second year in a row. In 2017, it discovered significant natural gas volumes in the Leningradskoye field. This year, it is drilling a well at Rusanovsky, a nearby license area owned by Gazprom.
Ships needed until end of drilling
Norwegian ships are also playing key roles in connection with the ongoing well drilling in the nearby Nyarmeysky license area. Drilling is conducted by semisubmersible rig Arkticheskaya, an installation owned and operated by Gazprom subsidiary Gazflot. It left Murmansk on 19th July and has since been operating along coast of the Yamal Peninsula (Russian Arctic).
On site near the Arkticheskaya is the Norwegian supply ship Boa Bison, a vessel owned by company Boa, and the Norsea Fighter, a ship owned by Vestland Offshore. In the area are also the Sea Spear and Sea Supra, two supply ships owned and operated by Norwegian company Solstad Farstad ASA.
According to company Operations Director Bjørn-Inge Engene, Sea Spear and Sea Supra are engaged in supporting drilling activities at both the Rusanovsky and Nyarmeysky areas. The Kara Sea (north of Yamal Peninsula) is ice-free at the moment and the ships will be on site until the end of the drilling, he says in a comment to the Barents Observer.
"We have operated in this area several times before and have gained solid experience from ship management in this kind of remote areas", he underlines.
Most Norwegian ships in 4 years
There hasn't been so many Norwegian vessels in the Kara Sea since 2014 when ExxonMobil drilled its University-1 well in the area. That drilling was part of the U.S company's comprehensive cooperation with Rosneft, and results showed the discovery of many million tons of oil.
The well was drilled by the Norwegian rig West Alpha and logistical operations were comprehensive. About 2,000 people were involved in the drilling operations and most of them were Norwegians.
The cooperation between ExxonMobil and Rosneft came to a halt after Russia's annexation of Crimea and the subsequent introduction of western sanctions. The sanction regime prohibits key services necessary for deep water and Arctic oil exploration and production. However, there is still a loophole for offshore supply services.
Related stories from around the North:
Canada: Ottawa makes deal to buy three icebreakers for Canadian Coast Guard, CBC News
China: Qingdao plays pivotal role in China's Arctic strategy, Cryopolitics Blog
Finland: Finland needs ambitious CO2 emissions cuts to fight climate change, say researchers, Yle News
Norway: Norway grants drilling rights closer to protected Arctic waters, The Independent Barents Observer
Russia: LNG exports from Russian Arctic rely on European ports despite Northern Sea Route, The Independent Barents Observer
Sweden: Sweden breaks ground on test plant for fossil-free steel production, The Independent Barents Observer
United States: Opponents skeptical as U.S. Gov claims seismic survey will have "insignificant" impact in ANWR, Alaska Public Media