Survivor in Northern Canada recalls deadly encounter with polar bears
Leo Ijjangiaq, 38, says he and two other men — Laurent Junior Uttak and Darryl Kaunak — were having morning tea on Thursday when they noticed the animals.
The men had left Naujaat, a community of about 1,080 on the northern shores of Hudson Bay, by boat two days earlier to hunt caribou and narwhal.
"I ran out of the tent," Ijjangiaq​ told CBC News, in Inuktitut. "I fired my rifle in the air to scare the bear away."
He said the mother bear bit into Uttak's head. It then chased down Kaunak, who was running away, and mauled him.
Ijjangiaq said he shot the bear with his rifle, but it jammed. He got another rifle, shot the animal again and killed it. The cub was shot as well.
The two men attempted first aid on Kaunak, but he was dead. Ijjangiaq said they covered his remains in a tarp.
More bears
Ijjangiaq​ said, in the following days, as the hunters huddled with the body of their friend, waiting to be rescued, several other bears circled their camp.
"More bears approached us," said Ijjangiaq, who said he shot and killed them. "I told my friend that I will take all criminal responsibility for every bear that we kill."
This is an emotional, like a visceral kind of thing.
Robert Hedley , Naujaat administrator
The men sheltered in the cab of their boat until they were rescued Tuesday, after they were spotted by a search helicopter from the icebreaker CCGS Louis St-Laurent.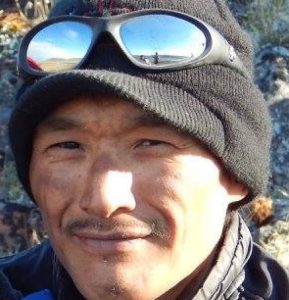 Ijjangiaq​ said he and Uttak heard the aircraft and ran out to signal with fire and smoke. The survivors refused to leave Kaunak's remains behind, and it took three men to carry the body into the helicopter, he said.
Ijjangiaq and Uttak were treated for minor injuries.
A grieving community
It was the second fatal polar bear attack in Nunavut this summer.
Naujaat administrator Robert Hedley told CBC on Wednesday that much of the community is grieving, and it will take time for leaders to come up with solutions to make sure attacks like this can be avoided in the future.
"This is an emotional, like a visceral kind of thing," he said.
"It's a very scary situation… It's going to be something that's going to live on with a lot of people."
The community has asked the territorial government for trauma resources, said Hedley.
CBC News reported previously that five bears were killed in total. The exact number is now not clear.
The territorial wildlife management division will determine how many were killed, said Hedley.
With files from Michael Salomonie
Related stories from around the North:
Canada: Man in Northern Canada killed protecting his children from polar bear, CBC News
Finland: Villages in western Finland concerned by jump in wolf population, Yle News
Norway: Polar bear shot dead after attacking person on Svalbard, The Independent Barents Observer
Russia: Polar bears greatly exposed to toxic chemicals in eastern Barents Sea, The Independent Barents Observer
Sweden: Higher temperatures lead to more viper bites in Sweden, Radio Sweden
United States: After deadly bear attack, hikers in Anchorage, Alaska weigh risks, Alaska Public Media